If You Have Green Walls, These Carpet Colors Are The Best Match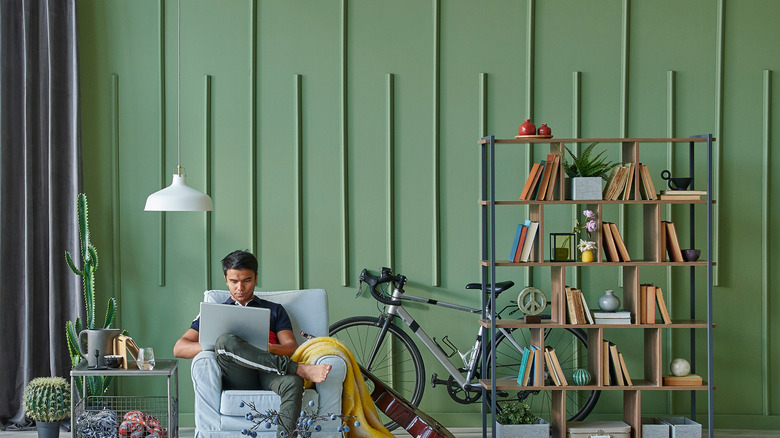 united photo studio/Shutterstock
Green is a timeless paint color. It's calm, soothing, and adds a touch of nature to your home. The best part, though? It's incredibly simple to pair décor elements with green walls. However, to make the most of this paint color, you should choose a carpet color that complements the walls to maintain cohesiveness. Further, the rug shouldn't steal the show from your elegant walls. So, if you have green walls, carpet colors in neutral tones – such as ivory, beige, and gray — are the best match.
Though it's a good idea to look for lighter rugs to complement dark wall colors, and vice versa, you should also consider certain factors. For starters, pay attention to the room's vibe, the amount of sunlight it receives, the green paint color you've used, and the traffic it sees before settling on a carpet color. For instance, white is a happy medium that complements almost all shades of green.
Solid carpet colors complement green walls
The most important thing you need to consider while choosing a carpet color to complement your green walls is the strength of the paint. For instance, warm gray and earthy brown rugs work well with light green walls. But if you want to try something daring and add playful contrast to the room, consider adding a dark blue runner to your floors. Similarly, if you have dark green paint colors like emerald on the walls, choose lighter color rugs to balance out their boldness. Alternatively, if the green on your walls is a cross between light and dark tones, neutral white, light yellow, and beige would be your best bets.
However, you can check out jewel-toned carpet colors such as dark reds, rich blues, and deep purples to add some drama to the room. A monochromatic scheme — green on green — works, too. But for the best effect, choose a different shade of green for your carpet than the one on your walls. For example, a light green rug would look lovely against olive green walls.
Patterned rugs that match green walls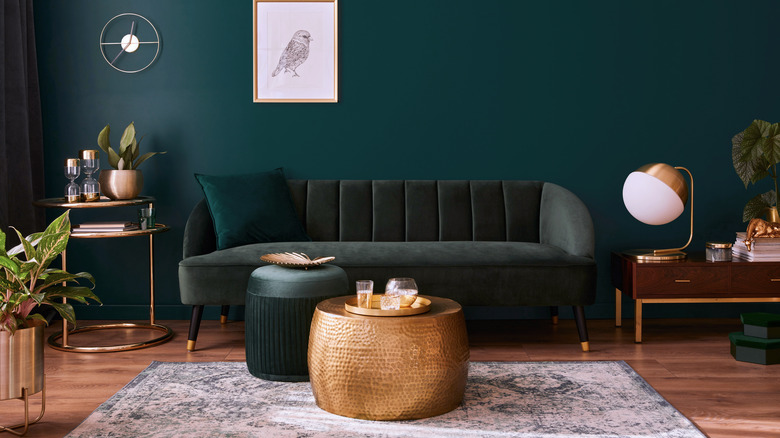 Followtheflow/Shutterstock
Though there are myriad solid color options to choose from, if you'd rather not go with a basic hue, don't shy away from experimenting with patterned carpets. With these rugs, you've got the freedom of choosing bold or subtle designs to shape the look of your room. For instance, contemporary designs would make your space appear sumptuous and modern, while traditional rugs spark nostalgia.
Subtle black, gray, or white geometric patterns will add character to your room without stealing the spotlight from the walls. Runners in these shades would match most green paint colors. Moreover, they're perfect for minimalist homeowners wanting to try geometric patterns against neutral tones. Maximalist design and décor fans will appreciate geometric patterned carpets in bold blue, red, and green tones. Alternatively, floral rugs are another excellent option. Carpets showcasing blooms in ruby red, green, and blue shades against green backdrops would create a welcoming atmosphere.