How Tarek El Moussa Squeezed A Home Office Into A Home With A Tight Floor Plan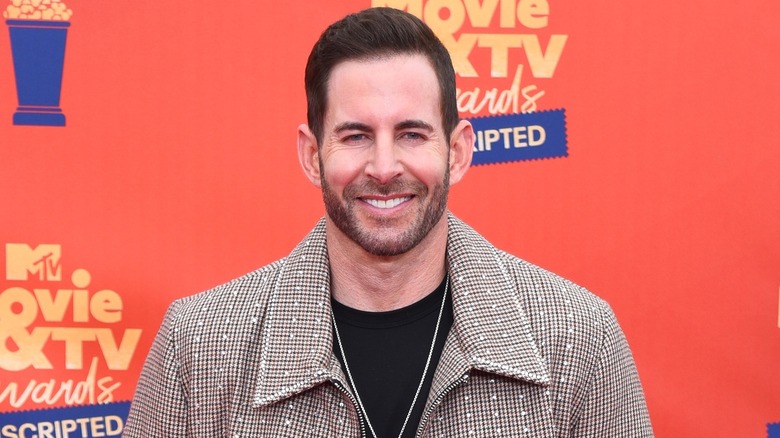 Michael Mattes/Shutterstock
While the aftermath of COVID-19 has led to an increase in remote work, people were working from home long before the pandemic began. If you're one of those with a work-from-home schedule, you're aware of how crucial a home office is for productivity. However, not every home is built with enough space for a dedicated office, similar to a home Tarek El Moussa featured on HGTV's "Flip or Flop." Although the home came with a tight floor plan, El Moussa had the perfect solution for presenting the homeowner with their very own office space, and it was quite simple. It involved placing a desk in a corner of their great room.
Placing the desk in a far corner offered many perks for the perfect at-home work setup. The desk, chair, and lamp created a professional environment that didn't require major demolition or shrinking the home even more. By utilizing open space left over in the home's living room, this homeowner was able to have the space they needed for the workday without having to build a home addition.
Creating a home office in a smaller home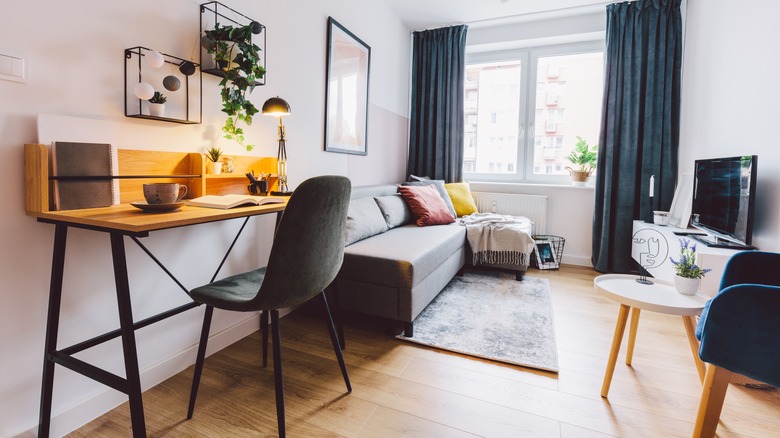 PHOTOCREO Michal Bednarek/Shutterstock
Are you needing your own home office but have a smaller home? EL Moussa's strategy is easy to replicate, though it starts with a few important considerations. It is possible to stay productive while working from home, especially when you set your office space up in a quieter location, so choosing the right room is the place to start. Though El Moussa chose a corner in the living room, if your home's great room has the most space, placing your desk in one of the far corners is a smart move to maximize your home. Bedrooms, spare rooms, kitchens, and dining rooms can also work well.
Once you've narrowed down the perfect room, your next task is measuring for a desk. If you're trying to tuck a desk in a corner that's surrounded by other pieces of furniture, measuring available space is crucial before purchasing a new desk.
From there, it's on to the fun — setting up the rest of your home office with a desk chair, lamp, and office essentials. We love this hack. Implementing a workstation into existing space cuts down on renovation costs and doesn't alter existing floor plans but rather utilizes space in a more functional way.