The Trick The Cast Of Good Bones Uses To Make A Kitchen Space Feel Bigger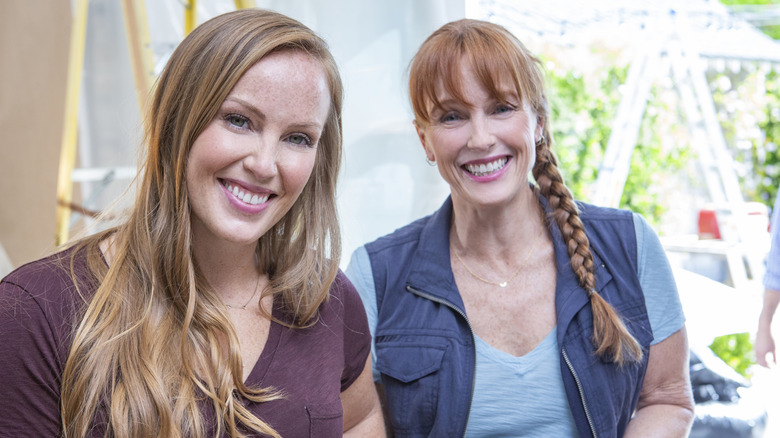 Aaron Rapoport/Getty Images
When a new home ticks off essential boxes for you, like a stellar location, well-rated school district, and pleasing aesthetics, the trade-off might be that you need to settle for a much smaller kitchen than you'd prefer. However, you don't have to stick with the design elements you inherited. The good news is homeowners can borrow expert tips from designers like Karen E Laine and Mina Starsiak Hawk from HGTV's "Good Bones." We love how the experienced duo installs cabinets that stretch way up to the ceiling – a method they employ to create the illusion of a larger, more spacious kitchen.
There's a space of about 12 to 24 inches between the top of most standard, somewhat chunky-looking kitchen cabinets and the ceiling, and this adds to a smaller feel. If your kitchen is already petite and offers a low ceiling – and most importantly, you love the look of a continuous wall of storage instead of the standard gap – you might want to consider a renovation. However, keep in mind that there is a reason some homes' kitchen cabinets don't reach the ceiling. When hiring a professional, asking if your space is suitable for this design choice is always a good idea.
The benefits of tall kitchen cabinets
Of course, fans of "Good Bones" are no strangers to tall cabinets. "I think one of the things we're most well-known for is that our cabinets go all the way to the ceiling. Either they're double-stacked, or we have a nice big crown across the top," Starsiak Hawk explains (via HGTV). In describing the benefit of minimizing the clearance above kitchen cabinets, she adds, "There's never a gap above the cabinets, so your eye can go all the way up, and it feels bigger." 
Opting for this popular design choice also instantly augments your kitchen's storage capacity. The shelves at the very top might be the perfect spot to store long-lasting bulk food purchases — you won't need them daily, but you'll be glad they're there. Of course, excess clutter can also make a small room feel even more cramped. For this reason, adding tall cabinets that provide a foot or two of additional vertical storage can prove to be a practical strategy for decluttering, making the room feel even bigger.