Refresh Your Space With Keith Bynum & Evan Thomas' Lampshade Paint Trick
If you're searching for quick ways to refresh your living space, don't overlook your lamps. Buying a new lamp might not be in the budget, but you can always upgrade an existing lamp with a quick paint job. Keith Bynum and Evan Thomas of HGTV's "Bargain Block" love sharing accessible and inexpensive DIY ideas, and they demonstrated a lampshade hack on Today With Hoda and Jenna that anyone can pull off (via YouTube). All it takes is tape and an eye-catching paint color to create a gorgeous pattern for your lampshade.
This project is quite simple, so your results will depend largely on the paint color you choose and how precise you are with the tape placement. For color options, consider what would go well with the base of the lamp and the background color of the lampshade. You can also take inspiration from the accent colors in the room where the lamp will live — if you aren't sure where to start, look for recurring colors in throw pillows, wall art, and other decorative pieces. Precision with the tape is also important, so keep a measuring tape and pencil on hand to determine exactly where each piece of tape needs to go. With careful planning and a little creativity, you're guaranteed to make a fabulous lampshade design out of this classic paint trick.
Upgrade your lampshade with paint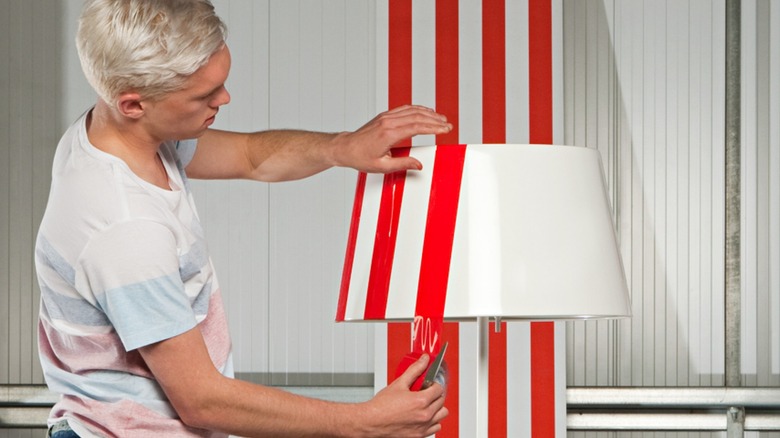 Image Source/Getty
Using paint to add new life to your lampshade is much easier than it looks. If you don't have the artistic skill to paint a design free-hand, don't worry — Keith Bynum and Evan Thomas have an easy method that doesn't require any special talent. Start by applying painter's tape to the lampshade in a vertical stripe pattern. If you prefer a thicker stripe pattern than the tape creates, you can always use two overlapping pieces of tape for each stripe. Alternatively, if you want thinner stripes, cut the tape into thinner strips, and measure the width of each piece so the size stays consistent. 
For something more unique, you can also make a crisscross tape pattern, which will result in a geometric triangle design. Before you start painting, give your lampshade a final check to make sure the tape pattern is arranged exactly how you want it. When you're ready, begin painting over every area of the lampshade not covered by tape. Once the paint is dry, carefully peel back the tape, revealing a beautiful, colorful design on your lampshade.