The Shower Curtain Hack That'll Upgrade Your Patio Table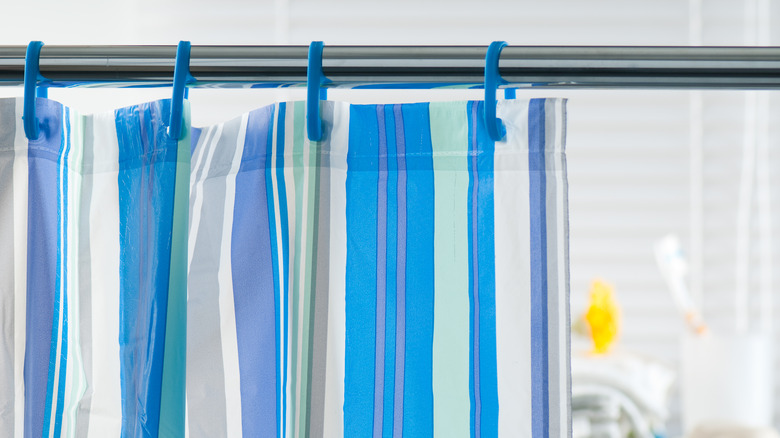 Nikitabuida/Getty Images
If you have an old shower curtain or are simply looking to spruce up your outdoor space, look no further than this patio table hack from @hometalk on TikTok. By combining the two items, you can craft a pretty patio table that will stun any guests — yourself included, of course. Not only is this a great way to use an old item from your bathroom, but it can help to add an extra flair to your decor and is one of many great outdoor patio ideas. Likewise, upcycling an old shower curtain is also beneficial for the planet, as less waste is being sent to landfills. Talk about a win-win scenario. This hack is perfect for those summer months when you're having lots of guests outside and your patio table is often in use.
However, how exactly do you craft such an item? Thankfully, this hack is incredibly easy, and you will be able to have it set up within no time. Even DIY beginners should find the process relatively straightforward. So, what are you waiting for? Gather your items and prepare to transform your outdoor space.
You need twine and a shower curtain
For this hack you'll need a few items, including a new or old shower curtain, some twine, scissors, and a sewing machine. If you want to add an artistic flair, a shower curtain with a fun pattern is a great choice. Additionally, you can paint the legs of your table to match your curtain. Now, all you need to do is drape your shower curtain over your patio table, ensuring that you take the correct measurements before cutting it with scissors to the shape and size of your tabletop.
Next, flip your curtain and fold the outer edges inwards and sow them to secure it. This will create a "tunnel" for your twine to fit through, which you can feed through while stitching as you go. This should help it securely fit on your patio table without sliding or blowing off. However, you could also try using an elastic if you feel it would work better. Now, the hard part is done, and you can enjoy your new patio tablecloth in all its glory.
This hack is a treat, as the shower curtain essentially acts the same way as a tablecloth would, and does very well when faced with moisture. For this reason, many people may not even be able to tell you're using one. You could even try this hack on an indoor table too. This is an excellent option if you have messy kids or are hosting a party.