Here's Where To Place Your Patio Table According To Where You Live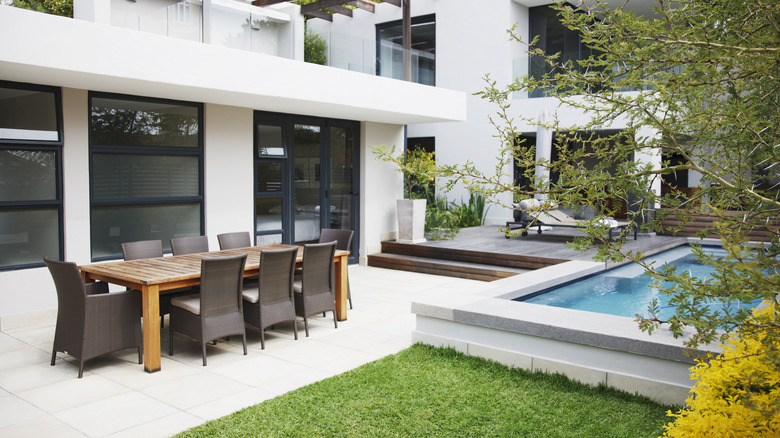 Paul Bradbury/Getty Images
There are a lot of things to consider when planning how to decorate your backyard in a way that will give you the best use out of it — you want to enjoy your space during any season, after all, without worrying about rearranging your furniture or placing items in a storage unit to prevent them from getting damaged. When planning where to set up your patio furniture, for example, make sure to place your table in a spot that's in the shade most of the day to prevent it from getting too hot. Sitting at a hot patio table can make eating or lounging uncomfortable when your legs and arms are heating up from the funiture's hot surface.
Dividing your backyard into sections is an excellent way to determine where to put your patio table. Visualizing traffic flow can help you figure out where to put your couches, tables, fire pit, and extra chairs. Setting up the larger furniture pieces first can leave the perfect open space for your table, and you'll also create a functional outdoor living space that you'll enjoy most of the year. Even if you don't use the space during the colder months, you'll be able to admire it from the inside. Here are some more things to consider when choosing where to put your patio table.
Think about your backyard's lighting and location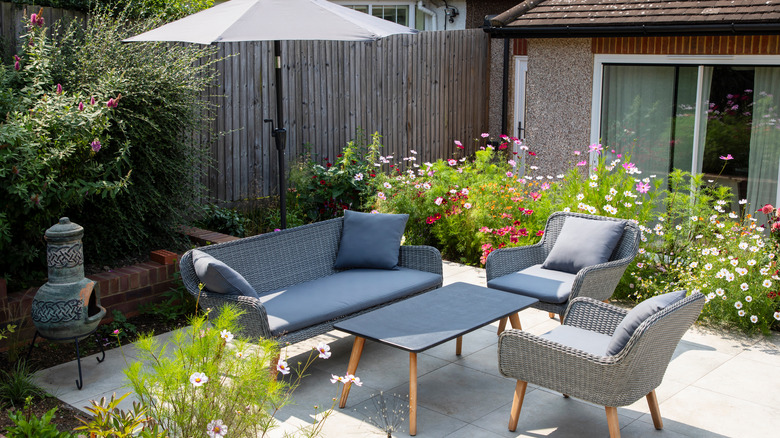 Magdanatka/Shutterstock
Lighting plays a significant factor when planning where to put your patio table. As mentioned previously, patio tables in direct sunlight will get too hot, so you want to put them where the shade will cover them during the day. Of course, the lighting will be different depending on the specifics of your outdoor area. The location your house is facing will determine how much sunlight you'll get in your backyard. For example, west-facing backyards will get more sunlight in the evening, whereas east-facing backyards will receive more shade. It's best to place your patio table in west-facing areas to get the most sun in the afternoon. And if you have an east-facing backyard, you'll have to install light fixtures to illuminate the backyard, such as string lights, spot lighting, or deck lighting.
When you place your patio table in a west-facing area, it'll get sunlight in the evening, keeping it warm until the sun sets. However, if the patio table is situated where the sun will beam down on it, adding an umbrella will help block it and provide shade for a couple of hours. The downside to having a west-facing backyard is the sun could damage your patio furniture, causing the finishes to fade. Because of this, it is vital to keep them covered or in shadier areas during the warmer months.
Surround your patio table with plants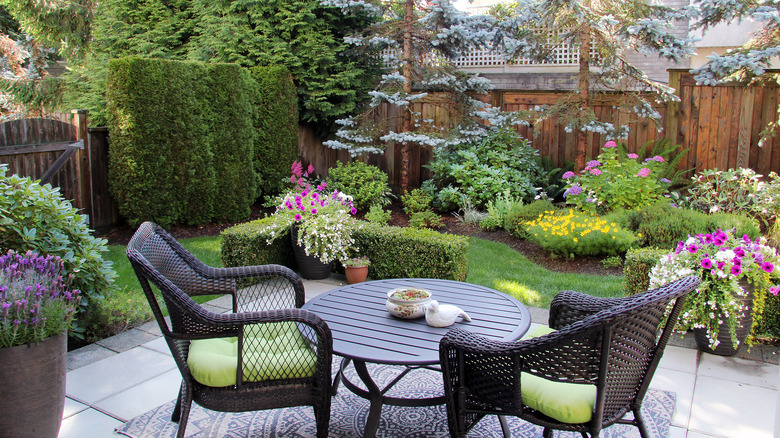 Hannamariah/Shutterstock
Finding a place for your patio table can be tricky if you have a smaller backyard or a backyard with little greenery. For a smaller backyard, dividing your space will be easier, so you can put the table in a corner or the center of the area while placing a loveseat couch on the opposite side to extend seating options. Also, with tiny backyards, using smaller furniture will make your backyard feel larger. For example, opt for a bistro-style patio table and chairs instead of buying a long picnic table. While it'll only seat a couple of people, you'll be able to install extra benches.
Regardless of your backyard's size, if you don't have any greenery, incorporate a few plants. You can plant trees and bushes for shade or add a few potted plants around the patio table to add interest and liven things up. Plant a garden if you have the space in your backyard; guests will rave about your flowers. For a tiny backyard, adding flower beds will also help structure the area. Your patio table will become a welcoming place indeed if you dress it up with greenery and lights.