How Granite Countertops Modernized When They Made A 2023 Comeback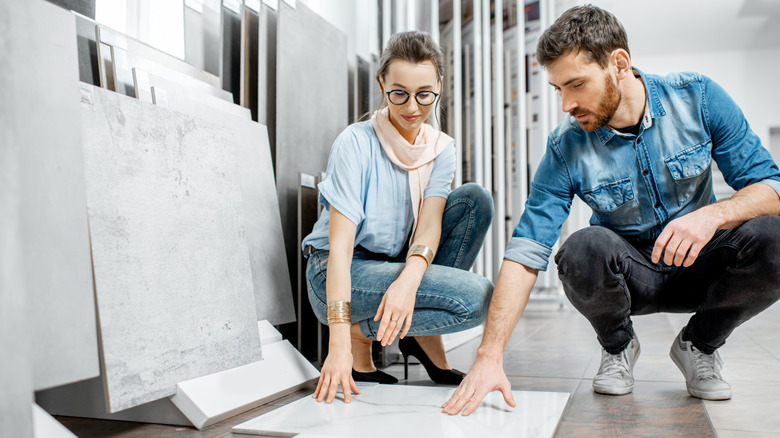 RossHelen/Shutterstock
As with nearly every kitchen detail, countertop materials have gone in and out of trends over the years. In previous years, granite was the go-to choice for kitchen countertops. But, granite's popularity may have been its demise. Because it was in so many kitchens, it no longer felt unique and luxurious. Then, as interior trends leaned more on the clean and simple side, the busy granite patterns no longer seemed to fit. Even when trends fall out of favor, many eventually come back in a new way. The same could be said for granite, which is making its way back into kitchen renovations.
Granite countertops have gotten a makeover that more homeowners are loving. Unlike its ornate predecessor, contemporary granite is a little more sleek and subtle. The once-go-to-glossy and speckled look has been replaced by refined options with subtle veining, interesting colors, and more understated finishes. And, these new styles are bringing the material back into consideration for the modern kitchen aesthetic.
The appeal of granite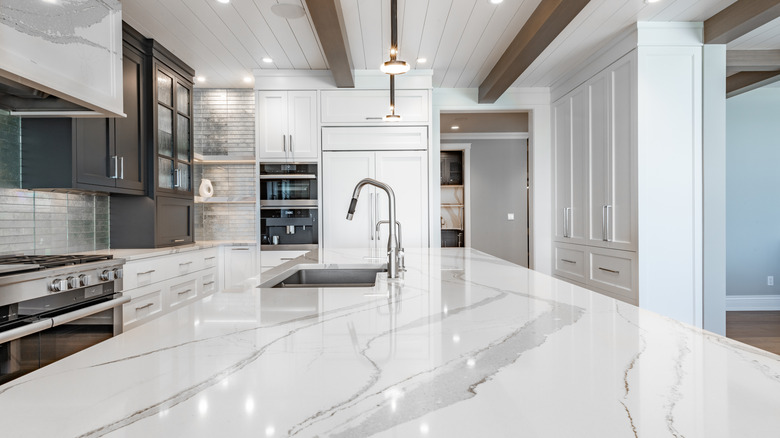 Sheila Say/Shutterstock
One of the reasons that homeowners loved to use granite in their homes was its durability. Granite is easier to clean than other materials, can withstand heat, and tends to be stain-resistant, making it ideal for hardworking kitchens. Despite the many great qualities, the spotted look of granite lost its appeal as time continued. Browns and tan palettes also fell out of favor, giving way to sleek black and clean white kitchens, and the granite of the time no longer worked with these styles.
Modern granite, however, has seemed to adapt to the changing aesthetic tastes with the same reliable qualities. Granite with more veining can evoke the look of marble, which adds a luxurious touch for a lower price. Ambrosia white granite is one version that has similar elegant gray veining. More dramatic options, like sea pearl granite, are ideal for those who want to make a statement with their kitchen design.
As for those who have moved on from the all-neutral kitchen trend, colored granites may be the feature they're after. Granite comes in shades of red, blue, green, and pink. Vibrant versions, like brass blue granite, offer multiple shades of blue swirling together. Deep granite shades, such as verde fantastico, work well with the current dark and moody interior trend.
Granite in the modern kitchen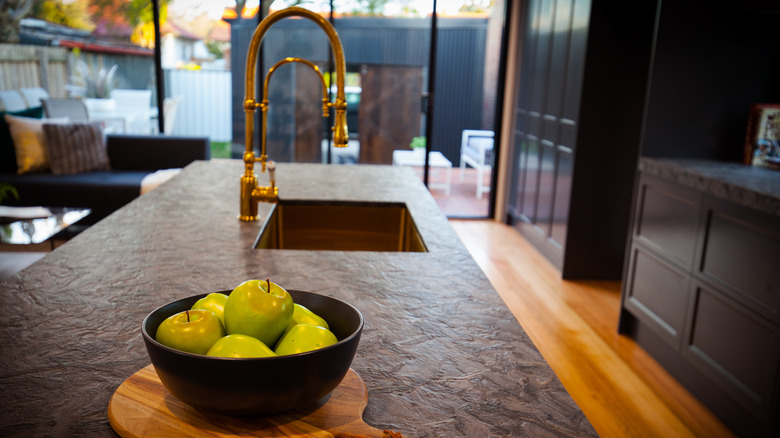 PhilipN/Shutterstock
One factor to look for when using granite in a modern way is the finish. Low-sheen options look fresher and more modern than the glossy finishes of years past. Suede granite is finished with a method that gives it a subtle texture and stunning matte finish. Or, you can opt for honed granite that still has a smooth texture but with a sleek, satin level of sheen.
Of course, modern granite can made to look even more on-trend with the right styling. Employing contemporary kitchen design trends can add to the look and feel of the countertops. Featuring the granite in other ways can take advantage of it's renewed appeal. Consider continuing the slab from the counters seamlessly up on the wall rather than the typical tile of backsplash. On a kitchen island, a waterfall feature will always be an elegant option that puts the countertop material at the forefront.