What Time Of Year Is Best For Buying A New Stove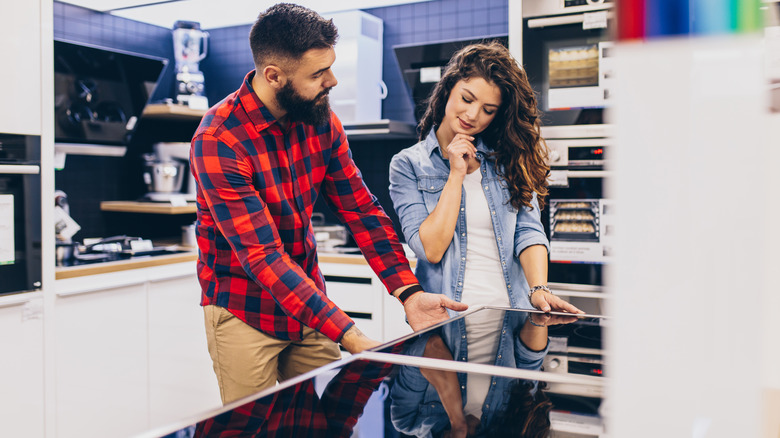 hedgehog94/Shutterstock
Buying a new stove is a purchase that will last a long time, and it's also a major investment — you'll want to plan your shopping just right to get the best deal. Some seasons are better than others when it comes to purchasing appliances and finding the lowest price. For a new stove, the best time to buy is toward the end of the year.
It's not always possible to plan when to buy a major appliance, though, and this is especially true if your stove breaks down and you need one right away. Your best bet is to recognize early on when your current stove may soon need to be replaced to avoid buying in a rush. In general, new stoves tend to cost $600 to $1,300, though high-end types with bells and whistles can easily go higher. Gas ranges usually cost more to have installed since a professional has to connect a gas line. Electric ranges are typically cheaper to buy than gas ranges, but the cost of running them is more expensive since electricity costs more than gas. However, waiting until the perfect time to purchase this appliance might save you a few hundred dollars.
Shop for deals on stoves during the holidays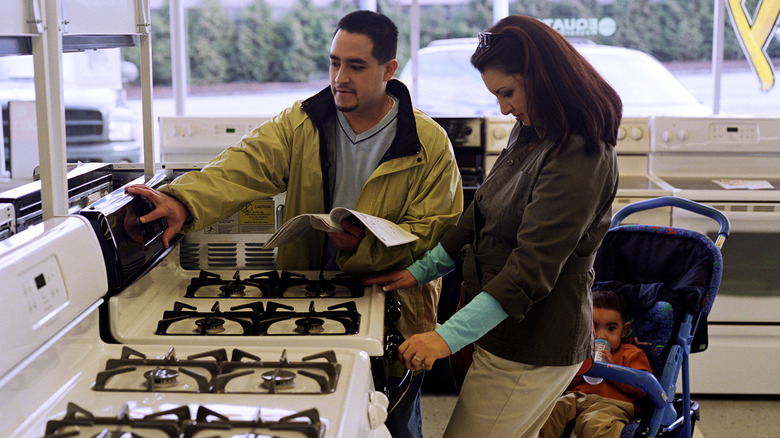 Ryan Mcvay/Getty Images
Once you've decided that a new stove is in order, it's best to wait until close to the end of the year. New models start to roll out in stores during the fall months of September through December, so if you want something brand new to the market, that's when you'll find the latest models. However, if you value getting a good deal over bringing home the latest version, note that stores will try to sell off inventory in the fall to make way for the upcoming new models toward the end of the year. And, if you can wait until January, you may just find the very last older models on sale for their lowest prices.
The holiday sale season is also a prime time to buy heavily discounted appliances. To pile on the savings on stoves in late fall, wait until Black Friday when big ticket items are at their lowest, when you can find average price drops of up to 37% on Thanksgiving and Black Friday in-store and around 34% for online deals (note that exact pricing varies by location and other factors). Look out for New Year's and Cyber Monday sales to scoop up good deals, too. Visit stores in person if you prefer to see and feel appliances before purchasing — you can always make note of specific models and track prices online.
Other ways to get deals when buying a new stove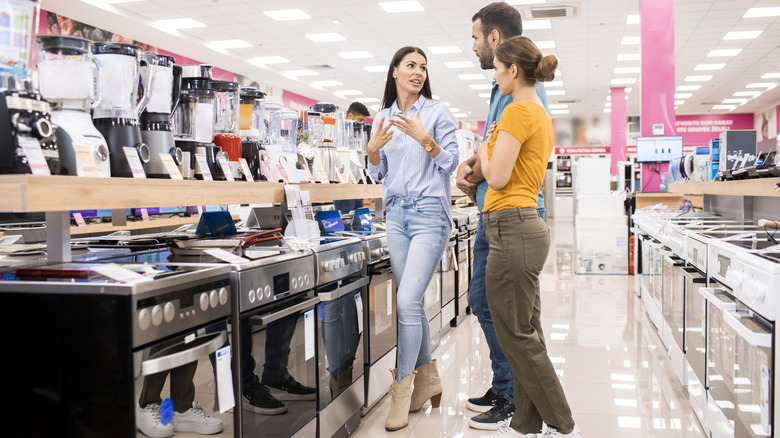 Extreme-photographer/Getty Images
Salespeople work on commissions and quotas, so they may be more willing to give you a better deal when nearing the end of the month in order to boost their selling numbers. Remember that you can ask them to go lower, too. Negotiating a price by letting them know why the price should be dropped a bit sometimes works. You can tell the salesperson right off the bat that you want to purchase last year's model — the current price may be lower than it was when new. Many times, the simple act of asking how much lower they can go will result in them shaving off a few bucks.
Another tactic to get the best price on stoves is to ask to see floor models. They are often priced lower simply because they have been out on the sales floor. Sometimes they can have scratches or marks since they likely have been touched by multiple customers, but these small flaws can add up to big savings.