Give Your Patio Extra Privacy With A Faux Ivy Privacy Fence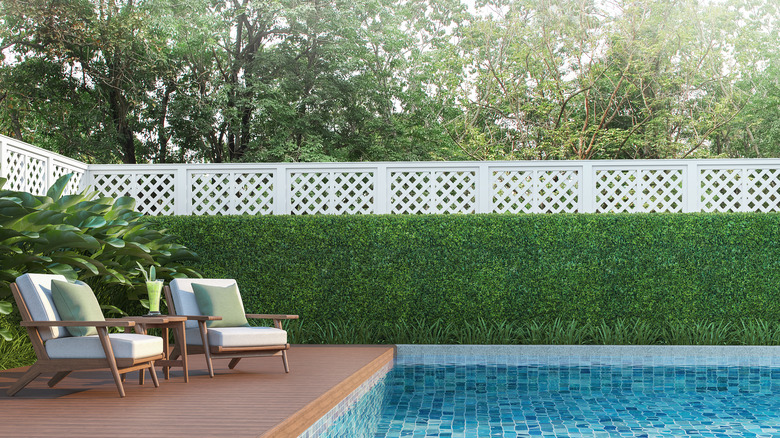 Runna10/Getty Images
If you're looking for a way to add a little extra privacy and style to your outdoor space, a faux ivy privacy fence might just be the perfect solution for you. Artificial ivy, with its realistic-looking leaves, is typically indistinguishable from the real thing. Imagine enjoying your morning coffee or having a quiet evening read without feeling like you're on display.
The densely-spaced leaves and open-net backing of the privacy fence panels ensure that while prying eyes and excessive light are kept out, airflow isn't compromised. Beyond privacy, the aesthetic appeal of a lush green fence can completely transform the look of a balcony, patio, or backyard. Maintenance is also a breeze. Unlike natural ivy, which requires regular watering and takes a while to grow up the walls of your home, the faux variant only occasionally needs a gentle wipe down. Its construction guarantees it will remain sturdy and beautiful regardless of weather conditions and your care routine. 
Opting for a faux ivy fence is an economical choice. Traditional wooden or metal fences can be expensive (in the thousands of dollars) and may not offer the same level of privacy. In contrast, the faux ivy privacy fence would only cost a couple hundred dollars or less. Moreover, real ivy, as beautiful as it is, can sometimes become invasive, overtaking other plants and potentially harming structures. Also, using artificial ivy won't invite any unwelcome critters into your outdoor zone, so you can enjoy that morning coffee or evening read in peace.
How to install a faux ivy privacy fence
The first step is to purchase your faux ivy privacy fence, like this one from Amazon. Pick an option with UV protection, or get a UV Protectant Spray to keep the plastic from fading over time. Now, the fun part — setup. Arguably the biggest perk of this is the ease of installation. There's no need for professional help or specialized tools, and the fences usually come in different sizes with pre-installed interlocking features. If your pieces don't interlock, use zip ties to thread them together. For those with unique patio or fence shapes, measure first and then trim the pieces with scissors to fit the space. Clean the area before you begin.
Depending on your preference and installation material, you can use zip ties, brackets, snap hooks, wire, or tape to attach the ivy screens to an existing surface. If you have a wire fence, zip ties should suffice. You can also attach metal brackets and screws to the panels and secure them over the fence. For heavy-duty installations on wood or stone, drill pilot holes to prevent splitting of the material and then attach the ivy fencing using screws. After completing your installation, double-check that it's secure and adjust as needed for that perfect look. If you ever need to take down the privacy screen, uninstalling it is as straightforward as installing it. Simply detach it from the surface and separate the panels. Afterward, you can reinstall and use it again!