Are Salvaged Bricks A Good Entryway Flooring Solution?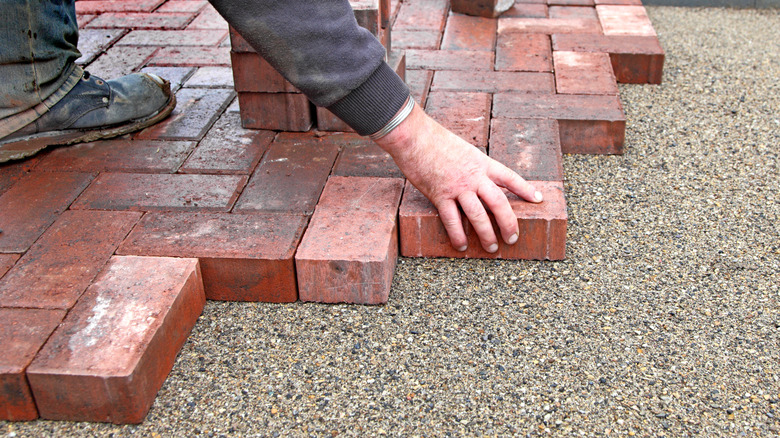 Shank_ali/Getty Images
If you are looking to give your entryway a boost, there are quite a few different options to spice up a boring floor. One material that always delivers a rich, classic look is brick. Although it has some advantages and disadvantages when used as an entryway flooring, there's no denying the feeling of nostalgia and rustic appeal that it can bring to visitors when they enter your home. You have multiple choices for delivering the look of brick in the entryway flooring, but many of them can be pricey. You could select a vinyl material that attempts to mimic the look of classic brick, but it just doesn't quite deliver that rustic texture you may be seeking.
Fortunately, you have the option of using salvaged brick for your entryway floor. It's an inexpensive material that you can use in almost any building project, and you can trust its long-lasting design and durability. Although most people might consider reclaimed bricks as more of an option for creating an outdoor patio or a walkway, they also can have a place inside the home. Using salvaged brick in an entryway opens up some interesting design patterns, such as herringbone. However, before you fall in love with the idea of installing this rustic material inside your home's entryway, you will want to consider both the pros and cons of using it.
Best reasons to make use of reclaimed brick in a home's foyer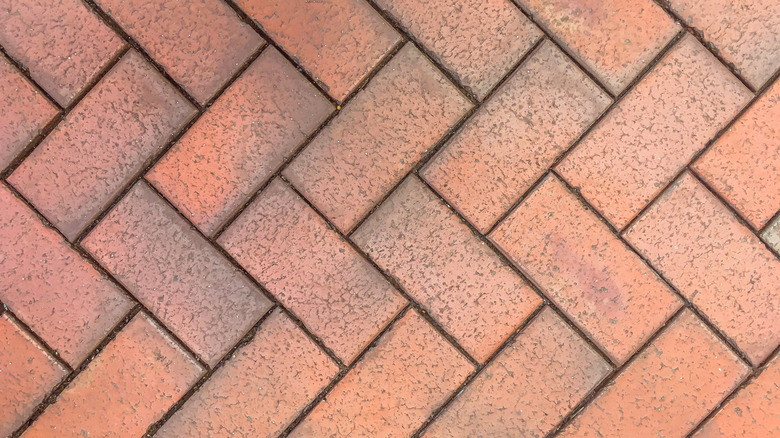 Kanawa_studio/Getty Images
One of the best reasons to use salvaged bricks for an interior floor is the affordability of this material. You may have some extra bricks already at your home left over from another project, or you can use some creativity to obtain these materials for a low cost or for free, such as at local eco-centers, construction sites, salvaged material shops, and online. 
Although some may believe brick requires extra maintenance when used as entryway flooring, it's not overly difficult to clean, especially if you use a rug at the primary entry point. It can be swept and mopped like other types of flooring. Additionally, should you use a sealer over the top of the salvaged brick, you can simplify the cleaning process because the material won't soak up liquids or stain as easily as it would without a sealant. When used in an entryway, reclaimed brick should withstand wear and tear. Another pro is that scuffs or grime are not all that noticeable on the darker and varying colors typically found in this material — it's those amazing colors and textures that make salvaged brick such a desirable design option. Brick delivers a historical charm that can change the entire look and feel of your home as visitors enter.
Disadvantages to installing salvaged bricks in the entryway of a home
Salvaged bricks aren't perfect for every entryway flooring project. They have some disadvantages that are important to consider before you decide to install them. First, some people dislike the firmness of this material. There simply isn't any give in a reclaimed brick floor. If your family likes to walk around barefoot, it may not feel as comfortable as carpeting or even PVC vinyl underfoot. Second, salvaged brick could end up causing a slightly uneven surface after installation, as each piece may be slightly different. This can create a significant problem for older adults, who may struggle to walk across uneven surfaces, potentially increasing the chances of a fall on the extremely hard material.
Additionally, should your entryway receive quite a bit of sunlight, the salvaged brick will absorb the sunlight, retaining its warmth. While this is comfortable during cold weather, it can be uncomfortable in the summer. Finally, finding and preparing reclaimed brick for use in flooring takes work and time. Depending on the condition of the pieces, you may need to clean mortar and dirt from them. If you select an unusual layout pattern or have an odd-shaped entryway, you may need to cut quite a few brick pieces to fit, which is time-consuming.