Create Fantastic Halloween Luminaries Using A Pool Noodle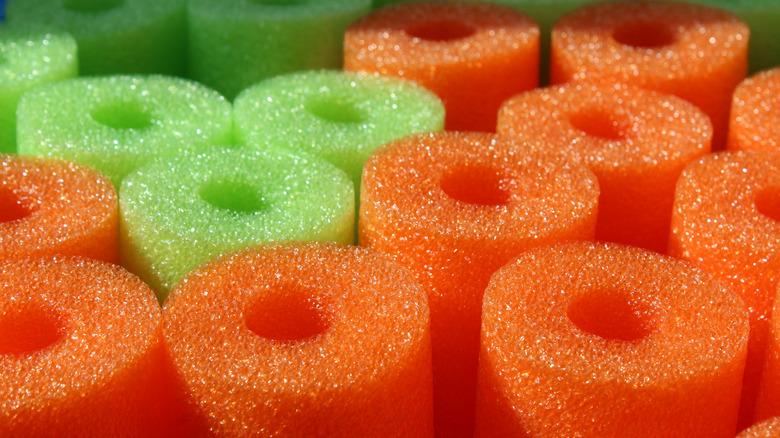 Sophia Cole/Shutterstock
Just because your holiday decorations are DIY, doesn't mean they have to look DIY. You can create adorable Halloween decor that looks like something you bought from the store. All you need is a trip to the dollar store and a half hour to make these fun Halloween pool noodle luminaries. 
These illuminated posts are made to look like pumpkin-headed witches and will brighten up your whole yard. You'll only need a few items, most of which you can get in a single trip to the dollar store. These pumpkin witch luminaries can be staked straight into the ground and placed in your yard or along the pathway to your front door. The light post decorations are perfect for homes with little children since they aren't scary or gory.
How to make pool noodle pumpkin luminaries
To make your illuminated pumpkin witch post, head to Dollar Tree for a Halloween-colored pool noodle, roll of black tape, a witch hat, a broom handle, some orange string lights, and glue sticks all for $1.25 each. You can get the pumpkin trick-or-treat pail from Walmart for $1.98. That brings your total to just over $9. You'll also need and extension cord from the garage.
First, you'll take your broom handle and stake it into the ground. You might need a mallet to help get it in there so it doesn't move around. Then, wrap your black tape around the pool noodle in a spiral. Glue your pumpkin pail to the top of the pool noodle. Fill its head with lights and run the lights down and around the pool noodle in a spiral.
Glue the witch's hat to the top of the pumpkin's head. If you don't mind stretching your budget, you can make a bow from some Halloween-colored glow-in-the-dark ribbon and glue it just underneath the pumpkin's chin or glue some of these sparkle bats to your pole, also from the dollar store. Slide your pool noodle over your broom handle. Plug in your lights and enjoy your pool noodle pumpkin luminary.