Get Inspired For Halloween By These 20 Over-The-Top Decorated Homes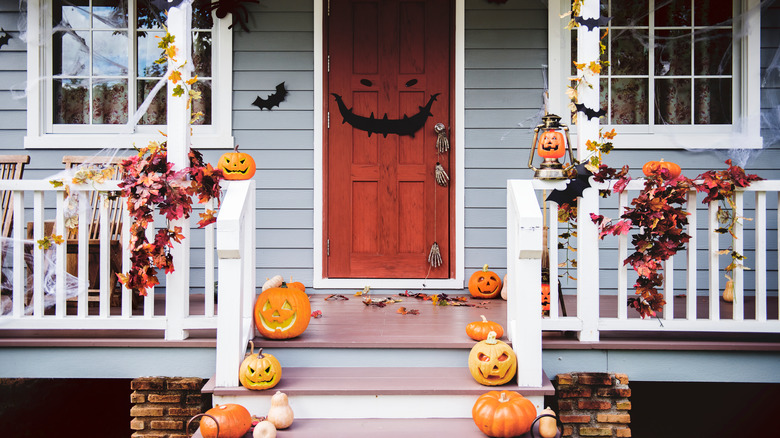 Rawpixel.com/Shutterstock
Halloween is quickly approaching, and if you haven't already started decorating, then let us ask — what are you waiting for?! There are so many fun and adorable décor options to choose from, such as plump, orange pumpkins, fluffy, black cats (fake, obviously, unless you're adopting), and spooky spider webs. Some people have gone all out and have placed decorations of levitating children in their front yards, according to NBC News.
There are a variety of ways to design your home this spooky season, whether you want something that is dark and creepy, colorful and upbeat, or elegant and mysterious. There are also a plethora of color combinations you may not be aware of, such as orange and black complemented by teal and gold, according to The Dahlia Crypt. If you're unsure how to start, or you just want to spice up your current Halloween décor, then check out the top frightening yet chic designs we've handpicked for you.
1. Creepy crawly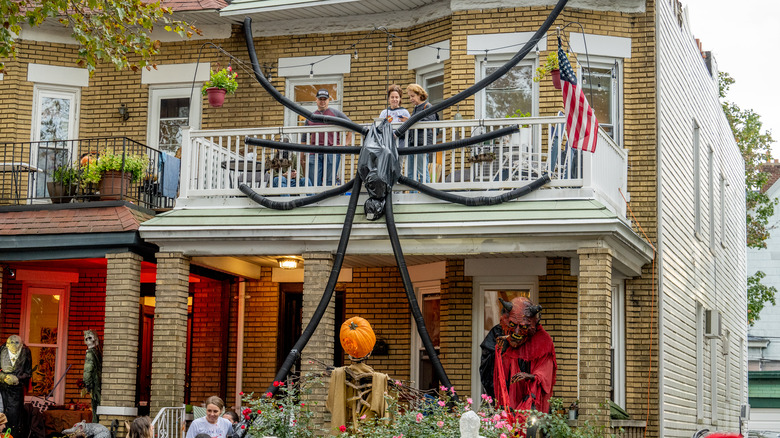 Roy Rochlin/Getty Images
Just looking at this home makes our skin crawl! This giant spider is a terrifying yet fun décor piece and is sure to excite surrounding neighborhood families.   
2. Floral garlands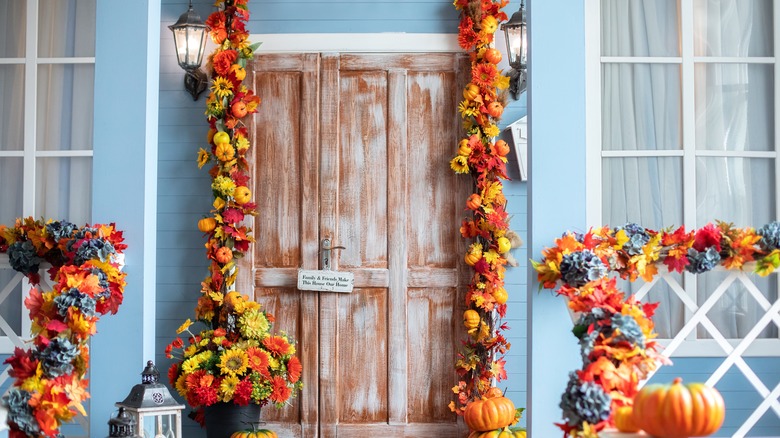 stock_studio/Shutterstock
A brighter, prettier option would be to add floral garlands to the front entrance of your home. We love the combination of yellow flowers, red leaves, and orange pumpkins.
3. Climbing bones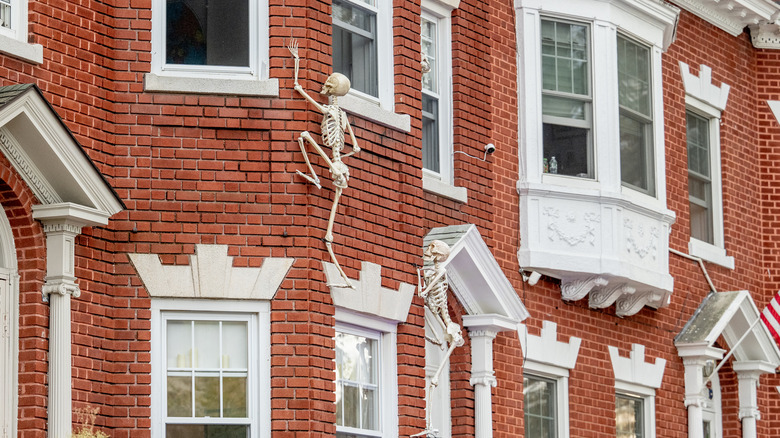 Roy Rochlin/Getty Images
Create a spooky invasion by creating the illusion of skeletons climbing up your home! This is sure to turn heads and widen eyes as these creepy bones rattle outside your property.
4. Neon lights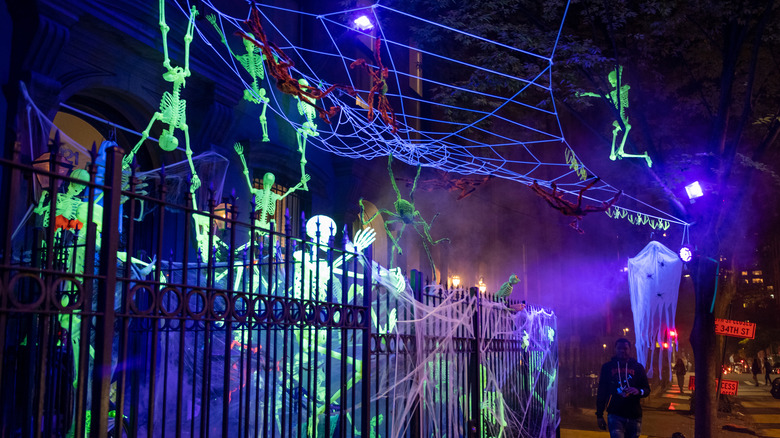 Alexi Rosenfeld/Getty Images
Really grab the attention of those who walk by installing neon décor. This will take your average Halloween décor items to the next level, as everyone will be able to see everything from down the street. 
5. Frightening entrance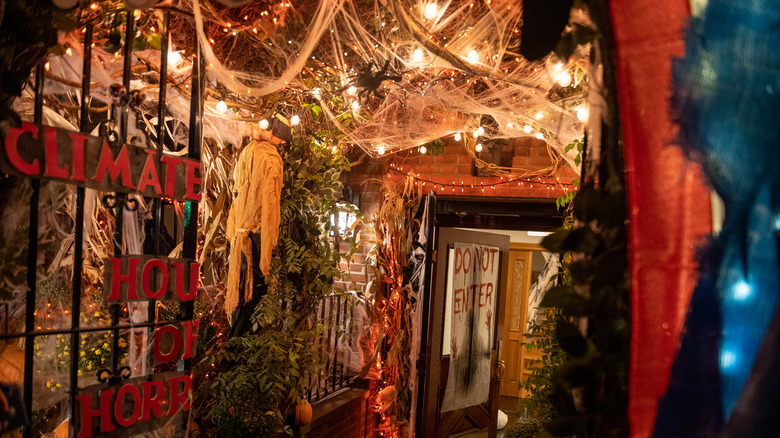 Alexi Rosenfeld/Getty Images
Make neighbors contemplate whether or not they want to knock on your door. Add cautionary signs, spiderwebs, and pumpkin décor to capture the essence of Halloween. 
6. Decorate from the inside out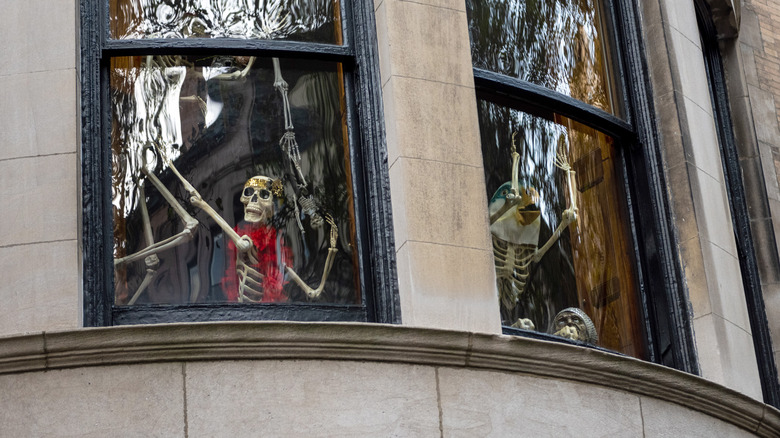 Alexi Rosenfeld/Getty Images
If you live in an apartment or condo and cannot put decorations outside, then put them by your window! Show everyone your best Halloween décor, and create a fun dancing scene like shown in this design.
7. Inflatable alternatives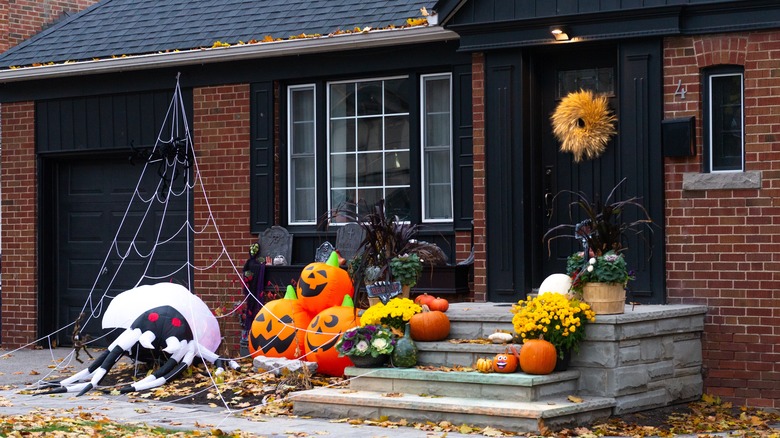 ACHPF/Shutterstock
If you haven't had time to take a trip to the pumpkin patch this year, then opt for an inflatable version instead! There are also other fun options, such as spiders and other scary monsters.
8. The lovely bride and groom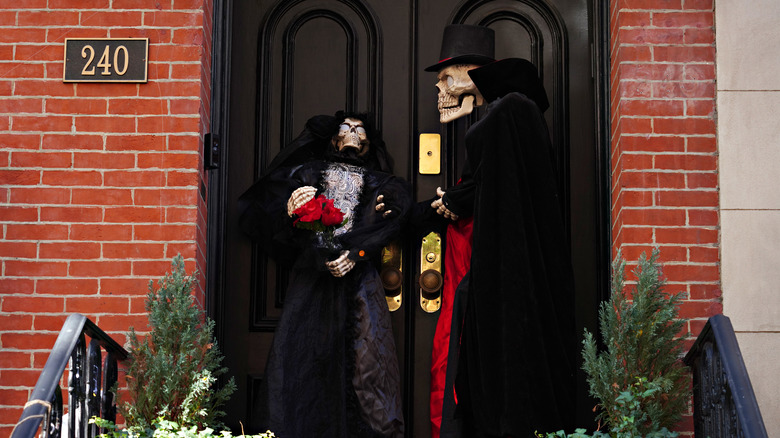 Cindy Ord/Getty Images
The has taken the phrase "till death do us part" to a whole other level. This spooky bride and groom skeleton décor can be a cute option for newly weds who've just bought there first home!
9. Decorating your fence is a must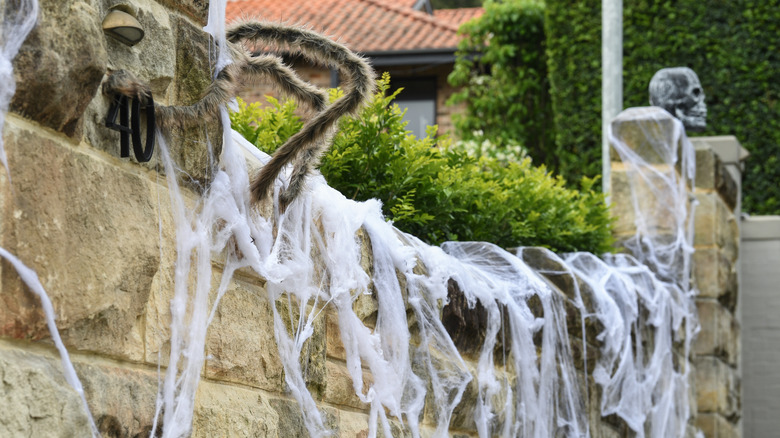 James D. Morgan/Getty Images
Whether you have a metal, wood, or stone fence, don't forget that you can create an amazing Halloween design with it! Just draping over some cobwebs and planting a few spiders can create a frightening visual.
10. Hocus Pocus essentials
Pixel-Shot/Shutterstock
Make it look as though a witch lives in your home by introducing all of a witch's essentials at your front entrance, such as a broom, pointy hat, and magical robe.
11. Bat cave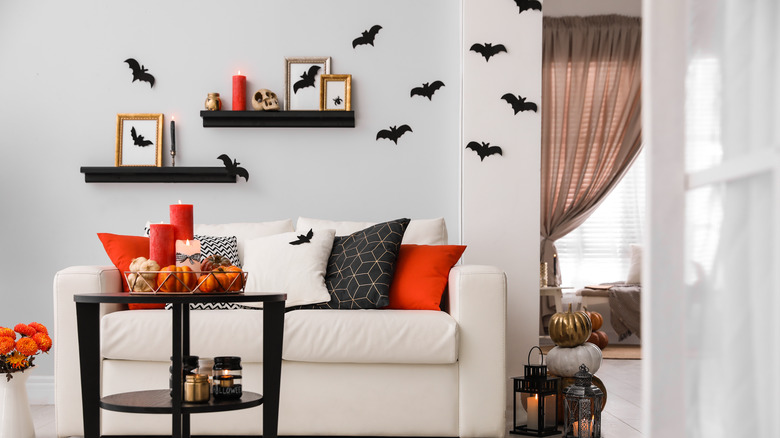 New Africa/Shutterstock
If you already have black and white home décor, then adding a few black bats to your wall or hanging them from the ceiling are sure to complement and contrast against your current design.
12. Light up your fireplace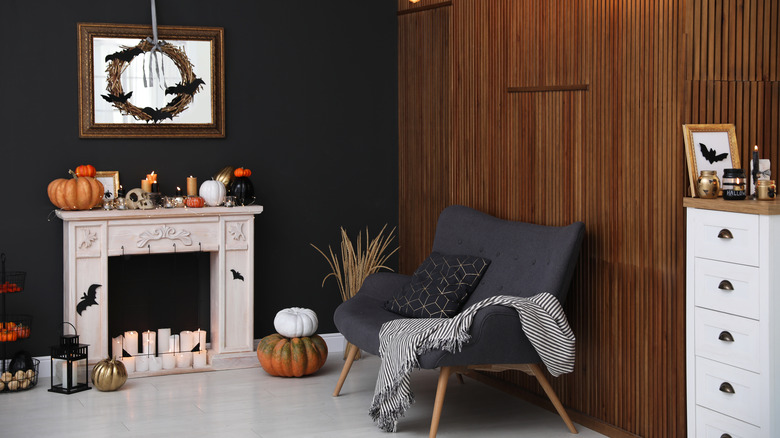 New Africa/Shutterstock
The design of a faux fireplace can easily be amped up with wax candles, pumpkins, fairy lights, and skeleton heads.
13. Line your pumpkins in a row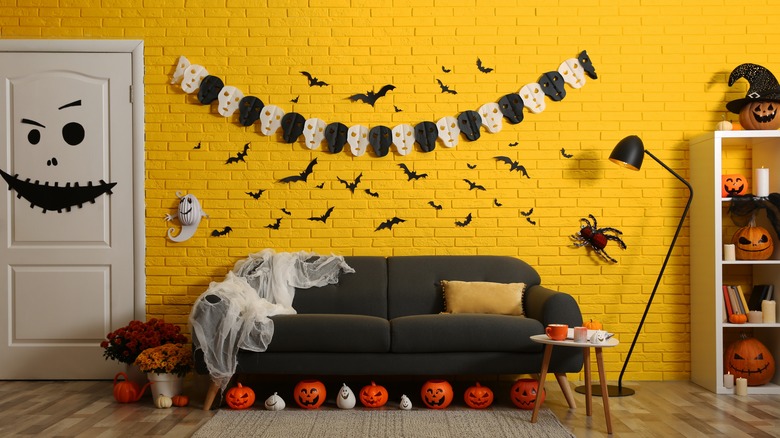 New Africa/Shutterstock
These mischievous pumpkins look like they're up to no good while they lay beneath the couch. Their are different sizes and colors, which adds more interest to the overall look.
14. Fill your open shelves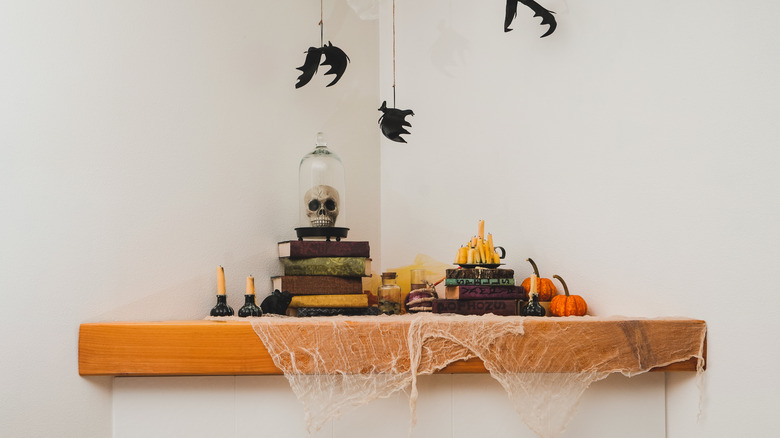 Emilie Farris/Shutterstock
Fill your open shelves with Halloween decor to create a spooky corner. You can stack faux books with eery covers, set down glass vases full of eyeballs, and old, yellow wax candles. 
15. Haunted garden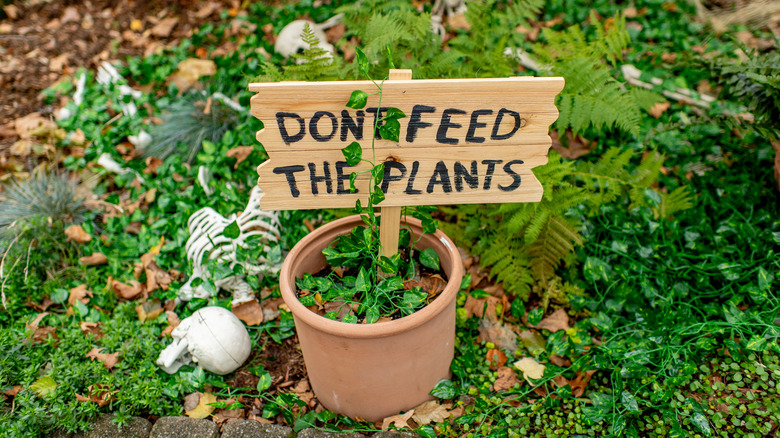 Roy Rochlin/Getty Images
Warn those passing by that your garden has a taste for human flesh by putting up scary signs and bones! This is an exciting way to integrate your garden with the rest of your Halloween décor.
16. Complement your current color scheme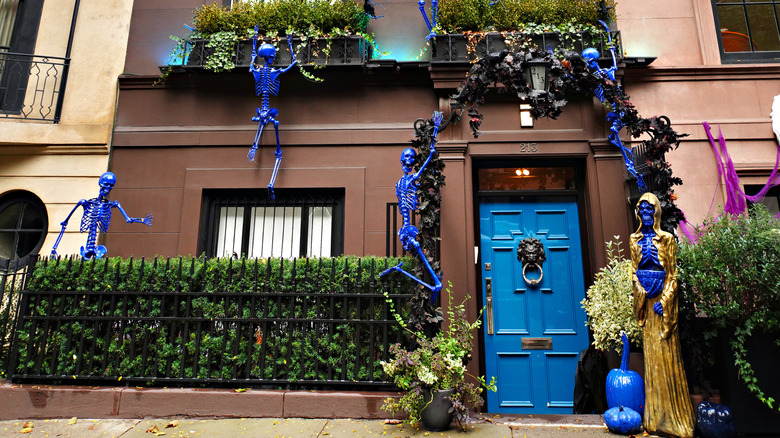 Cindy Ord/Getty Images
Instead of introducing the same old white skeletons, match the color of your front door! These blue skeletons help make the blue color of the front door pop out.
17. Eerie front steps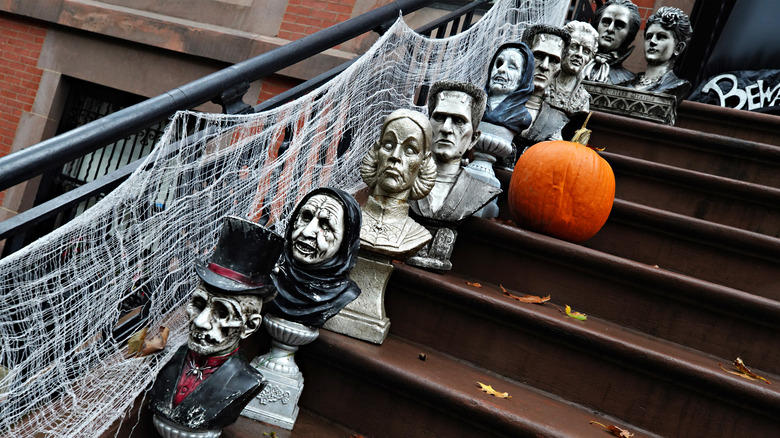 Cindy Ord/Getty Images
Add a few scary statues on your front steps to spike up your heart rate! You can either follow a specific theme, such as spooky statues that replicate your favorite Halloween movie or randomly pick out the scariest ones. 
18. Beware of monster dog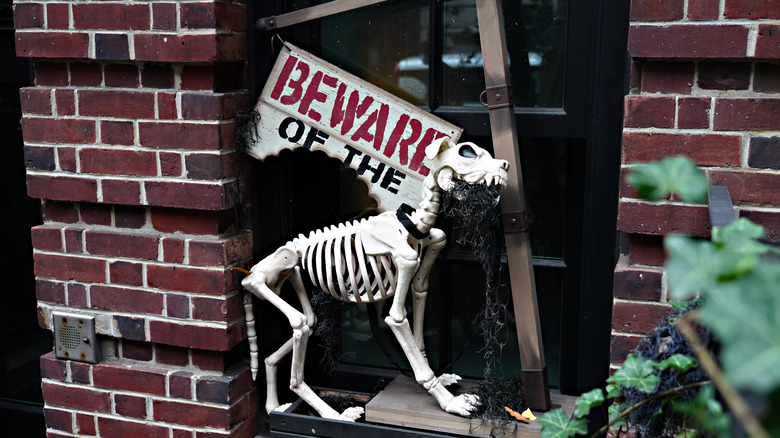 Cindy Ord/Getty Images
If you've got a dog and you want people to stay off your lawn, what best way than to put up a creepy skeleton dog on display.
19. Calm vibes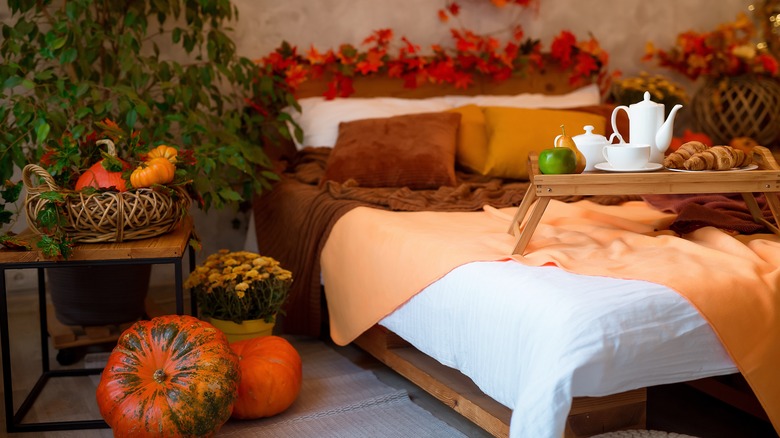 sergiophoto/Shutterstock
Halloween decorations don't always have to be scary and can be formatted to create a chill vibe instead. The warm colors, pumpkins, and leaves make it feel as though you're outside in a calm autumn forest.
20. Spooky dining experience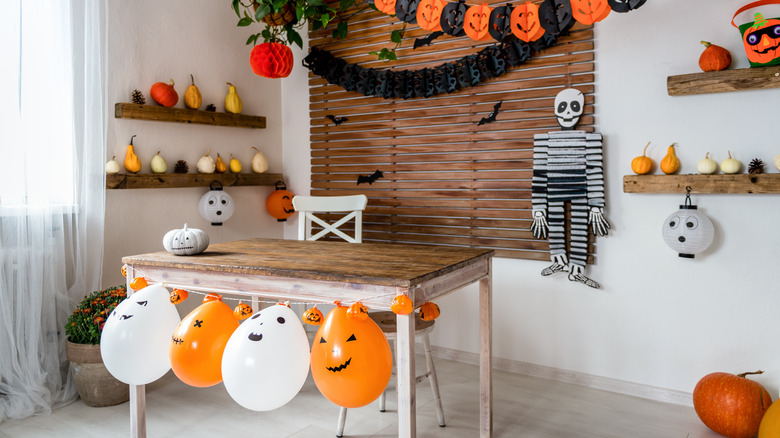 ABO Photography/Shutterstock
We'd love to eat breakfast here every morning in October! The skeleton and pumpkin balloons that hang off the table are super simple but also very adorable!