Turn Your Tomato Cage Into Adorable Halloween Decor With TikTok's Creative Hack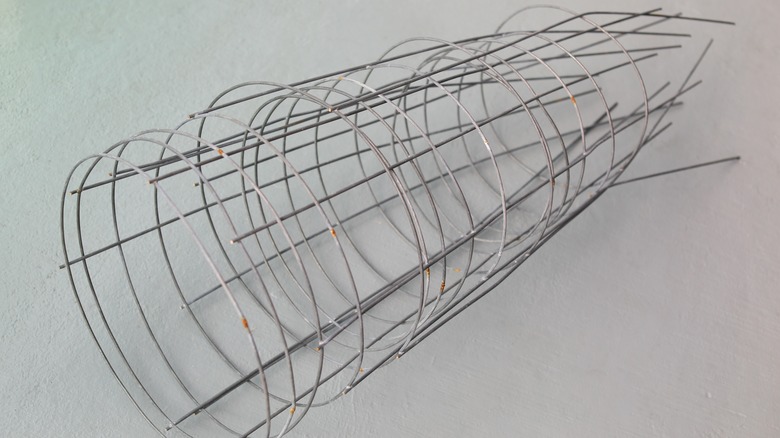 ziedonis/Shutterstock
We may receive a commission on purchases made from links.
Turning your yard into a festive display of Halloween fun doesn't have to be expensive or take a lot of effort. An inexpensive online order and a few minutes with a glue gun can create a spooky scene that will create lots of smiles in your neighborhood. You can create an absolutely adorable sassy pumpkin witch to adorn your yard using a tomato cage and a few other household items.
These pumpkin pail witches have been popping up all over the internet since they are so easy to make, with an end product that has a lot of charm. All you need to make this is some pumpkin pails (the kind used for trick-or-treating), garbage bags, twine, a witch's hat, and a tomato cage.
These figures stand several feet tall and upright for a haunting effect. And since they stand on their own, they can be placed just about anywhere on your lawn. You can make one of these for just over $5 if you already have two garbage bags and a glue gun.
How to make a spooky outdoor Halloween witch with tomato cages
You'll need two pumpkin pails per witch. We love these ones with a classic jack-o-lantern grin for $1.98 each at Walmart. Tractor Supply Co. has wire tomato cages for $2.49 each, while Michael's has witch hats for $1.25 each. You'll also need some trash bags, a glue gun, and glue sticks.
Lights are optional. Use string lights from the garage or this 6-pack of remote-controlled tealights from Amazon for $10. To make your pumpkin witch, flip over the cage and place an upside-down pail on top of the pointed end. Cover it with a trash bag and tie it off around the waist with a strip of garbage bag. Glue an upright pail on top of the covered upside-down one.
You can wind Christmas lights around the cage underneath the trash bag or pop a tealight in the top pail. Another option is to place your witch on top of a pathway light that's staked into the ground. Glue your witch's hat on the top of the pumpkin pail, but make sure you create a way for you to get to the light if you need to. Cut strips of a garbage bag to create the witch's arms. @hometalk on TikTok gave their witches a sassy pose by making an arc to appear that their hands are on their hips. Glue the strips in place. If you're concerned about wind, try securing your witch to the ground with these $6 ground stakes from Amazon.