Bobby Berk's Book Has The Secret To Organization (Even If You're Skeptical)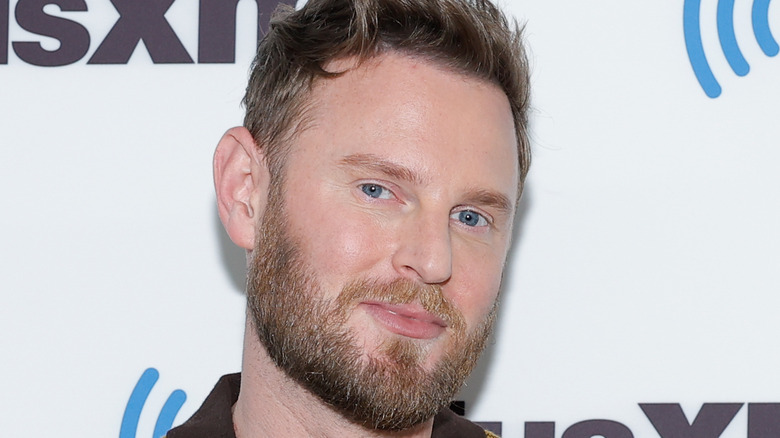 Mike Coppola/Getty Images
We may receive a commission on purchases made from links.
It's been scientifically proven that clutter and messes in our homes can cause anxiety and even depression. That's why Bobby Berk, star of the Netflix series "Queer Eye," says it's so important to remain vigilant when it comes to organization. Berk shares his best secrets for organizing your home in his new book "Right at Home: How Good Design Is Good for the Mind: An Interior Design Book." These tips can be used by anyone to tidy up their homes, no matter how daunting it might seem. 
"Remember: What you take in with your eyes gets on an express train straight to your nervous system and your brain (AKA your body's HQ.) What you see is literally what your mind gets. So you must be ruthless about what you allow into it," the Fab Five designer writes in his book. While many might not be in the market for an entire home organization makeover, Berk says there are things we can do to make our homes a more serene space that is better for our mental health.
"Outside of things you can't control — the view through your windows, basic floorplans if you're not in the market for major changes, furniture that has to stay put for the time being — everything you see in your home is a choice you've made. And if it's disorganized, counterproductive, or more to visually process than you need to, you're basically letting cortisol live rent-free in your head, body, and soul," Berk explains.
Start tiny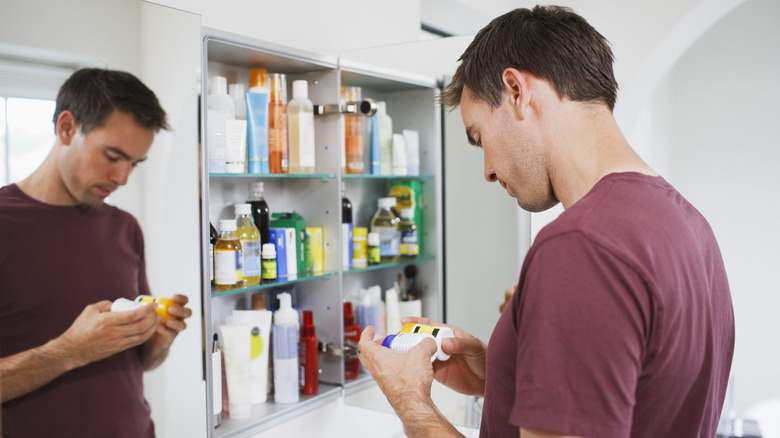 Tom Merton/Getty Images
Bobby Berk says that the best way to start tackling clutter in your home is to start small. This way, you don't really have much of an excuse not to get started. This will help the process feel less overwhelming while still offering a gratifying experience. 
"If the only thing you can get yourself to do is tackle that one teeny tiny problematic spot on the middle shelf in your bathroom medicine cabinet, where the toothpaste keeps getting knocked over, I'm telling you — that moment of Zen you get from finally figuring out how to make it work for you should not be minimized," Berk urges.
Even modest efforts make an impact in making your home feel more like your sanctuary. Seeing that tiny mess in your medicine cabinet can create what is called a microstress. These are tiny, mostly unconscious, moments of stress that don't seem like a big deal individually. However, throughout the day they add up to create massive stress and by the end of the day, you're a ball of anxiety who is turning to fast food instead of a healthy meal or that fifth glass of wine to relieve your aggravation. Eliminating even the smallest cluster of clutter in your home can cut down on the level of stressors that surround you and cause overall feelings of unwellness.
Make it fun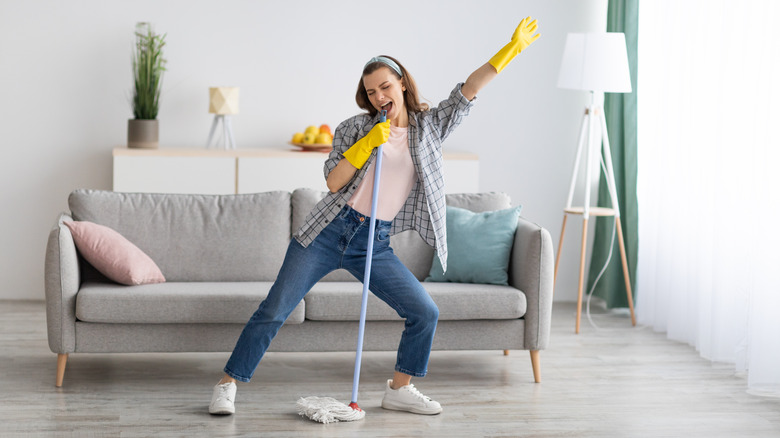 Prostock-studio/Shutterstock
Some of us associate cleaning with being a bothersome task or chore. This can create anxiety and resistance when it's time to tidy up. Berk says that changing your mindset is the best way to combat this. You can do this by trying to make the experience fun. 
"If cleaning stresses you out, try to work yourself up to it by blasting some of your favorite tunes and having a quick little dance party to shake out the scaries," Berk writes.
You can also try listening to a podcast while you clean or a motivating playlist since music is proven to boost your mood. Watching a familiar TV show in the background is also a great option since watching something you're familiar with helps soothe anxiety. Heck, you can even order up some DoorDash and break out that bottle wine to make organizing a pleasurable event. 
Phone a friend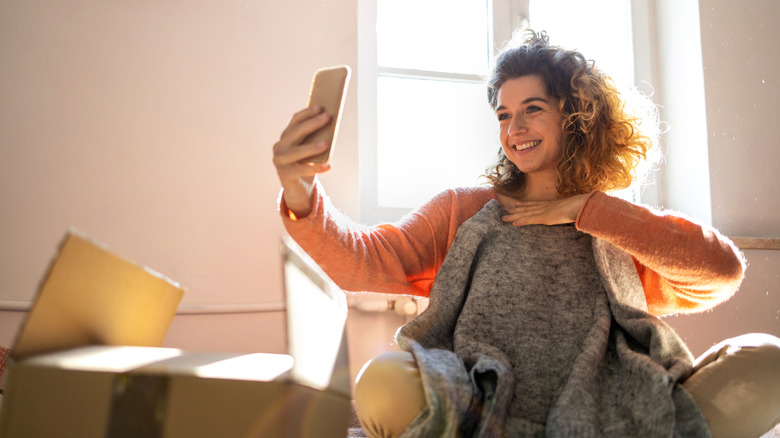 pikselstock/Shutterstock
Many of us have clothes in our closet that we just can't get rid of, even if we never wear them. There are many reasons why we hang on to them, whether it's thinking we'll lose a few pounds and fit into it again or maybe we can't let it go for sentimental reasons. If you're unsure about whether or not you should or want to let go of something, call a friend and ask their opinion.
"If you're struggling to make decisions about older items, (clothes and shoes, especially,) having a second opinion around will help keep the momentum going! Pick someone who loves you, who knows you pretty well, and preferably someone you can stand being around for a minute because cleaning can take a while, and gets, well, messy," Berk says. Getting an outside opinion can help you see beyond the biases you have around clothing and give you a clearer point of view about getting rid of them.
Lean into your feelings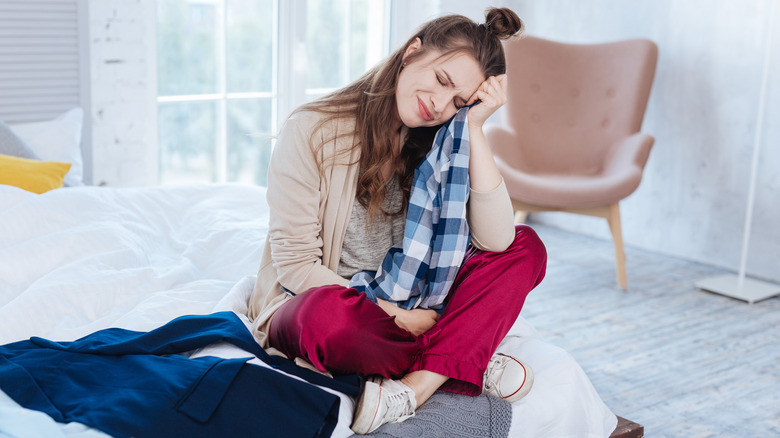 Yacobchuk/Getty Images
Decluttering your closet can help you to let go of emotions and memories that can be unhealthy to hold on to. But having to confront these things can stir up suppressed feelings. Finding your ex's sweater, pants you no longer fit in, books you promised you'd read, or hobby items you never tried, can be a tough pill to swallow. Or just a total drag. So, Berk tells us it's important that we be gentle with ourselves during this process. 
"Cleaning can dredge up feelings you weren't prepared for. If you get emotional about something, allow yourself to get emotional. If you need a moment, take a moment. If you need a break, take a break," Berk writes. "Do what you need to do to get through one full sesh and don't forget to pat yourself on the back when you're done." 
Getting rid of old clothes that carry sentimental value is a form of energetic decluttering. This allows you to release energy that you no longer need or want. The good news is that getting rid of this energy will make way for new energy and memories to arrive in its place allowing you to fill your closet with new clothes to have new experiences in. Your new wardrobe will go great with your new "my house is organized and tranquil" vibe. 
Remind yourself of your goals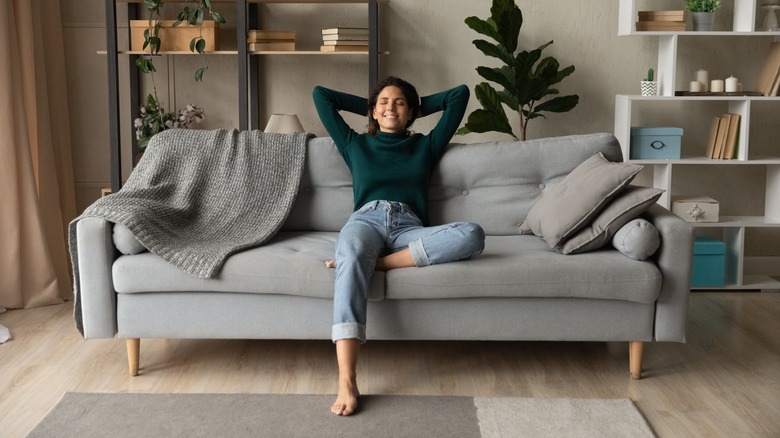 fizkes/Shutterstock
Attempting to achieve goals or solve problems can seem unnerving to some. This is because many of us think that achieving our goals will be difficult. That it will require some kind of sacrifice or hardship. This can make the task at hand seem insurmountable. Bobby Berk says this isn't actually true, and having this kind of mindset can actually deter us from achieving our goals. 
"Making something easy is a way of saying, 'This is important to me,'" Berk says. We often tell ourselves things are important to us — like working out, eating well, having hobbies — but we don't take any steps to actually do them. Decluttering, tidying your home, and making those things easier to do and access proves that those things are actually important to you. Leaving them undone, doesn't. 
A great way to make your goals easier is to break them down into smaller tasks. So, instead of saying you'll deep clean or declutter the whole house in a single weekend, pick one room to tackle on Saturday and another on Sunday. Keep doing this until the whole house is cleaned. It might take you a month but it will get done and seem more manageable.
Remind yourself that organization encourages connection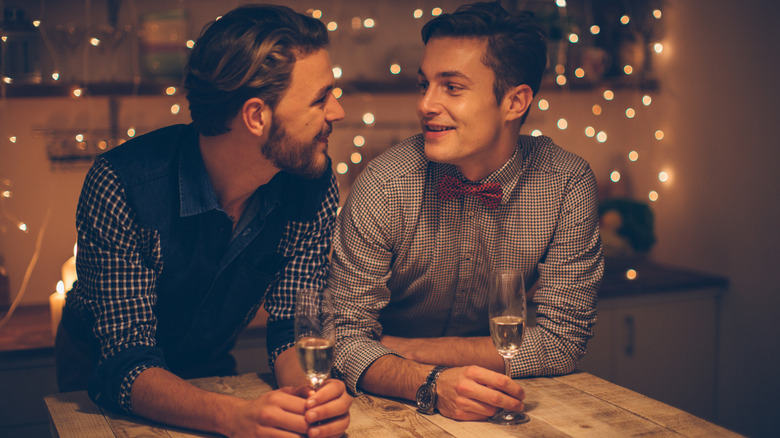 Svetikd/Getty Images
We tend to self-isolate when our minds are heavy or we're in a depression. Not only can this make you feel worse, but it can actually be dangerous by exacerbating depressive symptoms and negative thoughts. Bobby Berk says cleaning up your home can be a remedy for this, as keeping a tidy house creates less friction for wanting to connect. 
"Keeping things organized and ready for guests makes it harder to stay isolated. Remember: Having a strong network of loved ones you feel comfortable inviting over when you need support is crucial to your (mental) well-being," Berk explains. If your living room has extra seating because you finally put away all the clothes that were on top of your armchair, then you might be more inclined to invite over some friends. When you finally go through all the mail consuming your kitchen table, you might finally invite that date over for dinner.