Create A Beautiful Fluted Dresser On A Budget With This Simple IKEA Hack
We may receive a commission on purchases made from links.
Fluted, also known as reeded or tambour, furniture is one of the more modern trends in upscale furniture. Fluted furniture features indented millwork that has the appearance of pleats. It is often used for dressers and nightstands, which can cost thousands when buying from brands like Arhaus. But why pay for this look when you can hack it for far less? You can create a fluted look with IKEA furniture, fluted wood panels, glue, and a few other basic supplies. 
A quick search on the internet will lead to a sea of DIY tutorials for fluted furniture that is often identical to expensive pieces of furniture being sold online from high-end retailers like West Elm. This TikTok tutorial uses fluted pole wrap and an IKEA dresser. The only difference is that DIYers spent a few hundred bucks instead of thousands. You can create one of these gorgeous fluted dressers for between $700 and $800. But you could save a ton more if you already have the tools you need and buy a used dresser or use one you already own.
How to make a fluted DIY dresser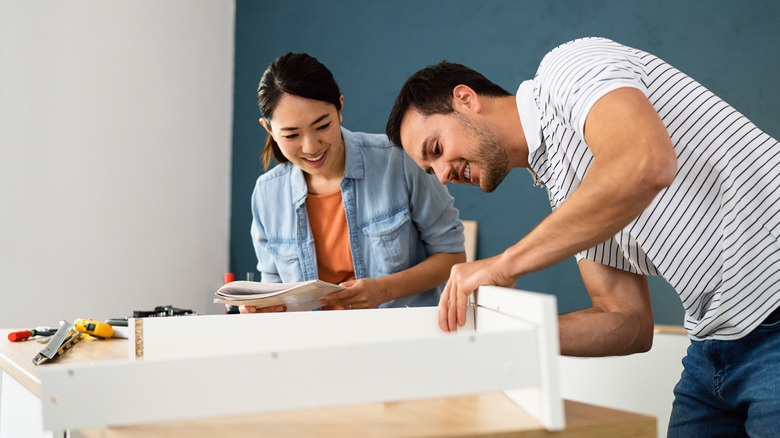 Srdjanpav/Getty Images
You'll need the IKEA HEMNES 8-drawer dresser for $400 or a dresser in a similar style. You'll also need fluted trim. Fluted wood paneling costs around $20 to $40 per piece, depending on size. You can also opt for polyurethane-fluted panels. Measure your dresser to decide exactly how much you'll need — a HEMNES dresser will use about seven 3-inch by 94.5-inch panels. 
You'll also need clamps, strong wood glue, drawer pulls that go on the top of the drawer, wood filler, paintable caulk, furniture paint, a nail gun, and a saw. Measure and cut your fluting to fit on top of the drawers in a seamless pattern from top to bottom. You'll also need pieces to cover the edges of the dresser. Use the glue to attach the pieces to the front of your drawer, taking care to line the fluting up in straight rows from top to bottom. Use clamps to help the glue bond. Nail the edge pieces to the dresser and fill with filler. Cover any seams with the caulk. Paint and sand your dresser. Let dry completely before adding your drawer pulls.