Your Toilet Brush Has Never Looked So Chic With This Clever Storage Hack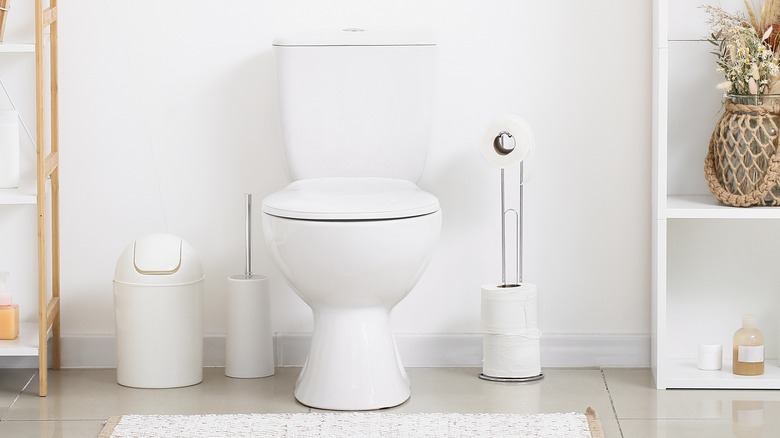 Pixel-Shot/Shutterstock
We may receive a commission on purchases made from links.
Having a toilet brush next to the toilet comes in handy when cleaning the toilet, but the holders they're sold with often look plain or unattractive. Instead of settling for a basic toilet brush and holder set, separately buying the brush and holder gives you a chance to find a stylish option, such as a flower pot, pitcher, or tall bucket. Cleaning the bathroom is rarely anyone's favorite task, but it can be more pleasant when even utilitarian items are attractive and well made.
Flower pots are available in a wide variety of styles, materials and sizes, so it should be easy to scour your local garden center or department store for one that matches the style of your bathroom. Consider a rustic clay pot for a farmhouse-style bathroom, or a sleek, colorful glazed one for a more modern look. If you're not a fan of flower pots, pitchers make an elegant alternative. Here are a few different options you can use to hold your toilet brush.
Types of pitchers and flower pots to use to hold your toilet brush
Since you can use anything as a toilet brush holder, the hunt to find your perfect container can take some time. However, once you find the right one for your bathroom, you'll move cleaning your bathroom to the top of your to-do list every week. Pitchers and flower vases are an excellent start; they're classy and stylish. For example, if you enjoy a minimalist interior and your bathroom is full of neutrals, you might want your toilet brush to blend in with the walls. Amazon has a gorgeous minimalist, tall ceramic vase that you can use to hold your toilet brush. The ceramic vase is handmade, adding the perfect modern touch to any bathroom for $18.99.
Another excellent toilet brush holder is a vintage-style pitcher typically used to water your plants. Amazon has a beautiful vintage pitcher that would look beautiful in a farmhouse-style bathroom. It's white with a rustic appeal and has a "flowers and garden" label engraved on the front side of the pitcher. The pitcher comes in two sizes: small for $14.99 and large for $21.99, so you can choose the best size to fit next to your toilet.