You've Been Drying Your Oven Mitts Wrong This Whole Time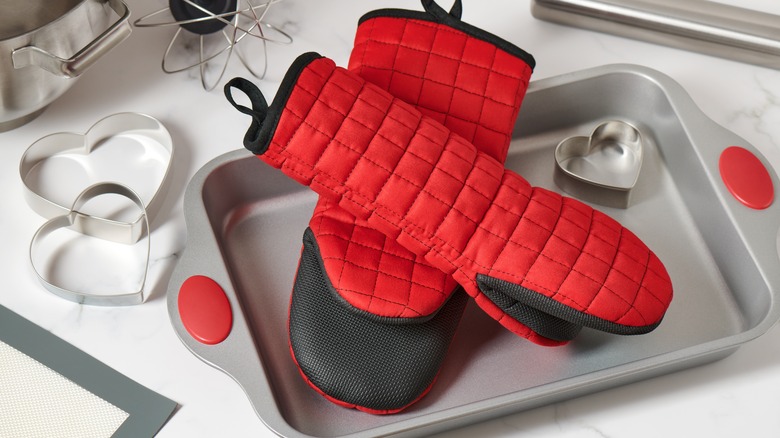 MaxCab/Shutterstock
After using them countless times to handle ooey-gooey mac and cheese, sticky chicken wings, and double-decker s'mores brownies, you finally decided to wash your stinky, stained oven mitts. Just toss them into the washing machine and follow up in the dryer. Simple, right? Not if your mitts are made of silicone. To preserve the integrity of silicone oven mitts, you should air dry them instead.
Households have come a long way since the days of using ratty kitchen towels as de facto oven mitts. Today, home cooks can enjoy a safer experience using durable yet flexible oven mitts made of silicone. The man-made compound is waterproof, steam proof, heat-resistant (some silicone oven mitts can withstand temperature up to 650 degrees Fahrenheit), and provide an exceptional grip to prevent accidental slips. Moreover, silicone oven mitts are often easier to clean than their fabric counterparts since the slick, high-performance material does not absorb liquids and proteins as readily as cloth.
Still, despite their impressive stats, if you're using silicone oven mitts on a regular basis, they need to be cleaned and dried properly in order for them to maintain their form and function. This doesn't mean washing and drying them every day. Rather, consider a weekly wash and dry if you use them consistently each day and about once a month if they don't get worn as frequently.
Tips for drying silicone oven mitts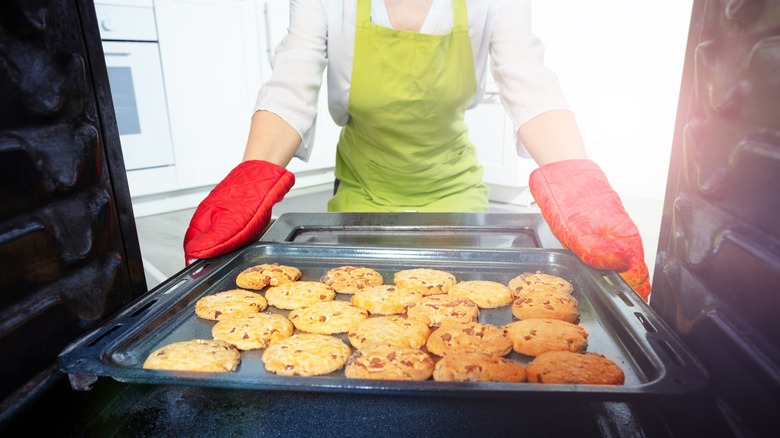 Sergey Novikov/Shutterstock
Before washing and drying any type of oven mitt, look for laundry codes. While manufacturers of heat-resistant handwear are not mandated to include guidelines on their products, often you'll see general washing and drying suggestions printed on a care label tucked inside the mitt. It's best to follow the recommendations if they're included. Otherwise, err on the side of caution and opt for the gentlest means of washing and drying. This is especially important when dealing with silicone oven mitts.
Whether you choose to hand clean silicone oven mitts with mild dish soap, place them in the washing machine using the gentle cycle, or spread them flat on the top rack of the dishwasher, all drying should be done naturally. You can hang silicone oven mitts outside on a clothesline, set them on a drying rack near an open window, or simply place them in a cool spot in your house that experiences good airflow. Another option is to spot clean the mitts with a soapy rag and wipe them dry with a clean towel. For super saturated mitts that have been machine washed, start the air drying process with the handwear turned inside out. Then, when the mitts' interior is completely dry, turn them right side out and allow the exterior to do the same. Bottom line: avoid placing the heavy-duty mitts in a clothes dryer as prolonged exposure to hot, dry air can damage silicone's chemical properties and compromise its shape.