The 9 Best Leaf Rakes For Keeping Your Lawn In Tip-Top Shape This Fall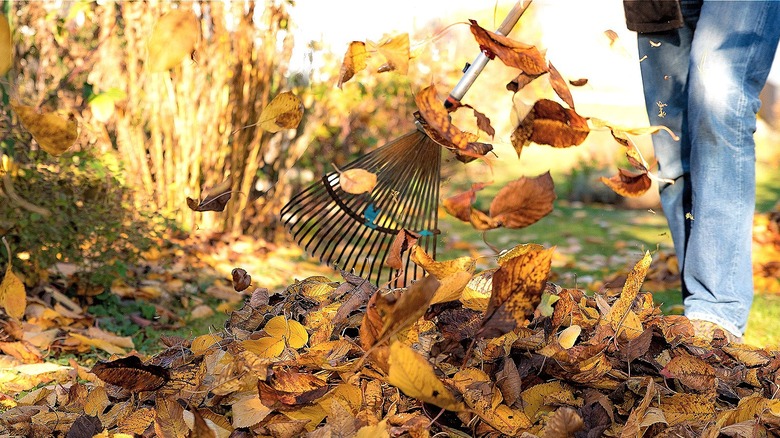 Janny2/Getty Images
We may receive a commission on purchases made from links.
When summer ends and fall begins, the cooler weather may cause a fair share of dead leaves to end up on your lawn. Although it can be a daunting task to collect every single one, there are a few clever ways to make raking leaves easier. That includes choosing the best leaf rake for the job.
There may be more varieties of rakes than you realize and each one has a specific purpose. For instance, there are berry rakes (for berries) and hay rakes (for hay), as well as concrete, garden, lake, landscape, roof, shrub, stone, and thatch rakes. These rakes also come in a wide range of sizes and materials, such as plastic and steel, and also vary in their features. The same goes for leaf rakes. Although you might assume that they're pretty straightforward, you can find differences in both design and price.
If that makes you feel a little intimidated and unsure of what kind of leaf rake you really need, rest assured because we can definitely give you a hand. We've done the work and can help you narrow down the perfect rake for you and your needs. In fact, we can recommend the seven best leaf rakes you can buy to keep your lawn in tip-top shape this fall.
How we selected products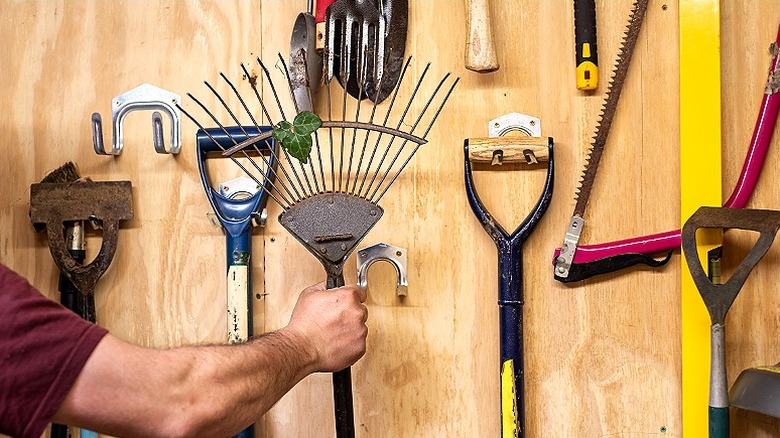 Lucy M Ryan/Shutterstock
Although you can certainly be impressed by how a leaf rake looks, that's just the first aspect to consider — if you want to consider that at all which isn't really necessary in this case since you want something fabulously functional. Indeed, more importantly, for leaf rakes, you need to know what exactly it does, how it does it, and how well it will hold up over time. That's not to mention how much the rake will cost you.
When it comes to a leaf rake that you may be using quite often during the season, you want it to be stable and strong while sitting comfortably in your hands if it's meant to be held (no, not all raking is done by hand, but more on that later). Don't forget about the size — you might need one that's rather large and covers a lot of ground or one that's more compact and can fit into small spots.
In order to figure out what leaf rakes are the best of the best, we've taken a look at what they offer shoppers and, in turn, what customers thought about the product after they brought it home. In the end, we've only included choices that will satisfy your needs, whether that's a budget-friendly option or something that's fast, effective, and long-lasting. Thanks to their popularity, ratings, and reviews, we've figured out which leaf rakes are worth your time, effort, and money.
Best Overall Rake: Suncast Poly Double Tine Leaf Rake
This steel-core rake from Suncast offers various perks that will make it an attractive choice for anyone who needs to pick up leaves this season. The sizable head is 26 inches across and has two rows of tines to make sure that it doesn't leave any debris behind. It also includes an 8-inch detachable hand rake to tackle both big and small jobs around the yard.
Purchase a Suncast 26-Inch Poly Double Tine Leaf Rake with Detachable Hand Rake at The Home Depot for $29.98.
Best Price: Expert Gardener Wood & Poly Shrub Leaf Rake
The Wood & Poly Rake from Expert Gardener can clean up leaves from the grass as well as any bushes and shrubs that are in the area. Along with a polypropylene head that's 8 inches wide, it also features a 45-inch long eucalyptus handle that's been finished with varnish for a smooth feel. That's not to mention the fact that it comes with a five-year warranty and, perhaps the best part, only costs $9.44.
You can find the Expert Gardener 8-Inch Wood & Poly Shrub Leaf Rake at Walmart for $9.44.
Best Adjustable Rake: Tabor Tools Adjustable Metal Rake
The Tabor Tools Adjustable Metal Rake is ideal for those who have various spots to clean up but don't want a shed full of rakes. Made of lightweight yet sturdy steel, the handle can be extended or shortened as needed. The tines on the galvanized steel head are resistant to rust and can also be widened to handle larger spots or shortened to get into smaller spaces. Just note that it's not for use on cement or large debris.
The Tabor Tools Adjustable Metal Rake is available on Amazon for $32.49.
Best Hand Rake: Fiskars Xact Hand Rake
Not all jobs require a massive tool, which is where the Fiskars Xact Hand Rake can come into use. A fantastic option for cleaning the leaves out of a garden, flowerbed, hanging basket, or planter, it can also reach around drain pipes and outdoor décor. Made with a stainless steel head that is strong and durable, it also has flexible tines and a weighted Softgrip® handle that's comfortable to hold while raking up fallen leaves.
Purchase a Fiskars Xact Hand Rake at Target for $7.99.
Best Grabbing Rake: Ames Leaf Grabber Rake
Collecting leaves is only one part of the job. It's also necessary to pick them up and dump them into a composter or a garden waste bag. Although this can be a pain (literally straining your back and potentially wrenching your knees), the Ames Leaf Grabber Rake will make the chore much easier. Featuring steel handles, cushioned grips, and a pair of poly blades that have serrated tips, this rake will grab the leaves and make it easy to toss them away.
Get the Ames Leaf Grabber Rake at Home Depot for $49.62.
Best Heavy-Duty Rake: Walensee Bow Rake
Hardcore jobs require reliable tools, which is exactly why the Walensee Bow Rake Heavy Duty Garden Rake was made. Put together with high-quality stainless steel that resists both rust and corrosion, it's sturdy enough to last for years even when regularly used for large tasks around the yard. The head that boasts 17 tines is also made to rake up leaves and yard waste without harming your grass or plants.
Purchase a Walensee 5.4-Foot Bow Rake Heavy Duty Garden Rake on Amazon for $29.99.
Best Towing Rake: Yard Tuff ATV Tow-Behind Rake
Anyone with a large property knows it can take a long time and an exhausting amount of effort to rake up all of the leaves that can fall in one season. That's why it can be helpful to use something like the Yard Tuff 60-Inch ATV Tow-Behind Rake. As the same suggests, it's meant to be attached to an ATV and pulled around while it collects leaves as well as twigs and other debris.
Find Yard Tuff's 60-Inch ATV Tow-Behind Rake at Target for $469.99.
Best Clog-Free Rake: True Temper Clog-Free Leaf Rake
If your rake is always clogged with leaves, making you bend over and pull them out by hand, it may be time you upgrade to a clog-free option. This one from True Temper works on leaves, pine needles, and twigs, picking up the debris in your lawn without needing to be cleaned out. Keep in mind, though, that reviewers have indicated that it doesn't work well on grass clippings. Instead, it shines when leaves turn color and fall from your trees.
Purchase True Temper's Clog-Free Leaf Rake at Home Depot for $38.04
Best Pine Needle Rake: Groundskeeper II Rake
This 55-inch rake uses spring-loaded tines to pick up even the smallest pieces of debris out of your lawn. The Groundskeeper II works best on twigs, pine needles, and wood chips — as well as dry leaves. It even moves gravel, mulch, and manure if needed. Though its 28 steel tines may look scary, they are actually very gentle on green plant matter, including grass, stems, and branches, so the rake will leave your yard clean and undamaged.
Purchase the Groundskeeper II Rake at Home Depot for $44.99.