Do You Really Have To Rake The Dead Leaves On Your Lawn?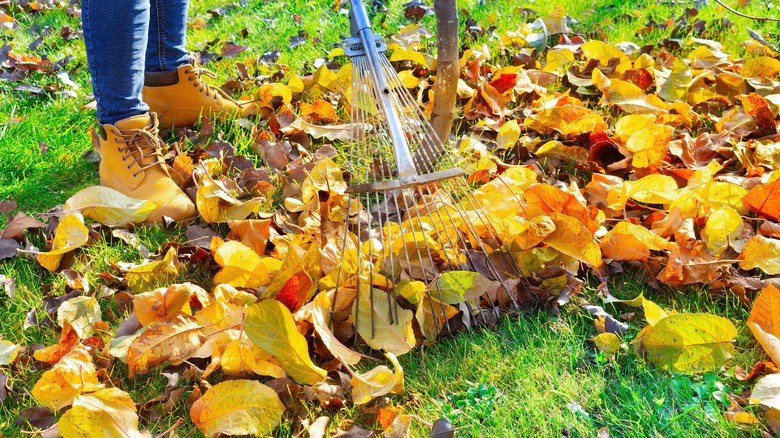 nieriss/Shutterstock
Raking the dead leaves on your lawn every autumn can be extremely hard work, especially if you have a large yard with lots of deciduous trees. However, although conventional wisdom states that a leaf-free autumn lawn is ideal, letting the leaves lie where they fall might have some benefits beyond relief for your achy back. According to The Turfgrass Group, in addition to benefiting species that use decomposing leaves as food, a light layer of dead autumn leaves can help prevent invasive seeds from proliferating on your lawn. Additionally, decomposing leaves are known to possess benefits for insect life, plant life, and your soil, depending on climate conditions and the amount of ground cover.
Of course, too much of a good thing is rarely healthy. For this reason, if you're planning on tossing your wooden rake into the fire pit this evening, you might need to adjust your plans. In fact, if you're the type of homeowner who enjoys keeping a lush, green lawn and fertile garden beds, you'll likely be able to put your rake to good use this autumn.
Benefits of leaving the leaves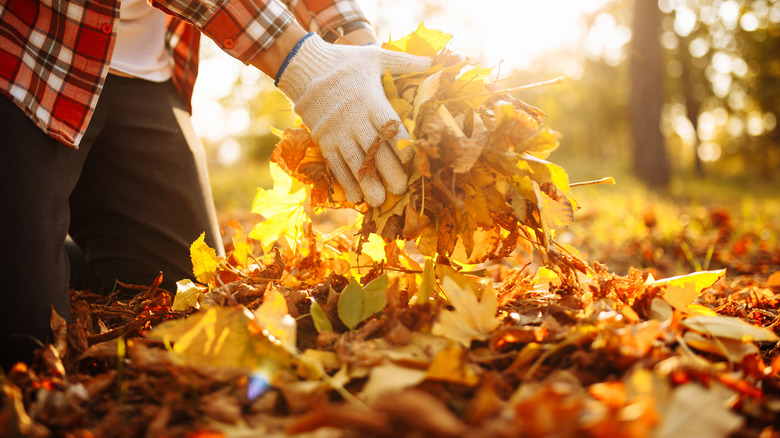 Konstantin Zibert/Shutterstock
Decaying leaves are a great source of nutrients for your yard's soil (per Tualatin Soil and Water Conservation District) and are especially useful for yards that struggle with compaction and erosion. As such, if your yard's soil lacks the nutrients or composition for a beautiful lawn, allowing a few autumns to pass without raking your leaves is not a bad idea. In fact, even homeowners with full lawns may prefer the more natural and earthy aesthetic for their yards, especially if they live in a natural setting, such as on a mountain property.
There also might be compelling environmental reasons not to rake the leaves off your lawn. From plastic bags full of leaves filling your county's landfills to the noise pollution generated from gas-powered leaf blowers (per Anlon Custom Construction), removing the leaves from your lawn likely has a larger environmental impact than you'd think. You also might be inadvertently limiting the number of beneficial insects in your garden when raking your property and disposing of the leaves, which can hurt your seasonal vegetable garden harvest.
Benefits of raking your leaves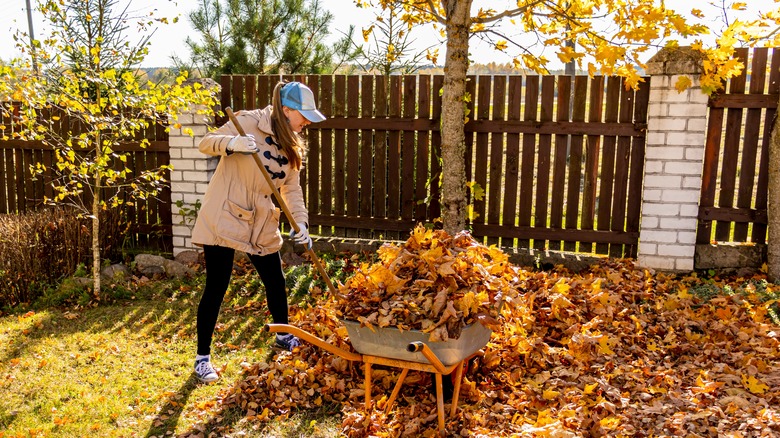 J_Koneva/Shutterstock
Of course, there has to be a reason why raking the leaves on one's lawn has become a ubiquitous autumn tradition. According to Lawns and Palms, although dead leaves won't immediately cause havoc on your lawn, they may end up depriving the grass of oxygen once they get wet, thereby creating unsightly brown spots. Keep in mind, if your lawn is composed of cool-season grass like tall fescue or agrostis stolonifera, removing the leaves may be even more imperative since these grasses require plenty of sunlight in order to thrive.
Thankfully, just because you choose to rake the leaves on your lawn every autumn doesn't mean that you're contributing waste to your local landfill. In fact, there are a number of uses for dead leaves that you can take advantage of around your yard. According to Native Backyards, you can deploy shredded or whole leaves on your garden beds to help protect your plants or fortify the soil in anticipation of next year's growing season. Additionally, some homeowners with larger yards choose to keep a large pile of leaves in an inconspicuous place on their property. As this pile slowly decomposes over the course of a year, it leaves a wealth of fertile organic material that can be used for your yard's landscaping needs.