The Alternative Christina Hall Selected To Beige Tile Flooring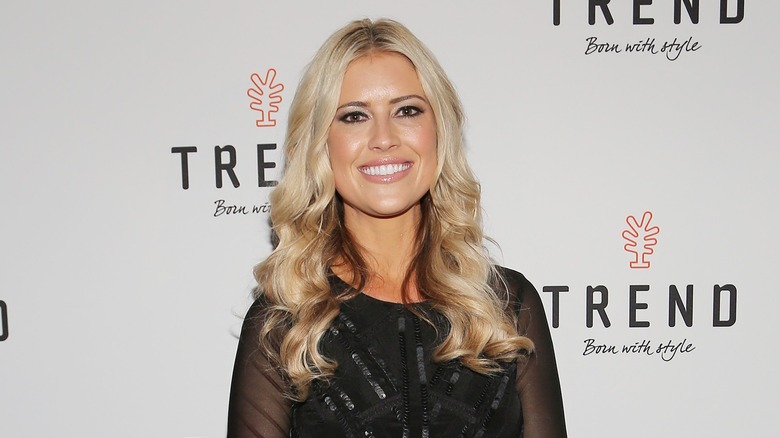 Alexander Tamargo/Getty Images
Home designs are ever-changing, whether due to trending fads or personal preferences. One look that HGTV's Christina Hall has moved on from is beige tile flooring, which she has replaced with terrazzo. Most viewers of Hall's work know the designer prefers eclectic, modern choices, which is exactly the aesthetic that terrazzo flooring fits. "This is a mid-century modern house. We have to do something different. We have to stand out," Hall says of the flooring choice on an episode of "Flip or Flop" (via Realtor.com).
Beige tile flooring was quite a popular option in the early 2000s, though the classic choice is still seen in today's color palettes. But, when used in a space paired with dark wood cabinets, beige tile has a tendency to darken the room even more. In contrast, the brighter base of terrazzo flooring provides a nice fresh element, while the tiny pops of color create contrast and a fun optical illusion.
What is terrazzo flooring?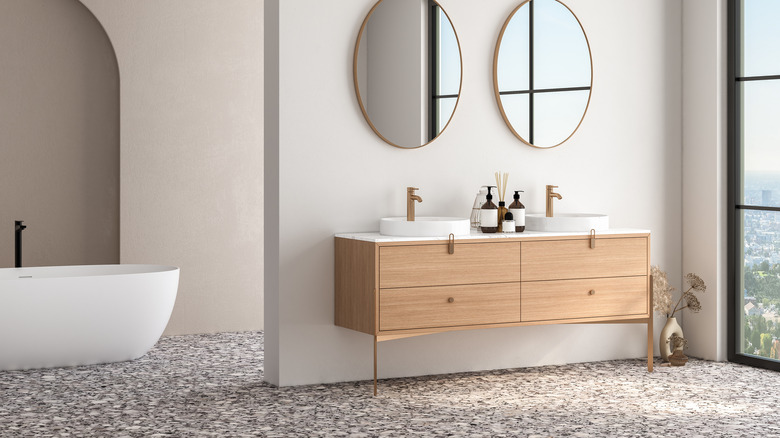 Suleyman Ozkan/Getty Images
Terrazzo tile flooring consists of tiles made from chipped pieces of several materials, such as marble, quartz, or granite. These chips are held together by epoxy to form a cohesive design that can include several colors. These tiles feature a pop-out effect, with the darker-colored pieces perfectly clashing with their base color. The flooring creates what appears to be an abstract effect, which is why Hall leans toward this option for her mid-century modern remodels. The flooring also gives a unique artistic appeal when used as a twist on generic tile or plank flooring.
Though gorgeous, terrazzo flooring is more costly than other types of flooring, a downside of terrazzo flooring. Terrazzo is labor-intensive to create, which leads to its cost. Some terrazzo flooring uses custom chips of material and requires more epoxy to bind it all together. If you don't have enough room in the budget for terrazzo flooring, tiles that feature specs of different colors are a great alternative for a similar effect. When it comes to cleaning, the good news is that terrazzo flooring is easy to maintain. It requires a damp mop and a neutral cleaner when mopping to help prevent the color of the chips from dulling. Mop the floor as you would hardwood or tile, and let it dry before buffing it out with a dry brush.
Where to lay terrazzo flooring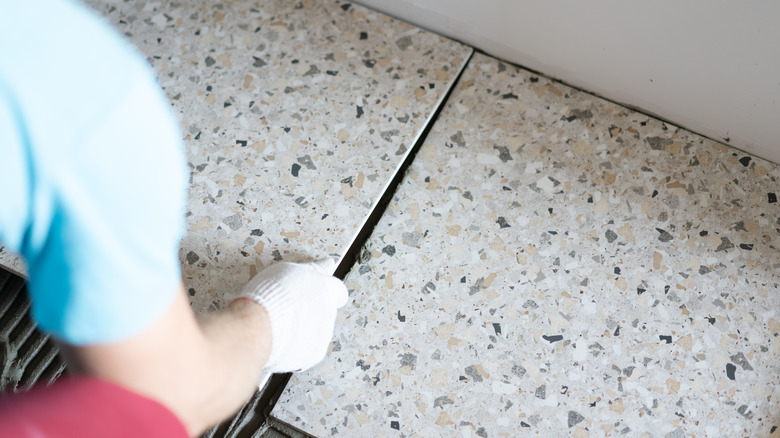 Zayatssv/Getty Images
Wondering where to install terrazzo flooring? This flooring option can be used in any room in the house — including your living room — but it's commonly seen in kitchens and bathrooms. For terrazzo flooring to hold up in a bathroom, it must be properly sealed with epoxy to keep it water resistant — a much-needed feature in moisture-rich rooms. Laying terrazzo flooring in your living room is a great way to boost the room's character and design thanks to the colorful chips, but it's also not a bad idea to layer the flooring with an area rug for soft padding.
The eclectic pop of color from the flooring's chips makes it suitable for contemporary spaces. This particular flooring has enough of a vintage feel to tie in something older with the modern, contemporary aspect. Depending on the exact design of your terrazzo flooring — as in, how big the specs are — the flooring can serve as an abstract concept for your rooms as another design element.