The 7 Best Grout Removal Tools That Make The Job Easier Than Ever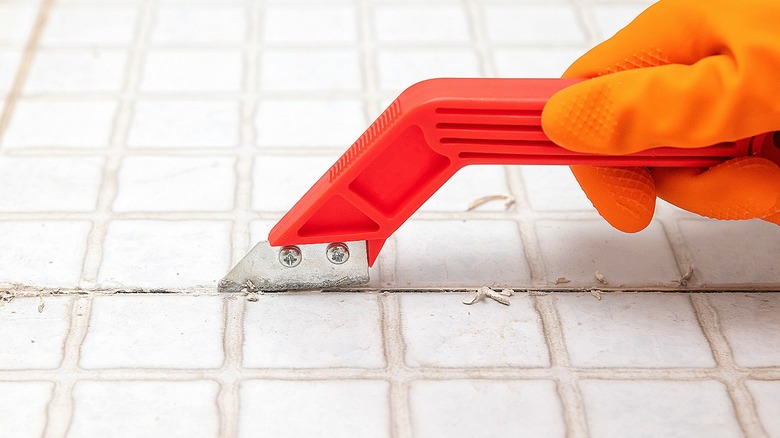 Toa55/Getty Images
We may receive a commission on purchases made from links.
As a savvy homeowner with a little do-it-yourself experience, you may be considering replacing the grout in your bathroom, kitchen, or wherever you have tile. Whether you're just wanting to freshen up your space or are replacing the tile for a brand-new look, you'll need the best tools. Specifically, you'll need a grout removal tool.
While removing tile grout can be a slow process, it's certainly a doable DIY. There are two ways to remove grout: with a manual hand tool or using a power tool. The method you select really depends on the size of the project. Many homeowners can skip the cost of hiring a pro by tackling this home improvement with one of these tools.
If you're just removing a few square feet of tile or, say, grout above the sink, then an inexpensive hand tool should work. However, if you're planning to regrout an entire bathroom, you'll probably want to invest in a power tool to save yourself a lot of time and muscle pain. In our research, we have found five tools to help you complete your task.
How we selected products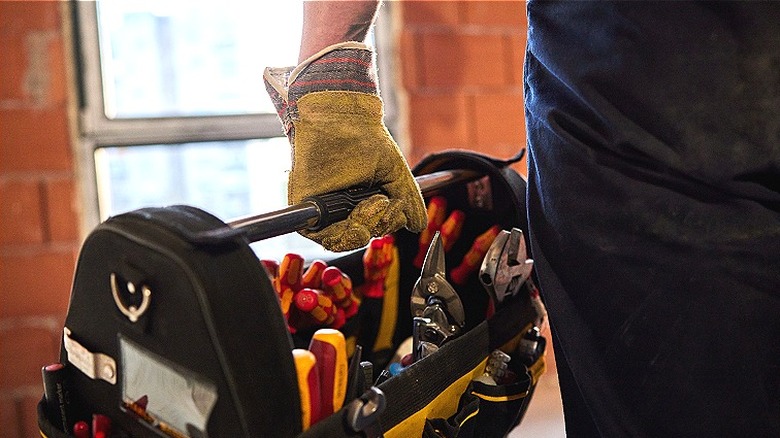 Skynesher/Getty Images
There are a lot of grout removal tools on the market that make claims, but we go deeper than the basic product description when researching tools for your project. The first step is to identify the categories that are most useful in different situations. For example, even if you're not a professional, you may be tackling a big job, so we wanted to find the best power tool for such a project. Who knows? Maybe you'll find a new career path.
After considering the usefulness of each tool, we looked for the best item for every kind of project. Since we never want to spend more than necessary on a DIY, we compared the price of each product to its popularity and user reviews. A low price isn't a bargain if the product has bad reviews and buyers complain that it's flimsy or ineffective. Likewise, spending a lot of money doesn't guarantee the quality is good. Basically, we want to see a lot of good reviews while finding out if the product has any consistent weaknesses.
Best Overall: Warrior 2 Amp Variable-Speed Oscillating Multi-Tool
OK, so you have a big project, but not a big budget. We've got you covered with the Warrior 2 Amp Variable-Speed Oscillating Multi-Tool from Harbor Freight. Not only can you use this power tool to remove grout, but it also has many heads available for future projects from sanding to cutting. It may be cheap, but reviewers seem to love this tool, giving it a 4.6-star average rating (out of nearly 650 reviews). A whopping 95% of buyers would recommend it. Perhaps the biggest downside of this power multi-tool, however, is that it isn't cordless.
Purchase the Warrior 2 Amp Variable-Speed Oscillating Multi-Tool at Harbor Freight for $19.99 (heads sold separately).
Best Manual: QEP Grout Removal Tool
For projects that just require a small amount of grout removal, we like the very simple QEP Grout Removal Tool, which features heavy-duty carbide tips in different sizes, so it should be a good fit regardless of the spacing of your tiles. With an average star rating of 4.3 from more than 330 buyers, this is a relatively popular product and folks seem to be happy with it. This said, it appears you get what you pay for with this inexpensive tool, as some reviewers have mentioned the head comes loose after some use and cannot be repaired.
This hand tool retails for $9.97 at The Home Depot.
Best for Big Jobs: DEWALT 20V MAX XR Oscillating Tool
You don't have to be a professional to invest in professional tools. The DEWALT 20V MAX XR Oscillating Tool is clearly popular among contractors, as well as homeowners, with over 10,000 ratings and an average score of 4.8 stars on Amazon. This cordless multipurpose tool even has an LED light to help you see the grout you need to remove more clearly. This item is an excellent option if you're doing a big job in an area without electricity or available outlets. Like the corded option from Harbor Freight, the DEWALT oscillating tool has different heads, which are sold separately. 
You can find DEWALT's 20V MAX XR Oscillating Tool at Amazon for $194.99.
Best Bargain: ALLWAY GCR Soft-Grip Grout and Caulk Removal Tool
The ALLWAY GCR Soft-Grip Grout and Caulk Removal Tool is by far the cheapest on our list. At this price point ($6), you shouldn't expect any bells or whistles, and this one has neither. What it does have, though, is a comfortable handle and a sharp point for manually scraping away old grout. So far, only about 20 people have rated this product, but it has an average of 4.4 stars on Amazon. Even though it's not mentioned in the product details, it does offer a little secret shared by one reviewer: The curved end of the handle can be used as a finishing scraper to give your project a smooth finish.
Purchase the ALLWAY GCR Soft-Grip Grout and Caulk Removal Tool on Amazon for $6.42.
Best Dremel Attachment: Dremel 1/16-Inch Carbide Grout Removal Bit
Why buy a whole new tool to remove grout if you already have a Dremel? Odds are many experienced and aspiring DIYers have a Dremel in their toolbox for all kinds of projects and crafts. If you do, and you don't want to add to the clutter in your garage by buying a whole new tool for one purpose, maybe all you need is the Dremel 1/16-Inch Carbide Grout Removal Bit. This product even happens to be "Amazon's Choice" for a "Dremel grout removal bit." With a 4.5 average star rating out of almost 1,000 reviews, we won't argue with Amazon about this one.
Purchase the Dremel 1-16-Inch Carbide Grout Removal Bit at Amazon for $11.99.
Best electric grout remover: Jorgensen 4.0-Amp Oscillating Multi-tool Kit
If you're tired of using your hand tools to remove grout, we suggest you turn to electric. More specifically, we recommend the Jorgensen 4.0-Amp Oscillating Multi-tool Kit as our pick for an electric grout remover. This little tool does more than just remove grout: You can use it for many other cutting jobs as well as for sanding. With a nearly perfect score on Amazon for its ergonomic shape, ease, and maneuverability, we think you'll find many different ways to use this tool.
The Jorgensen 4.0-Amp Oscillating Multi-tool Kit is available on Amazon for $59.99.
Best splurge: Milwaukee M18 FUEL 18V Lithium-Ion Sawzall Starter Kit
If you really want to invest money into your grout removal tool, we recommend the Milwaukee M18 FUEL 18V Lithium-Ion Sawzall Starter Kit. This highly-rated sawzall works with any of Milwaukee Tools' M18 products. In addition to the tool itself, you'll buy its battery pack, chargers, and a bandsaw. Reviewers complimented the tool's dependability, lightweight, and its ability to cut through many different surfaces. 
You can find the Milwaukee M18 FUEL 18V Lithium-Ion Sawzall Starter Kit at Home Depot for $827.00.