HGTV Reveals Jenn Todryk's Money-Saving Tips For Updating Old Cabinets
It's no secret that the kitchen is the major selling point of every home. Every appliance, fixture, and item in your kitchen is meant to reflect your personality and family, so it makes sense that updating the color and design is needed to stay with the trends and have a modern space. Kitchen cabinets hold major weight in the overall look of a kitchen with their color and finish, but they're costly to change. Luckily, Jenn Todryk has the best money-saving tips for updating outdated cabinets. It just requires some elbow grease to paint them yourselves.
Giving your existing cabinets a nice paint job will drastically improve the look of your kitchen, but that doesn't mean it will fix all your cabinet problems. If you need to switch out your cabinet completely due to cracks or other issues, Todryk says to save money by looking for unfinished options, according to HGTV. This allows you to finalize the look by painting the cabinets to achieve the design you want instead of spending extra thousands of dollars.
How to properly paint kitchen cabinets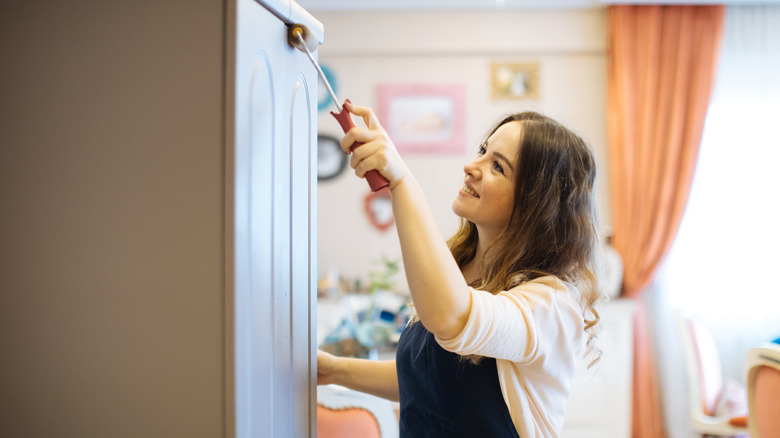 Ozgurcankaya/Getty Images
Luckily, Jenn Todryk's tip of painting yourself, whether you repaint your existing cabinets or work with new, unfinished ones, is an easy DIY project that's perfect for every homeowner. The main caveat is that it's a lengthy process because of all the surfaces that need to be covered — both sides of the door, any cracks or crevices, plus the trim. Before you actually begin to paint your cabinets, it's important to scrub them down and wipe up dirt and dust that you don't want to mix with your paint. Then, sand both sides with a sander to get the front and back ready to hold paint after applying your primer. When your primer has set and dried, use a small rolling brush to apply at least two coats of paint.
On average, it takes about a week to paint your kitchen cabinetry. That's because it takes at least a day for each side to dry, and you're applying more to each side than just the paint color. When you begin painting your cabinets, start by painting the back side first. This helps to get a picture-perfect finish on the front side since it'll be sitting right side up and won't have the chance of getting scraped.