Hide Your Unattractive Septic Tank With One Easy Garden Hack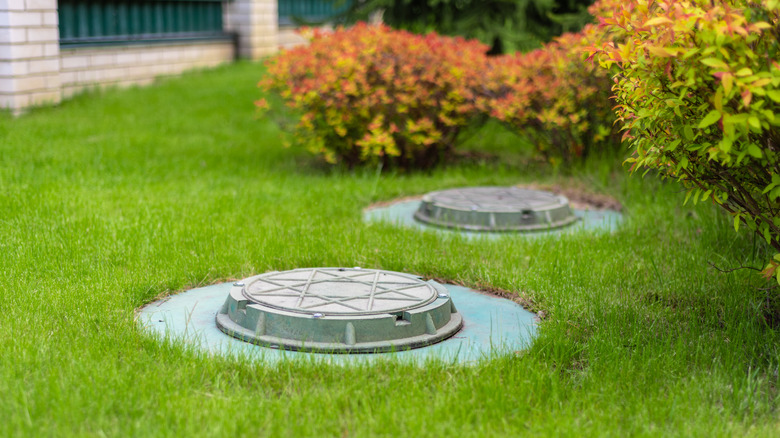 Yuri Snegur/Shutterstock
According to the United States Environmental Protection Agency, over 20% of homes in America rely on septic tanks. Unfortunately, these tanks come with unsightly manhole covers that can detract from your property's curb appeal. But thanks to an awesome TikTok hack, you can use an easy garden trick to hide any unattractive septic tank covers using nothing more than a planter for fresh flowers, some patio pavers, and a bit of creativity. 
Just remember that you need easy access to your septic tank in case of an emergency or during routine cleaning and inspection. Your septic tank has many important components, one of them being a baffle filter. This component works to filter wastewater, trapping any solids. However, it can quickly become clogged, causing a lot of issues not just for your tank, but for your home as well. This is why you need to clean your baffle filter every six months or so, depending on use. So, when you create a DIY planter cover, make sure you can easily remove it so as to access your septic tank when needed. Here's how to get started. 
Create a base using patio pavers
In this transformative TikTok hack, @effortlysss29 creates a raised septic tank cover using a garden planter. For starters, begin by placing a circle of pavers around your septic lid, leaving enough room for a septic company to remove the cap with ease. You'll want to shovel away enough soil so your ring of pavers has a strong foothold in the dirt around your septic cover. Tightly place a circle of pavers as if you were making a fire pit, adding two layers for the full, lifted decorative effect. 
Once you have a wall of pavers around your manhole cover, you need to construct a top to place your planter on. You can use an old round wooden tabletop if you have one handy that you'd be willing to upcycle, painting it to match your yard's aesthetics. Once it's painted and dry, place it on top of your circle of pavers. The tabletop should be strong enough to accommodate a large planter. Just remember to use materials that you can easily remove when you need your septic tank pumped or other routine maintenance, meaning you want to avoid screwing your tabletop into place. 
Don't add too much weight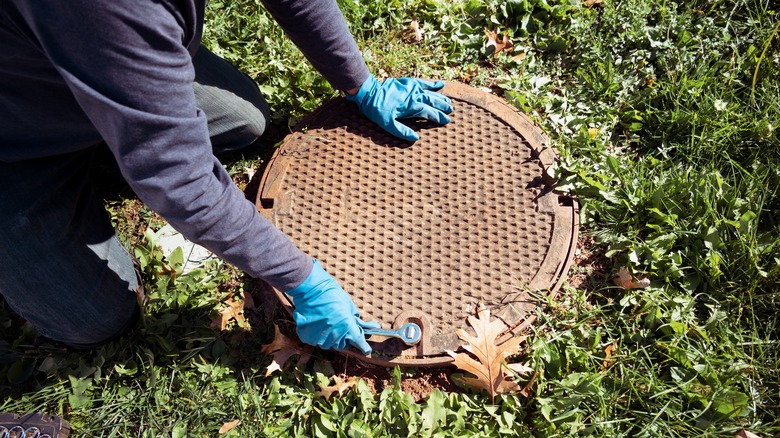 Kharoll Mendoza/Shutterstock
When covering your septic tank cap, there are several factors to keep in mind. For starters, the decorative cover shouldn't be too heavy. Although a septic tank's weight depends on the material it is constructed from, the fact remains the same: Too much weight on top of your tank can cause irreparable damage, and seeing as a new septic tank costs around $10,000 to $15,000, it's important to preserve its structural integrity. A septic tank lid can accommodate around 125 pounds. Since a 25-pound planter can weigh as much as 150 pounds with soil, it's advisable to not build something larger than this. Any heavier and you risk your septic tank cracking or collapsing in on itself.
If you have a planter that meets the weight requirements for your septic tank, all you have to do is place it on your decorative wooden lid. Next, add potting soil and some colorful flowers, and watch your yard transform into something beautiful. You could always use a plastic planter if you're looking for something lightweight and affordable, too.