The 5 Best Garden Carts That Make Working Outside Easier Than Ever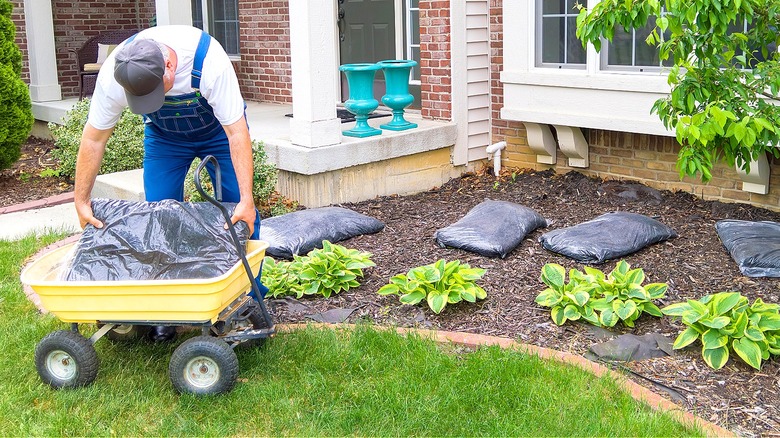 Ozgur Coskun/Shutterstock
We may receive a commission on purchases made from links.
Garden carts are useful conveyances for transporting soil, mulch, plants, tools, and other heavy or fragile materials and objects when working in a garden or outdoor setting. They're typically designed with flat, horizontal beds or platforms supported by four wheels, like small wagons with a handlebar for pushing or pulling. While garden carts are seen as similar to wheelbarrows for gardening, they're actually more of an upgrade because they tend to be larger, more stable, and more suitable for a broader range of tasks.
When looking for the right garden cart, there are several important features and factors to consider to ensure the cart meets your needs and provides optimal performance in your gardening. You need, for example, a cart with the right capacity for the types of materials you'll be transporting in your garden and/or yard. It should also be made from a material with the right weight and durability, the right wheel setup, and any additional features you need like a dumping mechanism or an ergonomic handle.
How we selected products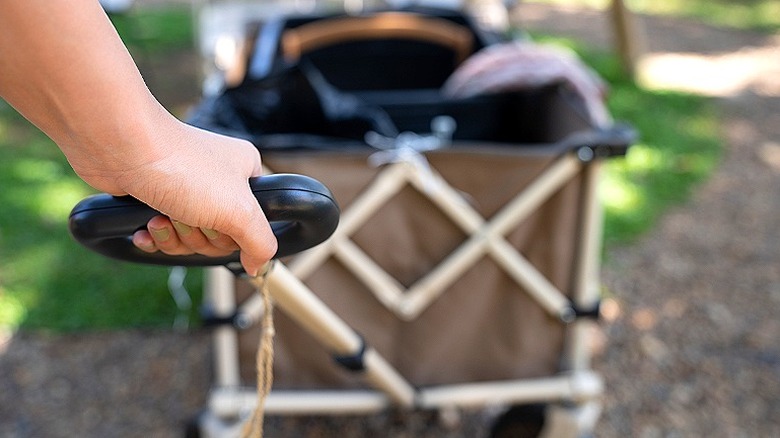 NikOStudio/Shutterstock
People have different needs when it comes to shopping for a garden cart. For instance, some gardeners might be looking for something more heavy-duty for strenuous tasks and are therefore willing to invest in the additional cost for features that make the cart more efficient. On the other hand, others might be looking for something that's generally applicable to the different home tasks they have, both indoors and outdoors, and want something affordable and easy to operate.
We selected these garden carts based on their top selling points, the type of tasks they're best suited for, and what customers are saying about them. Some of them are already popular, so we aimed to focus on what people have noticed after having them for a while and why they still keep them around. Our recommendations also span various budgets, needs, and accessibility levels, and highlight any additional features that might appeal to you as a user.
Best Overall: Yardsam Steel Heavy-Duty Garden Cart
The Yardsam Steel Heavy-Duty Garden Cart is what most likely comes to mind when you think of a garden cart. It's a pullable wagon that's strong and durable with a weight capacity of up to 400 pounds. Its flexible handle makes it comfortable to turn and the cart itself has handles on the side if you ever need to carry it. The sides are also collapsible, allowing the cart to become a flatbed when needed. One special feature of this garden cart is its removable liner, which helps to prevent the steel structure from being scratched or damaged when transporting certain materials.
Purchase the Yardsam Steel Heavy-Duty Garden Cart at Amazon for $99.99.
Best Budget: Suncast Resin 15.5-Gallon Multi-Purpose Cart
This lawn cart by Suncast  is a simple cart that comes with two wheels. It holds up to 15.5 gallons and is lightweight but also durable and built to last. This cart makes it easy to work outside because it's very straightforward to use and doesn't require any complicated maneuvering. You can load up whatever you need and transport it with ease. Its nice appearance also makes it great for indoor use like moving laundry or groceries. The simplicity of this cart also means it's all manual and doesn't have a motor or a dumping feature. Some customers on Amazon have noted that the cart doesn't balance well when empty or holding light items.
You can find the Suncast Resin 15.5-Gallon Multi-Purpose Cart at The Home Depot for $39.98.
Best Heavy-Duty: SuperHandy Utility Service Cart
Being able to hold heavy loads is a great feature to have with a garden cart, but it won't always be easy to push and maneuver. The SuperHandy Utility Service Cart Power Wagon solves this and is our best heavy-duty pick because of its battery-powered motor system that makes it easier to operate, especially when going up a slope. The cart itself weighs 122 pounds, is easy to set up, and has a dumping feature. This is great for anyone who can't perform strenuous activities but still wants to work in their yard. Customers use the SuperHandy for yard work involving heavy blocks and gravel but warn that the wheels don't hold up well when the cart is overloaded.
The SuperHandy Utility Service Cart Power Wagon is available at Amazon for $1,199.99.
Best Flexible: WORX WG050 Aerocart 8-in-1 Yard Cart
If you're looking for something versatile to cover a wide range of home tasks, look no further than the Aerocart 8-in-1, which is a garden cart, a wheelbarrow, and a dolly combination with various bundle options. Some of these attachments and accessories are a wagon kit, a garden trowel, a leaf blower, and a tub organizer. Customers on Amazon like it because it comes in handy for most tasks in and outside the home. They see it, however, as a 'jack of all trades, master of none,' meaning it carries out its functions as expected but can't be relied on for expert construction work.
Find the WORX WG050 Aerocart 8-in-1 Yard Cart / Wheelbarrow / Dolly at the WORX official website for $229.99.
Best User-Friendly: Gorilla Carts GOR4PS Poly Dump Cart
The Gorilla Carts GOR4PS Poly Dump Cart is another garden cart with a typical appearance. It's a straightforward tool for working in the yard and has a very convenient dumping mechanism. It's easy to set up, can hold up to 600 pounds, and comes with pneumatic tires. Customers have overall awarded it a 4.9-star rating (from over 2,100 reviews), though some have reported issues with the tires and handles needing replacement. While the GOR4PS isn't as versatile as most carts, it can definitely be relied on for outdoor use.
Get the Gorilla Carts GOR4PS Poly Dump Cart at The Home Depot for $129.