A Unique Island Feature Is The Star Of This Fixer Upper Kitchen Renovation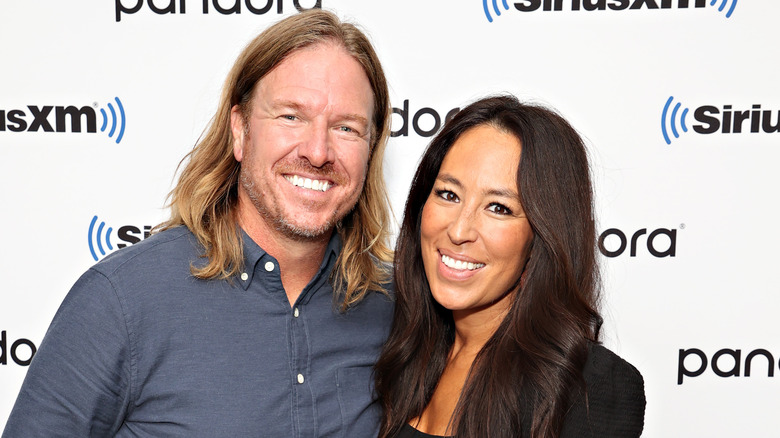 Cindy Ord/Getty Images
According to a recent study, 57% of homeowners upgrade their island or add one to their kitchen during renovations. Based on this figure, we can assume that islands are becoming a staple for this heartwarming room of the home. The HGTV master herself, Joanna Gaines, demonstrated a unique twist on this fixture in a kitchen renovation — doubling the island into a stunning set of two.
Kitchen islands are typically one large fixture, but using two elevates the sense of functionality within the room. "A lot of the times when you have one large island you've got to walk all the way around. So, I think with this, even though this kitchen is really large, these two islands really help define the space," Gaines says on the "Fixer Upper" episode.
The pair of islands still offers plenty of room for seating and entertaining with the spacious flat top and sinks included in each counter. And, if you're leaning towards a cleaner, simpler color palette, various textures are crucial for visual interest. What better place to add this element than with your island? A wood finish that plays off the rest of the grey cabinetry makes this functional feature a statement-making part of the room.
Why you should double your island
Doubling your kitchen island also adds to the versatility these fixtures allow, especially since many kitchen sizes can benefit from this design concept. Instead of having a one-stop shop taking up the middle of the room, breaking the fixture in half gives your kitchen another realm of possibilities for daily life and social events. This modern option also increases the luxury and functionality of your home. 
This concept allows you to further customize your kitchen's layout. The two islands don't have to be the same size as in the "Fixer Upper" project. You can create a large one for kitchen tasks and a smaller, narrower one as a permanent seating space. You can also use different materials for each one depending on their purposes. For example, one expansive, granite-topped island can be used predominantly for food prep and another, topped with wood, can cater to dining or entertaining. Plus, with two units, you can expand your cabinetry to add more storage, a dishwasher, or even a desirable wine fridge.