Is Sod Or Seed The Better Choice For A Bermuda Lawn?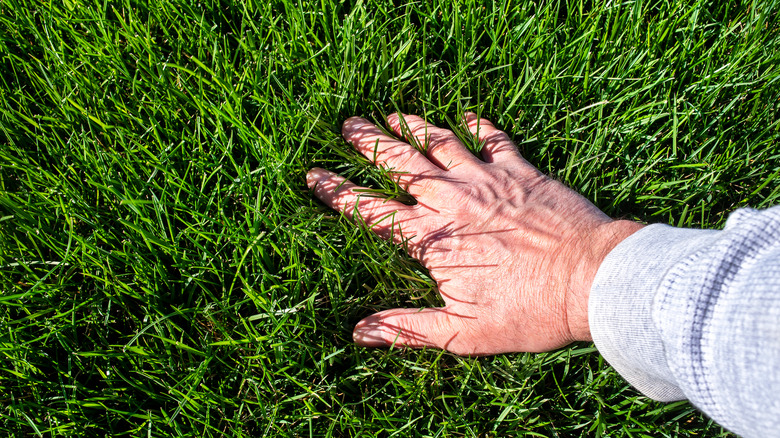 Jon Rehg/Shutterstock
A popular option for creating a lush green lawn is Bermuda grass. This is a rather easy-to-grow type of grass commonly used in most warm climates. You can seed Bermuda grass, but sodding is a better choice overall since it allows for the quick creation of a thick lawn. Though sodding an entire lawn can be more expensive, the results in a near-instant lawn could be worth it for those who don't want to have to nurse seeds over a longer period of time.
Seeding can be a viable option, especially since Bermuda grass tends to grow rather quickly and doesn't require perfect soil consistency to do well. It's also much less expensive to seed the lawn as you can likely do it yourself a bit easier than sodding the entire yard. Seeds also require more attention in the coming weeks. Even though Bermuda grass seed germinates in little time, it will mean paying close attention to its progress. There's also a higher chance that you'll need to re-seed to create the lawn you are hoping for.
Bermuda grass overall is an excellent choice because it handles wear and tear well, making it great for the backyard with pets or the soccer field. In both cases, the grass will fill in overtime to create dense grass with proper care. Before you buy any sod or grass seed, consider a few factors.
You can seed a Bermuda grass lawn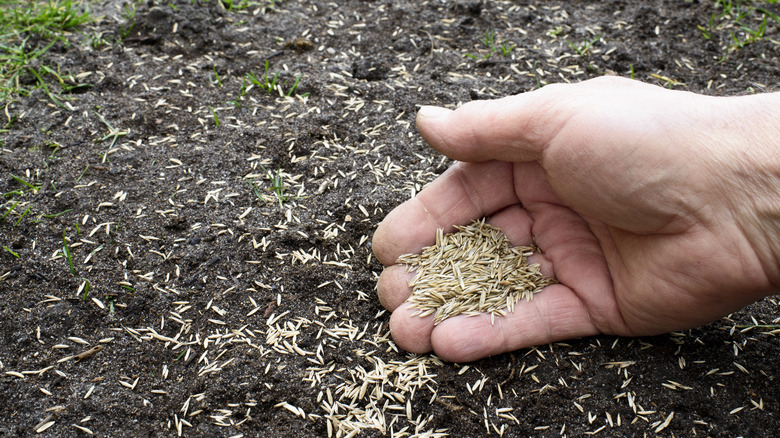 Schulzie/Getty Images
Using Bermuda grass seeds to create a lawn is not uncommon, especially if you are just looking to overseed the lawn to fill in open gaps. If you're installing seeds across a larger area to establish a brand-new, grass-filled yard, you'll need to pay more attention to the conditions to ensure the seeds take off and come in nicely.
First, seeds do best if you plant them in the late spring, early summer, or late fall when the soil temperature is still at around 65 degrees Fahrenheit. To get the best possible results, be sure the soil quality is nutrient-rich and pH-balanced. It's best to loosen the top few inches to give the seeds the ability to grow. Germination of Bermuda grass could take a week to 10 days, but to come in fully, the process could take as long as three months. That's a lot of time to commit to keeping the soil moist and those dogs off of it for the most part.
One way to improve the chances of the seeds germinating (and to reduce the application time) is to use hydroseeding. This helps to support growth since the material contains seed as well as fertilizer. It costs a bit more but can help encourage faster growth of the grass and an easier application (especially if you let the professionals do it!)
Why sodding Bermuda grass lawns is the better option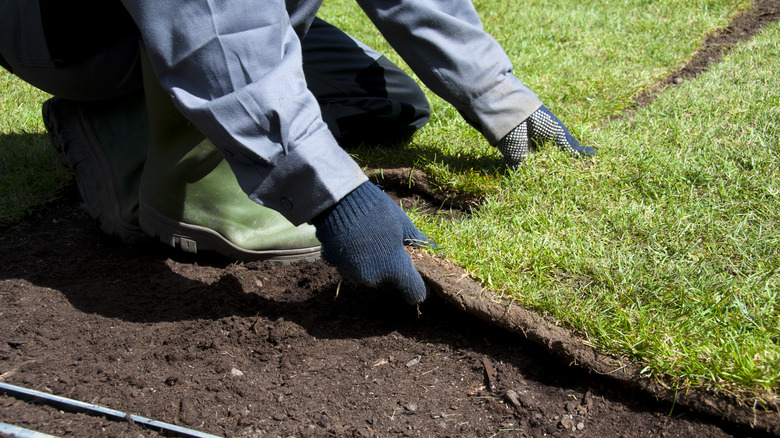 Mikkelwilliam/Getty Images
Sodding is the installation of grass that has already started growing in soil. You'll install the grass along with 1 or 2 inches of that soil, allowing for the instant creation of a lawn as the sod pieces are put down. The process requires some work, including prepping the existing soil to ensure the roots can be established and watering the lawn daily to keep it from drying out. With the way Bermuda grass tends to grow vigorously, it shouldn't be too difficult to ensure the lawn takes well.
Sodding offers some benefits for Bermuda grass, including establishing within a couple of weeks in most cases. For the best results, purchase sod from a local producer since it needs to be acclimated to the local climate to do well. If you buy from a trusted local producer, the grass should already be several inches tall, thick to fill in the sod piece, and the deep green that this grass is known for.
Though you should stay off of sod for a few days to allow it to start growing into the underlying soil, it doesn't take long to have a fabulous-looking lawn. Unlike seed, you can place Bermuda grass sod any time of the growing season, though lower temperatures are best. When considering grass seed versus sod, always factor in the amount of work you can do yourself and your budget since sod often does best when professionally installed.