Emily Henderson Makes A Bold Flooring Choice (And Here's How You Can Nail The Look In Your Own Home)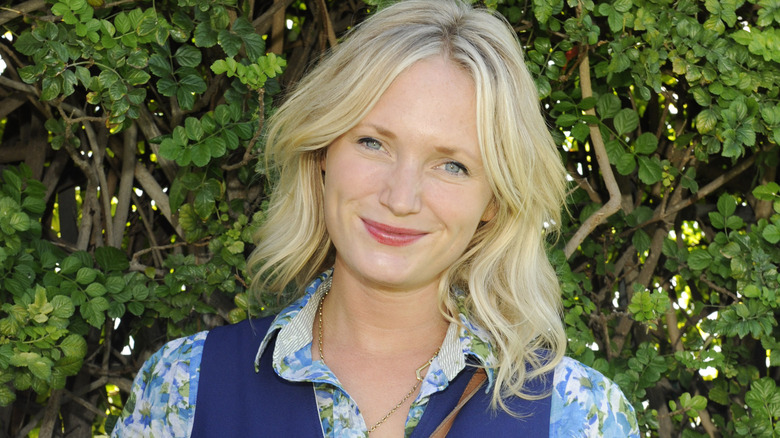 Amy Graves/Getty Images
Emily Henderson, designer and former host of HGTV's "Secrets from a Stylist," has created many beautiful spaces in her modern farmhouse renovation, and the sunroom may be the crown jewel. The best part of this gorgeous space? The floor. She added a unique flair to her sunroom by using blue and white tile flooring. Alternating tile squares may sound like a basic choice, but the bold color and unexpected details take this design to a new level. Henderson uses a soft, Victorian-inspired blue paired with a creamy, classic white. The squares line up in a diagonal pattern, creating a dynamic version of the traditional look. But the undeniable highlight of this floor is the border, consisting of thick stripes and a mini row of diamonds. The inclusion of a third color in the border, a light gray blue, brings a nice dimensionality to the space and adds an extra pop of color.
When discussing her flooring choices, Henderson notes that tile installation is an extremely enduring element in the home. "Tile is one of the most permanent things in your house, you can't just switch it out — it's a thing" (via Emily Henderson's YouTube channel). For this reason, she decided to skip doing an elaborate mosaic design in favor of a classic style that she felt confident she would enjoy for a very long time. Luckily, if you crave a similar look for your home, you can easily design your own bold yet timeless tile floor.
How to get the look
The most traditional choice is to install a regular tile floor, like Emily Henderson did. This will look beautiful and give you lots of room to customize, but it's also the most expensive way to get a tile floor. You'll need to select individual tile pieces, plan the pattern down to every square inch, and pay for all the materials and labor involved with installation. 
For a more affordable option, you can look into faux tile floor styles. A popular faux tile method is vinyl or laminate flooring, which can be made with a tile-style print. Within that flooring category, you can opt for the simplest variation, which are peel-and-stick vinyl tiles. With this option, you won't be able to customize the pattern, but there are some beautiful designs available such as the Nexus Self Adhesive Vinyl Floor Tiles in Blue Diamond Pattern or the FloorPops Gray and White Marble Floor Tiles. 
Follow Henderson's strategy and try pairing one rich, interesting color with a traditional white. Keep the diamond pattern simple and focus your creative energies on designing a statement border. No matter what flooring you choose, take a page from Henderson's book and consider the feel of the entire room. Draw from the tile color when selecting furniture and wall paint and incorporate natural materials such as wood to add warmth to the space. If you like this designer's vintage-inspired aesthetic, search for antique-style lights and decor to finish off the room.