The Reason You Should Keep Shaving Cream In Your Kitchen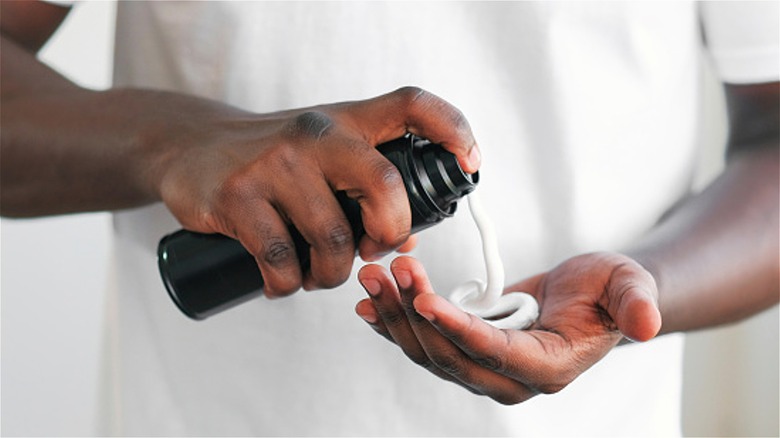 Golubovy/Getty
For decades, shaving cream has served as a lubricant that protects your skin from razor-sharp blades and reduces friction. However, this product can be used in a myriad of other ways around the home. For instance, it can be used to clean your bathroom. Surprisingly, it can help you polish the chrome and stainless steel appliances and accessories in your kitchen, too. Your kitchen appliances undergo a lot of wear and tear, developing surface marks. They can even become breeding grounds for bacteria, fungi, and other contaminants that can spread diseases if not cleaned regularly.
Similarly, the cooking area's chrome and stainless steel fixtures such as faucets and sinks will develop hard water stains over time. This will dull their shiny mirror appearance and detract from your cooking space's overall aesthetic. Moreover, since faucets and sinks are some of the most high-touch areas in the kitchen, they must be kept spotless to prevent the spread of germs. Applying shaving cream to these accessories will keep them clean and germ-free.
Clean your kitchen appliances and fixtures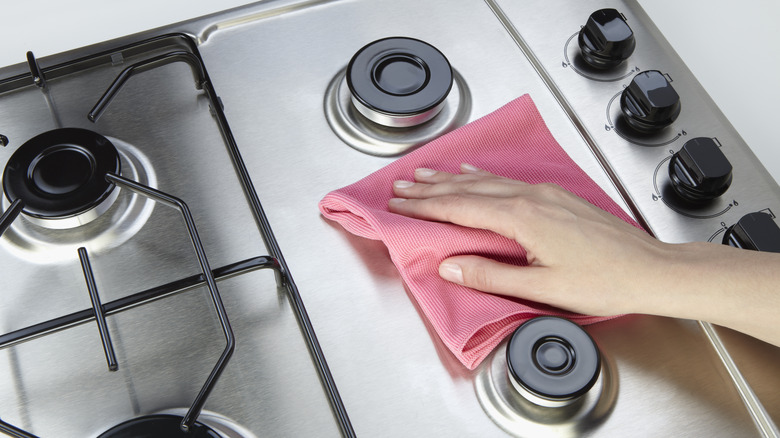 Xefstock/Getty Images
To keep your stainless steel kitchen appliances spot-free, grab a bottle of shaving cream and give it a shake. Dampen a clean microfiber cloth or sponge and add a small amount of cream to the cloth. Now, use the cloth to rub the stained surface until it's clean. Once the appliance is spotless, grab a dry microfiber cloth and use it to remove the soapy residue and buff the surface for some added shine. 
This hack is a time-effective and budget-friendly way to clean your oven and refrigerator. Plus, you won't have to spend money on store-bought cleaners containing harsh chemicals, so it's a win-win for you. You can follow the same process to clean the faucets and sinks as well. The active ingredients in shaving cream, which include lanolin, glycerin, triethanolamine, stearic acid, and benzyl alcohol, lend this product its soft feel and antibacterial properties. They also make it a gentle cleaning product that's free of harsh chemicals. That's why this bathroom staple can be used confidently on stainless steel kitchen appliances and fixtures.