Unsellable Houses' Lyndsay Lamb Has A Simple DIY That'll Elevate Your Holiday Decor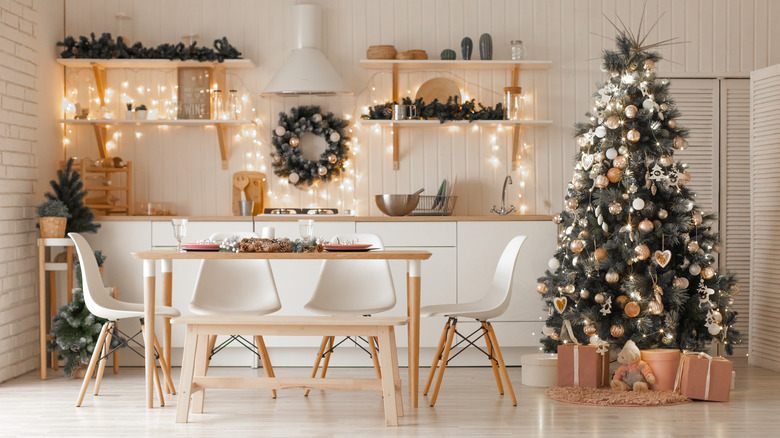 Stanislaw Mikulski/Shutterstock
The holidays call for a feeling of whimsy and coziness that appeals to all the senses, including sight and smell. Citrus garlands are a time-honored tradition in many cultures' holiday decor and celebrations, including in Scandinavian homes, where they will often be found in abundance over the long winter. These garlands immediately grant a handmade, rustic feel to any holiday room while also filling the air with their refreshing aroma.
Host of HGTV's "Unsellable Houses," Lyndsay Lamb recently showed Instagram how she creates her own DIY citrus garland at home using dried oranges, wooden beads, twine, and leaves. The result is a perfect piece for hanging around doorknobs, over mantels, and around doors and windows. You can also use a longer citrus garland as part of a holiday season centerpiece or around a tree. In addition, the dried oranges and other elements give off a heavenly citrus scent that will create a cozy winter home through the holidays and beyond.
Making a DIY citrus garland
To create your DIY citrus garland, begin by slicing your oranges into thin slices. Dry out the slices in the oven for four to five hours at 170 degrees Fahrenheit. Allow to cool before stringing them onto twine, yarn, or ribbon, poking a hole in the center. At the top of the garland, form a loop and secure it with a wooden bead, stringing the other contents in intervals down the length of the garland. Finish the bottom of the garland with a final wooden bead and tassel. For garlands that will be displayed horizontally, you can add an additional tassel at the other end. 
Customize your garland with other materials like dried berries, glass beads, or other rustic wood elements. You can also use other citrus fruits like lemons, limes, blood oranges, and tangerines for more color and variation. Add other trimmings like sprigs of herbs, bay leaves, and other redolent materials to add additional scent.