The Jasmine Roth-Approved Kitchen Upgrade That's Perfect For Renters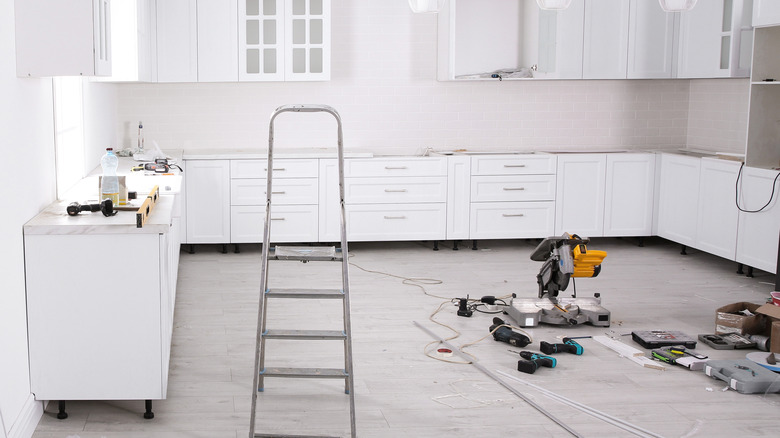 New Africa/Shutterstock
Many renters may assume they're resigned to their unit's awful and uninspiring conditions. But this isn't the case. Though many rentals forbid tenants from making permanent or even minor changes to their unit, there's still hope for those starring at paint-chipped or bland-colored backsplashes. Jasmine Roth, star of HGTV's "Hidden Potential," absolutely loves this rental-friendly kitchen upgrade. Tenants can give their kitchens a brand-new look by using peel-and-stick tile. 
Roth added peel-and-stick tile to her list of inexpensive, quick fixes that immediately upgrade your home. In her blog, Jasmine Roth says "you'd be surprised at how good the right peel-and-stick tile can look. I'm serious. I've had some friends use it in their projects, and it was just what they needed to button up their kitchen or bathroom on a budget." Using peel-and-stick tile for your kitchen backsplash is perfect for renters because, when carefully removed, it doesn't leave any damage on the existing wall. It's also DIY-friendly and inexpensive. You can completely transform the vibe of your kitchen in a flash with peel-and-stick tiles.
Installing peel-and-stick tile as a kitchen backsplash
Refurbishing your rental's kitchen backsplash with peel-and-stick tile can cost you a few hundred bucks, or much cheaper depending on what type of material you use. Home Depot puts the average price of a peel-and-stick backsplash at anywhere from $10 to $100. Peel-and-stick tiles come in a diverse array of materials. The most common and inexpensive type is vinyl and PVC. But you'll also find peel-and-stick tile in metal, wood, glass, and even marble, stone, porcelain, and ceramic. They also come in a variety of patterns and styles, such as subway tile, honeycomb, and fish scale-shaped tiles. You'd be surprised at how incredibly lovely these tiles look, and some are practically indistinguishable from regular tiles. 
Your kitchen backsplash is a small enough space so that there's not a ton of work to do, and peel-and-stick tile is easy to cut. The mistake you don't want to make with peel-and-stick tile is failing to plan how it will be laid out before sticking it up. You'll want to decide where you're going to put them and cut them to size before placing them on your wall. The best way to remove peel-and-stick tile without harming your walls is to warm it up with a hair dryer so that the adhesive backing gets sticky and loose making it easier to adhere to the wall.
Why its perfect for the kitchen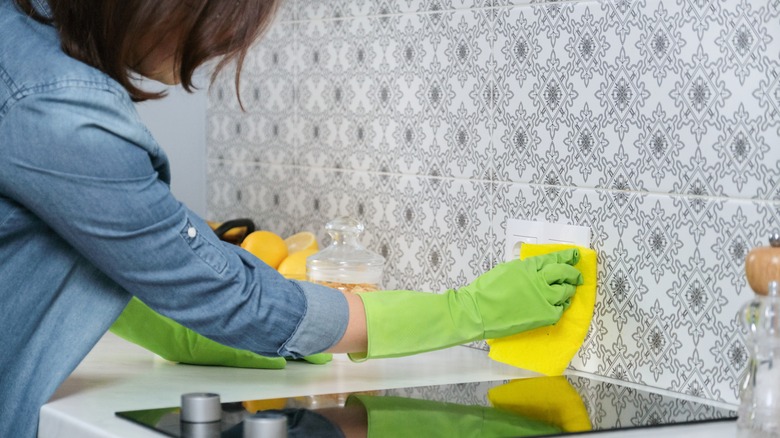 Valeriy_g/Getty Images
No matter what material you're using for your kitchen back Jasmine Roth says you always have to ask yourself one question. "What makes a kitchen work? Yes, backsplash tile can be beautiful — but does it does it work hard to keep a kitchen clean and practical?" wrote Roth on Facebook. Peel-and-stick tile does both of those things. 
Peel-and-stick tile's smooth surface makes them very easy to clean. All you need to do is wipe them down with a damp cloth. You can also use all-purpose clean on them. Certain types of peel-and-stick tile, like Smart Tiles, are heat resistant so they can withstand the temperature of your stove. Peel-and-stick tile is also waterproof,  so you don't have to worry about splashing or overflowing from the sink. Since they're scratch-resistant as well, that spatula that accidentally flew out of your hand when you weren't paying attention won't damage the finish, either.