Add A Touch Of Magic To Your Bathroom With This Genius IKEA Runnen Hack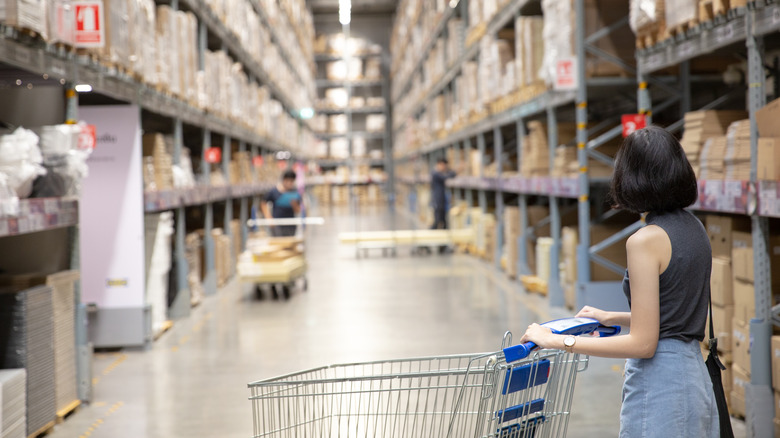 CRAFT24/Shutterstock
If there's one thing a DIY IKEA hack will do, it's deliver, and this latest one involves using the Runnen outdoor decking tiles to create a unique bath mat. Not only do they look good, but the Runnen tiles are also an ideal choice for a humid, indoor space. The top is made from acacia wood, which is naturally resistant to moisture, whereas the polypropylene base will be easy to keep clean and is thick enough to offer a bit of padding for comfort, too.
Priced at $39.99 for a pack of 9, these tiles have an extra level of durability because they're designed to be used outdoors. Best of all, you don't have to be an expert to pull off this DIY, as no tools are required. Yes, you read that right. You need absolutely zero tools to get started on upgrading your bathroom (apart from maybe scissors to open the packaging). Here's all you need to know to turn your bathroom into a nature-infused paradise.
Give your bathroom a tranquil vibe
There are nine tiles per pack, which should be plenty to make a bath mat. TikTok user @watchsharesave used six tiles for theirs. As mentioned, no tools are required because the tiles slot into place by clicking together. If you have an awkwardly shaped bathroom, you can cut the tiles to shape. Then, all you need to do is piece the tiles together into the formation you want, and you'll have yourself an exceptionally chic-looking bath mat. The Runnen tiles are available in five colors, so you can also customize the mat to fit in with your bathroom's palette.
A downside of this hack, as pointed out by some of the comments on the TikTok video, is that the mat may not absorb water very well and could cause mildew build-up. Though acacia wood is moisture-resistant, there's a difference between a bath mat that is designed to absorb water and one made from material that can withstand moisture. This could also mean that the flooring underneath the mat will become damp due to the water dripping through. But, if you make sure to regularly air the mat and area underneath, this shouldn't be an issue.