HGTV's Mina Starsiak Hawk Shares Easy Ways To Warm Up Your Space For Fall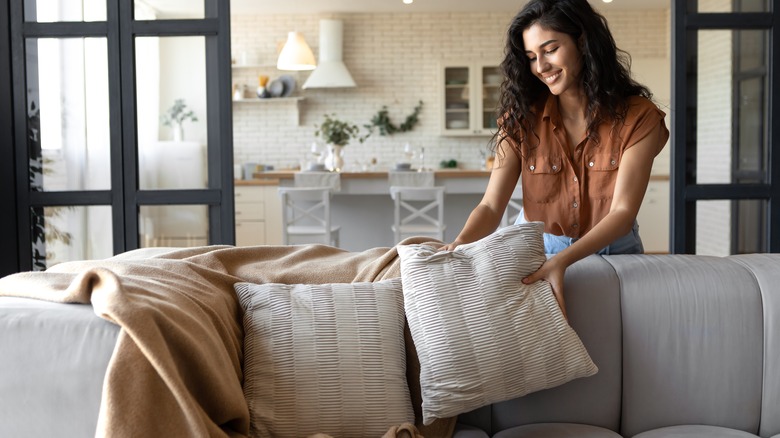 Prostock-studio/Shutterstock
The fall equinox has come and gone, and cool weather is moving in. That means autumn is in full swing, and it's time to transform your home from a summer oasis to a cozy fall den. Of course, you can add pumpkins and warm colors to make your space reflect the season. But Mina Starsiak Hawk from HGTV's "Good Bones" has more ideas that will make your home warm and cozy for fall. Starsiak Hawk suggests adding the right textures to the room with blankets and throw pillows.
"Grab a big, cushy throw blanket and drape it over the back of your sofa or accent chairs," She wrote on Instagram. "It adds such a wonderful cozy vibe to the space!" Find chunky knits and fleece-lined blankets to bring in the cozy fall vibe and keep you warm on chilly fall nights. When it comes to your decorative pillows, the designer says, "Swap out your throw pillows for textured options in rich fall colors. The combination of texture and color creates interest." Look for olive greens, burnt oranges, golden yellows, and deep reds to infuse some fall color. Deep, muted shades represent the fall vibes. Mix and match pillows with varying textures and patterns on your sofa, accent chairs, and bed.
Cozy decorative elements
Many people like swapping small decorative elements in and out of the room with the seasons. Changing the throw pillows and blankets is an easy way to infuse some fall vibes into your home. However, you don't have to stop with these small details. Mina Starsiak Hawk suggests changing an area rug to make the room more fall-themed. "Grab a neutral plaid rug," Starsiak Hawk explained on Instagram, "it'll bring more of the fall vibe into the space without being overwhelming." A cream and black rug with a plaid or gingham pattern will add visual interest to the room and easily pair with most color palettes.
Your sofa is another large piece of decor that can change with the seasons. Of course, not the sofa itself, but rather the sofa cover. A sofa color in a muted green or golden yellow can be a great base for other fall-themed decor. Consider cotton, polyester, wool, or linen for a slipcover, as these are more likely to give structure and contour to your sofa. And if you've gone overboard with decorative details for fall, Starsiak Hawk suggests using a basket. "Too many throws or pillows? Grab a basket and use them as additional decor." Fold up excess blankets and pillows and place them in a basket. Keep this basket next to the sofa or in the corner of the room. When you or a guest needs another cozy layer, they'll be within reach.