How To Use Baskets In Your Home For Stylish Storage
Baskets can seem like they will take up more space than they make, but they're great for storing any miscellaneous items you may have lying around. There's always room for baskets with their different patterns, shapes, and colors; you can incorporate them in any room. They're versatile and can make for a great project with your family to figure out where to put them and what to put in them. Baskets add personality and texture to any room, according to Worthing Court.
You can buy them at an inexpensive price at Marshalls, Home Goods, Walmart, TJ Maxx, and other similar stores, claims In My Own Style. They have a wide range of styles for an affordable price, while other stores such as West Elm, Crate & Barrel,  and Pottery Barn can be more expensive. You can pair them together or make them stand-alone, depending on where you place them. Here are a few ways you can use baskets around your home.
1. Laundry basket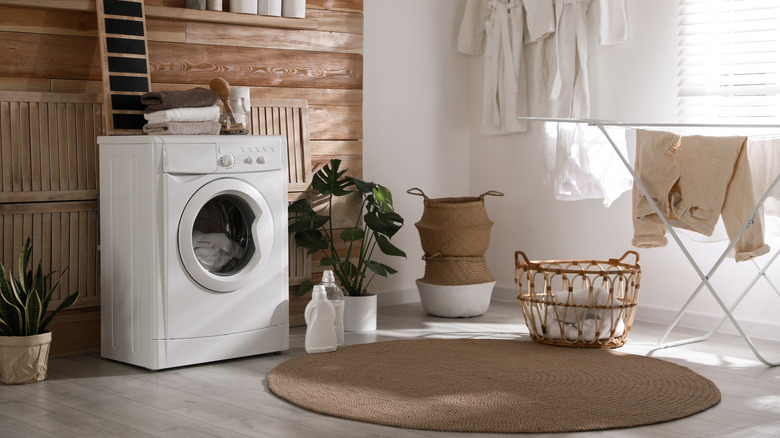 New Africa/Shutterstock
This laundry room has various baskets that have every beneficial use, such as a stand-alone décor and a laundry basket. Using a wicker basket for your laundry can elevate the style instead of using a boring white plastic basket. It also fits the aesthetic of the laundry room.
2. Firewood basket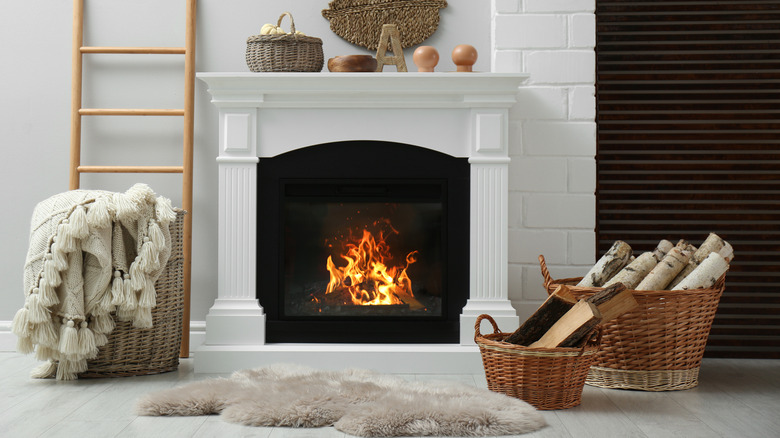 New Africa/Shutterstock
If you have a fireplace, then using a basket to hold the wood makes everything more organized and prevents any mess. This space has two types of wood, so naturally, they use two different baskets for each. It matches great with the colors and small décor around the fireplace as well. 
3. Baskets in bedroom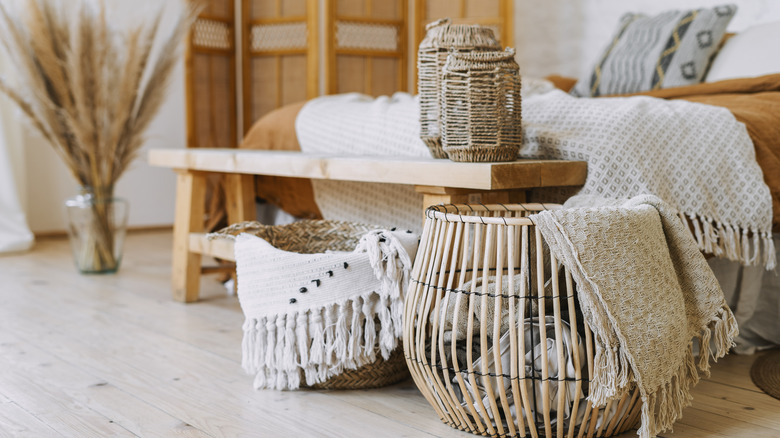 brizmaker/Shutterstock
Decorating your bedroom with baskets can free up space in your closet if you put blankets in them. They also give your room a boho feel if you use wicker baskets like the ones on the bench and next to the bench. They add texture and personality to your room. 
4. Baskets as flower holders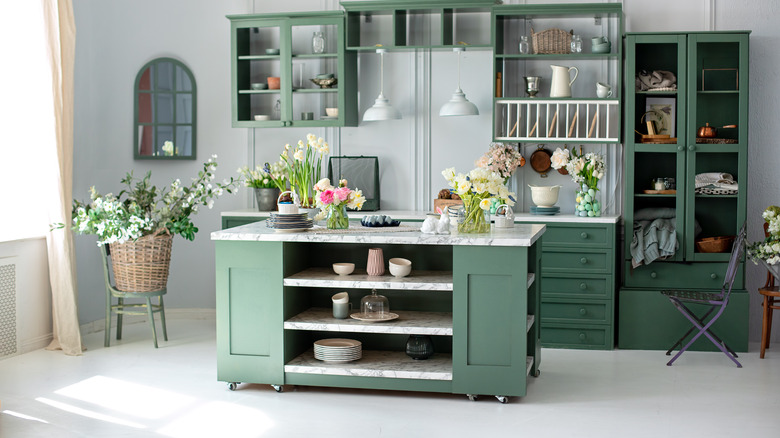 stock_studio/Shutterstock
For rooms with flower overload like this kitchen, using baskets to hold larger bouquets can give the whole room a different look. It mixes up the holders instead of cutting down the flowers and using glass vases. This basket is located in the corner of the kitchen, so it doesn't eat up space on the counter; instead, it adds personality.
5. Towel baskets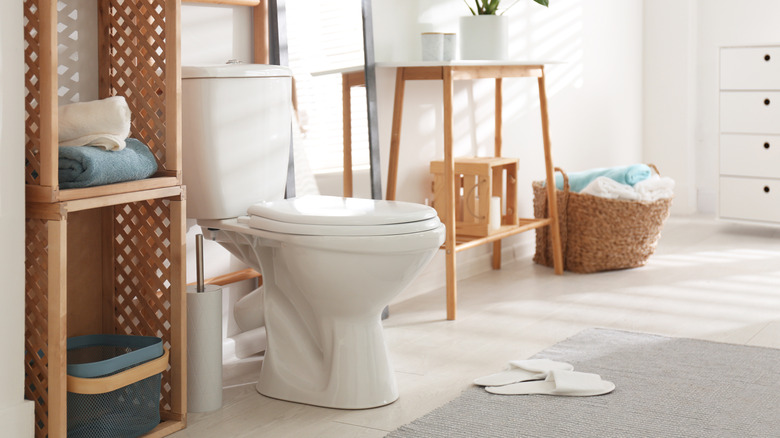 New Africa/Shutterstock
Not only do baskets make for the best storage units, but they add texture and color to any room like this bathroom. They hold towels without making them look disorganized while only taking up a small amount of space against the wall. They can be used as space holders like the blue basket in the wooden crate. 
6. Dish baskets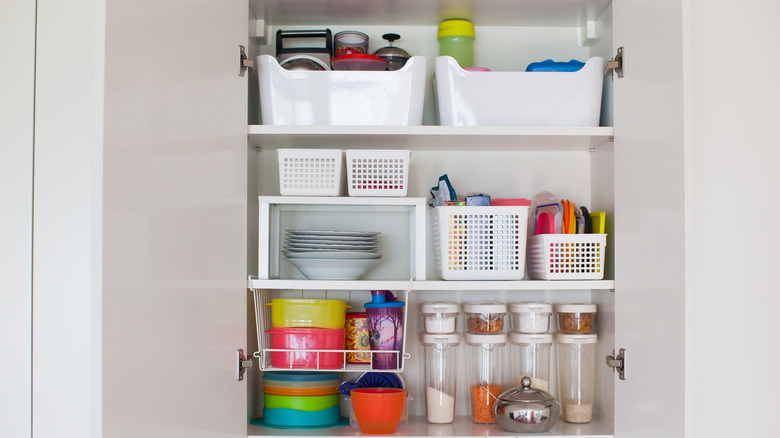 flauma/Shutterstock
For a cleaner cabinet, using plastic baskets to hold cups, plates, lids, or appliances makes it easier to know where certain things are. It's all categorized, so you can reach for one basket to grab an item instead of having to rummage through piles of things. 
7. Linen baskets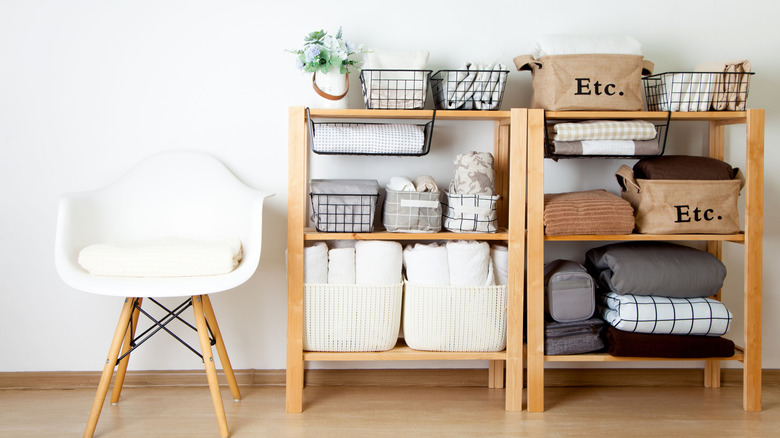 Kostikova Natalia/Shutterstock
This storage unit is set up perfectly with various sized and patterned baskets that hold linens and towels. If your home doesn't have a linen closet, this design can fit in any room or hallway without taking up too much space. You'll be able to fit all of your sheets, comforters, and towels in one place. 
8. Bathroom product baskets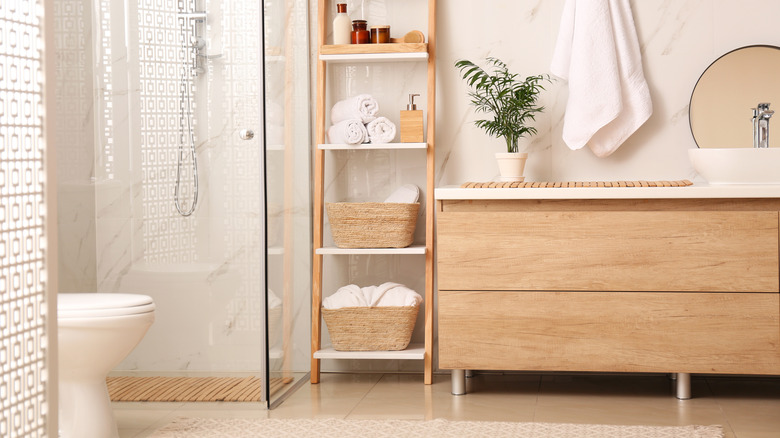 New Africa/Shutterstock
While baskets can be used to store towels in your bathroom, they can also be used to store toilet paper, hand soap, lotion, or small accessories such as hair ties or headbands. 
9. Baskets under the bed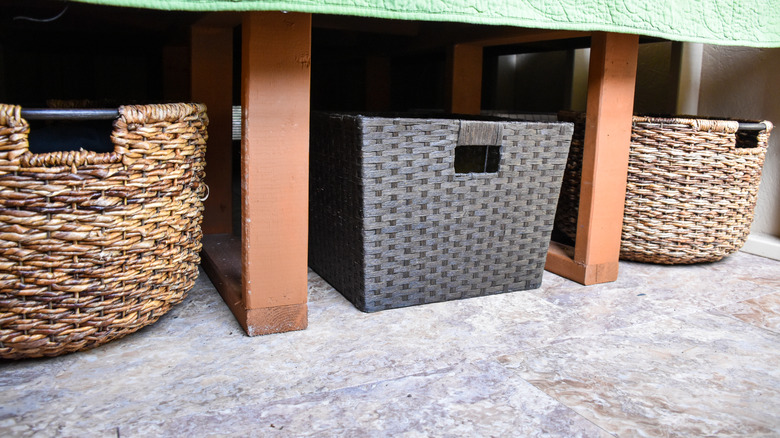 RacheeLynn/Shutterstock
Kicking random things under the bed can create a huge mess, but placing baskets underneath can make it easier to place random items in a safe place. They're out of sight but are still useful for storing toys, blankets, pillows, or books. 
10. Kitchenware baskets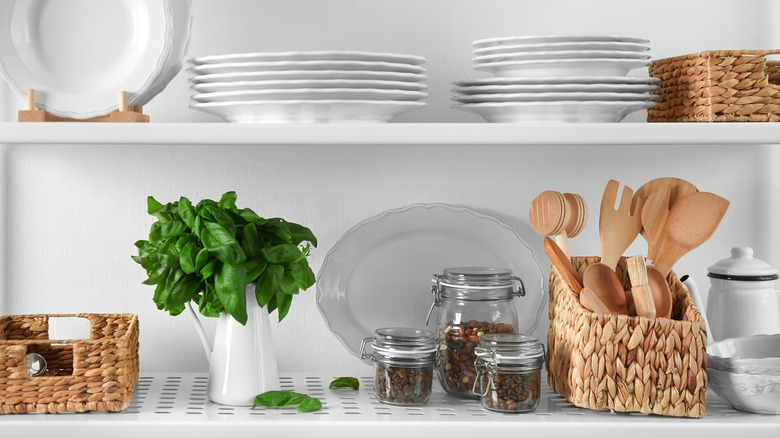 Africa Studio/Shutterstock
These shelving units are gorgeous with their all-white shelves and white plates. The wooden features and green plants give the space a pop of color, but a creative way this space uses baskets is to store wooden utensils. They're kept all in one place and easily accessible instead of piled in a drawer. 
11. Blanket basket
New Africa/Shutterstock
Baskets in the living room are a must because they can hold your blankets, so they're close by when you need one. This basket blends in with the wood-paneled accent wall, but the blankets make it stand out. It works best with a large basket where you can fit multiple smaller blankets. 
12. Kids room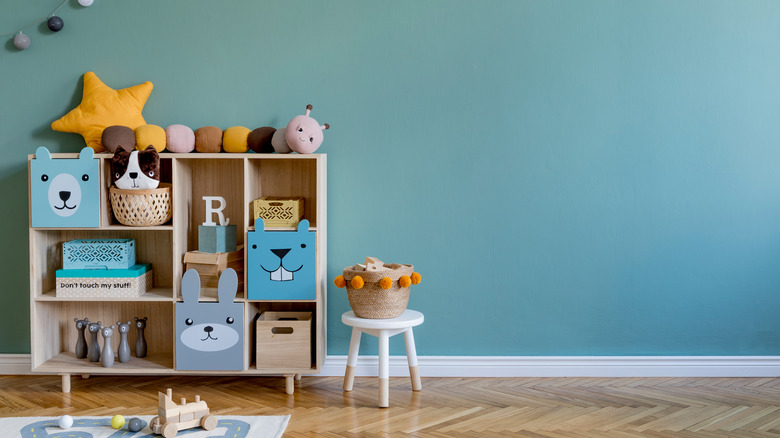 Followtheflow/Shutterstock
A kid's room always needs any type of basket for all of the toys, especially the small ones that can be sneaky and get stepped on. You can use wicker baskets or these animal-decorated crates that add fun and personality to the storage unit. They also fit the theme of the room and make it more kid-friendly. 
13. Baskets for cleaning products
Keeping your cleaning products organized works effectively with plastic baskets. They're sturdy, strong, and can hold multiple items instead of carrying them all in your hands. You can place them in your laundry room cabinets which will free up space to put other items. 
14. Makeup baskets
Using baskets in your bathroom for skincare, makeup, or hair products can free up space on your counter and your drawers. This rose gold basket matches the makeup bag perfectly and the accessories. You can find a different colored basket to match your items. 
15. Yarn baskets
Not only does a yarn basket give you a place to put your yarn, but it adds color to your space in a simple way. It can make the perfect centerpiece on your coffee table or any side table. Placing a couple of yarn balls in the basket is all you need to for any basket of your choice. 
16. Magazine holder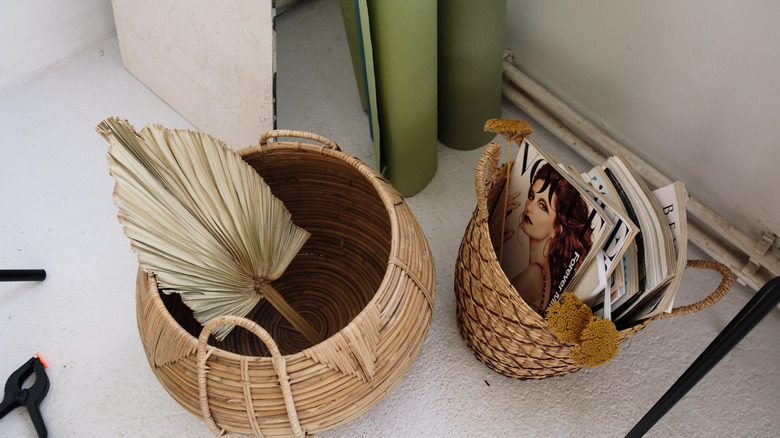 Maria Bulkka/Shutterstock
If you're a magazine collector or subscribe to different magazines, then using baskets as magazine holders can be a new way for you to store them. You can place them in your living room so that they're on hand for whenever you want to flip through one. 
17. Baskets as décor
Some baskets don't always need to be used for something other than being used as décor. This small basket under the bench fills the empty space perfectly, and it's hidden underneath, so it's not overwhelming the entrance. 
18. Backyard storage baskets
Using baskets outdoors can be just as beneficial as using them indoors. Just like these wicker baskets by the hanging chair holding blankets for colder days or nights are great. They can be used as a picnic basket to take snacks outside, as well. 
19. Pillow baskets
A different way to style baskets is underneath a long table with pillows which normally isn't seen unless it's in a living room. They make the space cozy and organized instead of being filled with random things. The books in the other basket tie the whole look together by matching back with the color of the pillows and décor items. 
20. Food baskets
Food items can be hard to keep organized since they stand alone, so using any type of basket can make hold them in one place and keep them organized. They make great use in a pantry to hold packaged items together and prevent them from piling on top of each other.