How To Give Your Plain Dishwasher A Stylish Upgrade On A Budget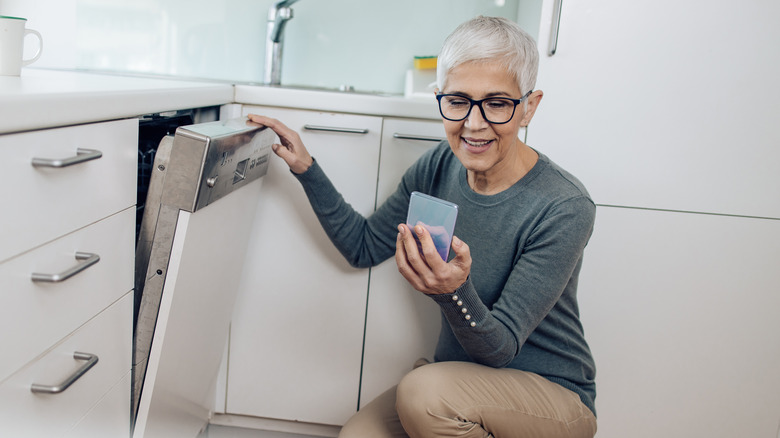 Mixmedia/Getty Images
If you cringe every time you walk into your kitchen due to the outdated or dull aesthetic, then you may have been thinking about DIY ways to transform the space, such as painting your appliances. Although you can always tackle the fridge and oven, you also don't want to forget about your dishwasher so that it's just right for your kitchen. Of course, before you whip out any ol' paint and start slapping it on, you need to know how to cover this particular appliance and Megan Baker from Baker.Blooms DIY & Design had a fabulous idea that is super easy to do. It's also just as easy to remove if that becomes necessary whether that's because you messed up, rent your space, or just want to change things on occasion without major commitments. Fortunately, Baker shared her handy-dandy hack on TikTok in a video that showed each step as well as the full process and eventual (enviable) results.
If you're already inspired, then you'll need to know that Baker used Behr Cabinet and Trim enamel when painting her cupboard doors a stunning olive green. After tackling her cabinets, she took advantage of having leftover paint for her dishwasher which made the appliance perfectly match the rest of the room. On top of that, she grabbed some white contact paper, primer, and a wallpaper-smoothing tool before putting her experimental idea into action.
Apply contact paper before you paint your dishwasher
In order to get this DIY project started, you'll first want to grab your contact paper. Place the paper on the front of your dishwasher and smooth it out using the wallpaper smoother. Baker did have to use two pieces of contact paper to cover the dishwasher which left a bit of a seem when they connected. However, she then swiped on a coat of primer to give herself the perfect canvas to work with when painting which could help to hide the slight seam.
At this point, the primer needs time to dry, however, once it does, then you're ready for the truly fun part: adding the color! Apply your paint as you normally would — with a paintbrush or roller — and add as many coats as necessary to achieve a smooth and even color. Be sure to let each coat dry before adding the next.
If you want to go even further with this easy-peasy and yet oh-so-satisfying project, then you can do as Baker did and use a rub-on metallic finish to change the top panel from whatever color it might be to an eye-catching gold, silver, or copper. A few coats of that with enough time for everything to dry and you should end up with a dishwasher that is truly transformed.