How To Make A Birdfeeder Out Of An Orange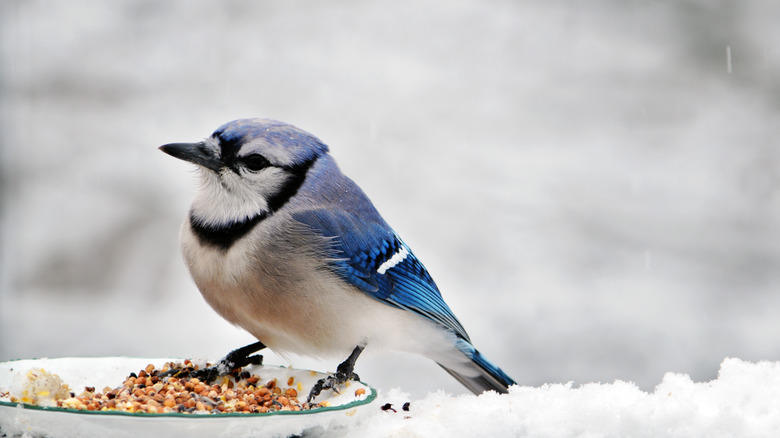 Tracy Burroughs Brown/Shutterstock
Feeding the birds in your yard is one of the best ways to connect with nature and enjoy the surrounding flora and fauna. If you love birds, and are looking for a low-cost and eco-friendly way to draw them to your home, you can make bird feeders out of a number of household items DIY-style, including thrifted teacups, soda bottles, and milk jugs.  TikTokker @leahferezan, however, recently showed off a hack that may be one of the least expensive and time-consuming options for creating a birdfeeder from objects already in your home. All you need is an orange, some twine, and  bird seed.
An orange birdfeeder is completely compostable, meaning that when it's reached its limit for usefulness, you can simply throw it in the bin. It's completely biodegradable and a great alternative to plastic feeders, great if you are as determined to preserve nature as you are to observe it. The bright orange of the feeder will attract a variety of birds to your yard, while the hollowed-out orange will also provide a fresh citrus scent you can enjoy. 
Creating a bird feeder from an orange
To create your DIY bird feeder, begin by slicing the fruit in half and hollowing out the inside, leaving the peel as your container for the seed. Use an awl or large needle to poke several holes around the perimeter, stringing them with twine so that the bowl of the orange hangs evenly.  Create a loop at the top to hang wherever you like outdoors. The peel will dry to a leather-like consistency as it hangs, providing a perfect berth for the seed and a small edge for the birds to rest on as they eat.
Hang your bird feeder from the top of a porch or overhang, in a tree, or along a fence. Because they are relatively inexpensive to create, you can make a bunch and hang them together for a sweetly scented pop of color and a feast for the neighborhood wildlife. Refill and replace the orange rinds as needed. You can also use the peel of other citrus fruits like lemons, limes, and grapefruit.