This Pool Noodle Hack Makes Backyard Grilling Safer For Everyone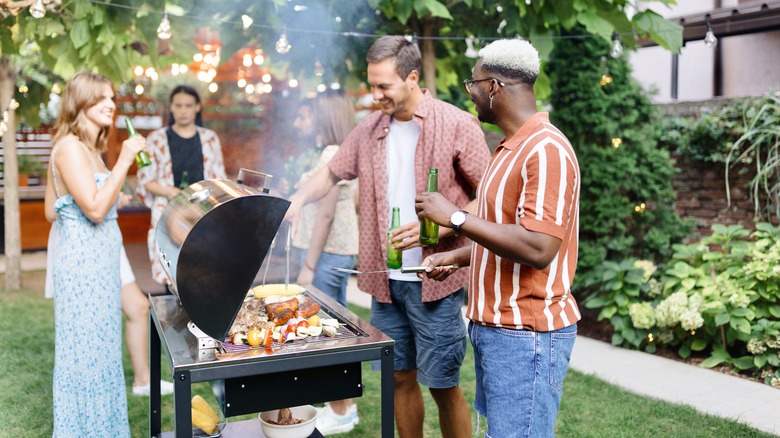 Anchiy/Getty Images
We may receive a commission on purchases made from links.
Is there anything better than food fresh off the grill? If you're an avid barbecuer, you probably noticed that your grill's plate shelves have sharp, metal edges. This can lead to unnecessary accidents, especially if you have young children running around outside. Now we know you can line these shelves with a pool noodle, thanks to this genius TikTok hack. If you have a pool or frequent a nearby lake, you probably have a few of these pool toys already in your yard. If you don't, you can purchase a hollow pool noodle from your local grocery store or for $3.99 on Amazon. This inventive grill-safety trick is not only affordable but easy to carry out.
The National Fire Protection Agency (NFPA) reported on grill-related accidents. Between 2017 and 2021, there was an estimated 22,155 patients requiring emergency services — annually. One of the best ways to prevent these injuries is by keeping your grill safe, and the sharp edges of a grill are an area we often forget about, until now. 
Cut a pool noodle down the middle
A pool noodle and a pair of scissors are all you need to create bumpers for your grill shelves. Start by cutting your pool noodle to the desired length. You'll want enough material to line the entire edge of your grill shelf. Next, cut the noodle down the middle so it separates, like a hot dog bun (you'll need a hollow noodle to carry out this hack). After you've done this, all you need to do is slide the noodle around the sharp edges of your grill shelves. Since you can easily bend and manipulate these toys, one strip is all you need for this pool noodle DIY hack. 
As an added bonus, this awesome trick might keep food from sliding off your prep surface, especially if your grill isn't on a level space. Just keep in mind that pool noodles melt easily, and since they're made of polyethylene, are flammable. This means that you may want to remove them when working with an open flame and put them back on your grill when everyone sits to eat — or when kids are playing in the yard (and the grill is off). It's important to understand that when heated at high temperatures, certain plastics can leach harmful chemicals, even if they're BPA-free. Pool noodles fall into this category, and you don't want to risk inhaling dangerous chemicals. Just put your pool noodle aside when cooking and remember to replace it afterward.