A Spritz Of This Beauty Staple Will Keep Your Curtains And Drapes Free Of Dust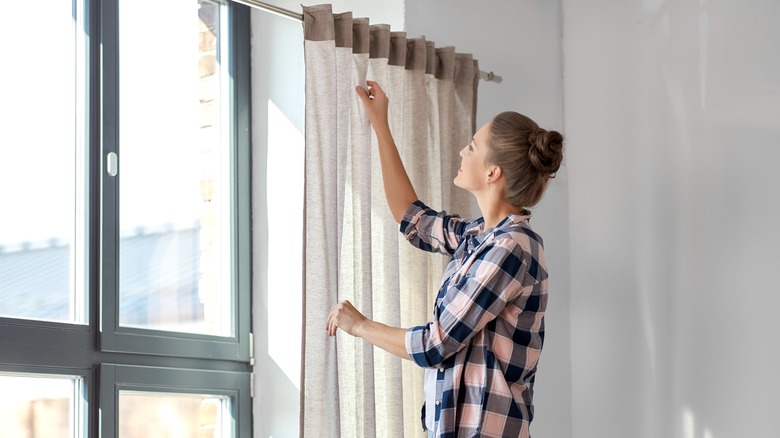 Ground Picture/Shutterstock
Whether your mom did a sweet job of expertly turning bed sheets into curtains for your new place, you personally hung up two cheap sheer panels, or you're ready for a pro to custom install high-end silk drapes, you'll want to keep your window coverings looking sharp. Given their versatility, the maintenance needs of curtains vary widely. This can depend on their fabric type and whether they're machine washable or dry clean only. No matter what your treatments need to stay clean, a simple hack will keep your drapes dust-free for longer. All you need to do is spritz them with an old-school beauty staple, hairspray.
However, before you apply lots of hairspray, it's important to know exactly what your curtains are made of (or if they're a blend). Just as with clothing, drapes and curtains come in a huge variety of textiles. They could be made out of natural cotton, sheer nylon, wrinkle-resistant polyester, rayon, lace, stately brocade, or retro-looking velvet. We recommend you first talk with a window treatment professional to make sure hairspray won't damage the fabric. This is because hairspray can discolor clothing when being applied to our hair, though we might not see it right away. The same thing can happen to drapes, so it's best to make sure this beauty product is okay to use before covering your curtains with it.
The smart way to spritz your curtains with hairspray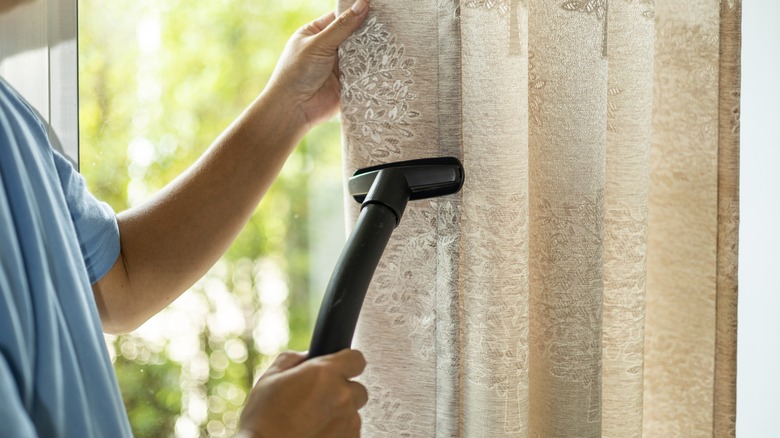 PW.Stocker/Shutterstock
Once you've got the okay, you'll want to gather together everything you'll need, including a step ladder or an actual ladder. You'll also need a vacuum — a portable type is best, but whatever you have is fine, and your upholstery attachment is perfect for this job. Finally, you'll of course need hairspray, and an aerosol can is better than a non-aerosol type as it will apply more evenly. Once you have all your materials, you can begin cleaning your curtains. As painstaking as it is to vacuum them from top to bottom while climbing up and down your ladder, don't skip this step! You don't want to keep the dust locked in by spraying before vacuuming. The finishing touch is to get back up the ladder and spritz your curtains with hairspray. To avoid staining, don't stand too close.
There are a number of benefits to applying this beauty product to your drapes. Hairspray contains polymers that create a protective film or net around whatever this product is applied to. You'll save time dealing with washing and most likely ironing your curtains if they're not wrinkle-resistant. Alternatively, frequent dry cleaning is very expensive. While you won't be completely absolved of cleaning your drapes by using hairspray, this hack will allow you to keep dust away and wash them less often, saving both time and money in the long run.