Get HGTV's Christina Hall's Nursery Book Display With This Budget-Friendly IKEA Hack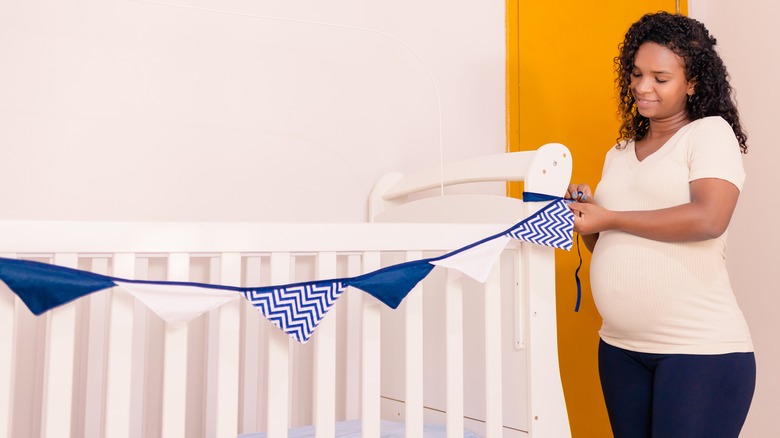 Marciobnws/Shutterstock
HGTV's Christina Hall has a keen eye for decorating a room and always designs spaces with intention and cohesiveness. In Season 4, Episode 14 of "Christina on the Coast," Hall helps her best friend Cassie Schienle renovate her newborn son's nursery. They kept the room minimal with a white interior but added many pops of color throughout with a navy blue accent wall, colorful plants that make a difference in the room, and toys for the baby to enjoy. They also added wooden bookshelves for holding children's books and small plants, and this interesting feature caught our attention. While simple, these shelves tie the entire room together. Bookshelves like the ones Hall used cost around $20 to $35 for a set of two or four on Amazon. Instead of buying these bookshelves, IKEA sells the BEKVÄM spice racks for about $7 each that look almost identical to the shelves in the nursery, making this a perfect budget-friendly hack.
These spice racks are made out of natural wood that adds warmth to any space and provides a clean, neat look. If the wood finish doesn't match the bedroom interior you're decorating, you can easily stain or paint them any color you desire. To replicate this spice rack bookshelf idea, you'll need at least two IKEA BEKVÄM spice racks, separate screws or fittings to mount the racks (since IKEA doesn't include them), and your favorite children's books.
Setting up the spice rack bookshelves
Once you've gathered your materials, take them to the room where you want them displayed. Start by assembling all of your spice racks following the instructions that IKEA provides. After making the spice racks, decide if you want to hang them either vertically or horizontally. If hanging vertically, mount one to the wall, then measure how close you want the other one to be. You can leave about a 14-inch space between them or use one of the largest children's books to measure how low the second rack should sit. Most children's books measure about 8.5 to 11 inches tall. Leave less space between the spice racks if your child has shorter books. Measure the space before hanging the other spice racks if you have more than two. Finally, decorate the new bookshelves and you're done!
One thing to keep in mind is that HGTV's Christina Hall used longer bookshelves to hold more books; you can do the same thing by mounting two spice racks next to each other. You'll have a tiny gap between them, but you can wrap a short faux leaf garland through each one to hide the gap or leave them as is. On the other hand, you can keep the spice racks stacked on top of each other along a single wall to designate a full book wall. Every space has a different layout, so regardless of how you place the racks, they'll be unique to the room.