Upcycle An Old Bird Cage To Add Instant Charm To Your Front Porch And Garden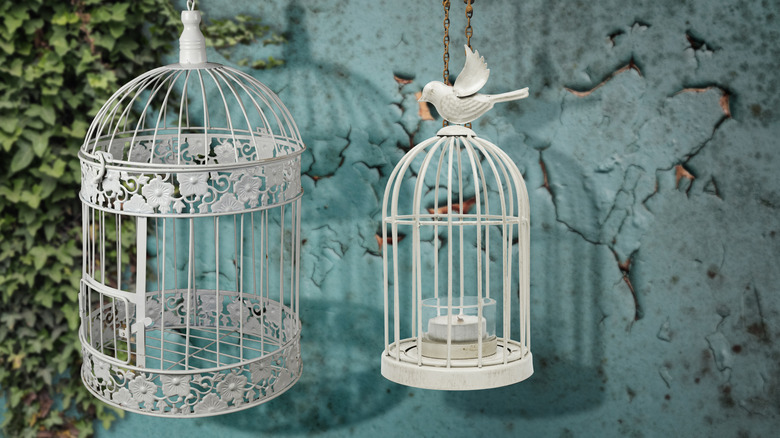 naskami/Shutterstock
When it comes to sustainable design, Instagram often serves as a great source for ideas that are easy and fun to duplicate. As an avid secondhand shopper who regularly picks up all types of items to repurpose, Sarah Teresinski shared a fun project idea. "Found an old rusty decorative bird cage thrifting and I'm going to give it a new use," she wrote on Instagram.
To give it instant porch appeal, all she did was place an easy to grow pothos plant (sometimes called Devil's Ivy) inside the bird cage. She gently pulled a few of the leaves through the openings in the decorative cage to complete the look before hanging it on her front porch. The upcycled bird cage has a brown hue making it look a bit more rustic, but any color will work including white, or you could easily spray paint the bird cage a color that coordinates with your porch or garden furnishings before adding some of your own decorative touches.
Other ways to decorate your porch with a thrifted bird cage
When it comes to picking up and repurposing an old bird cage, you can certainly place a live plant in one with wider openings and hang it following the lead on Instagram, but don't stop there when thinking about how to style one. They can be changed seasonally, in fact. For instance, a pothos plant won't work in the winter on your porch, but you can place some holly or other evergreen sprigs in your cage along with an artificial cardinal for some color. Filling one to the brim with pinecones is also a wintery way to spruce it up. When spring rolls around, replace them with pastel Easter eggs and then artificial lemons in the summer.
If you want to sit your bird cage on a table instead of hanging it, consider placing battery operated candles inside it to add some lovely nighttime ambiance to your patio décor. Just remember that if it will be sitting on an open patio or a garden table, you may need to spray it with a clear waterproofing sealer to keep rust at bay and use weatherproof decorative elements inside it. Once you start thinking about all the ways you can decorate outdoors with a secondhand bird cage, you might want to hunt down more than one!