The Most Popular Types Of Wood For Hardwood Floors In 2024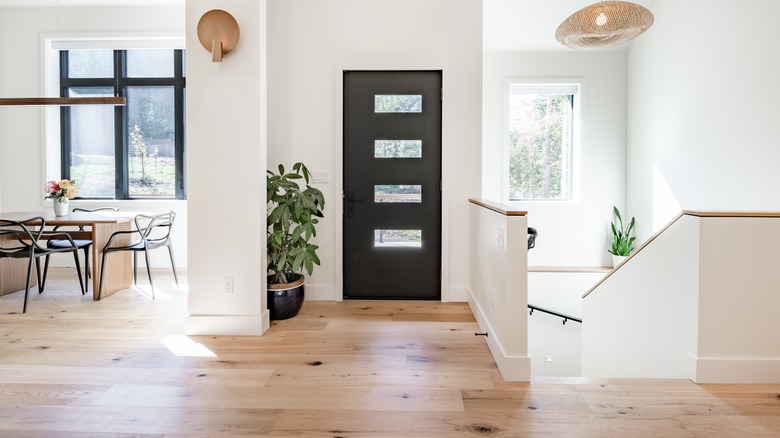 Sheila Say/Shutterstock
As a trend, hardwood floors don't seem to be going anywhere. Since rising in popularity, they have maintained their spot as the first choice for most homeowners and builders. Hardwood floors are favored because of their ease of cleaning and the warmth they create, adding character or providing a neutral base for the rest of your home's design. However, certain types of hardwood floors are more popular than others. Gray hardwood floors once ruled supreme, but in 2024, we're expecting warmer shades to shine. We're moving back to the classics and away from luxurious choices that are now seen as pretentious.
We're talking about oak, maple, ash, and walnut. Many interior designers are using these classic woods because of the warm coloring and charming detail they add to an interior. "Noble types of wood with a unique pattern and color are an indicator of good taste, and it does not need to be hidden," says New Decor Trends. This has made exotic species of wood, such as bamboo, mahogany, teak, and iroko, less sought after in interior design.
Why these hardwood floors are on the rise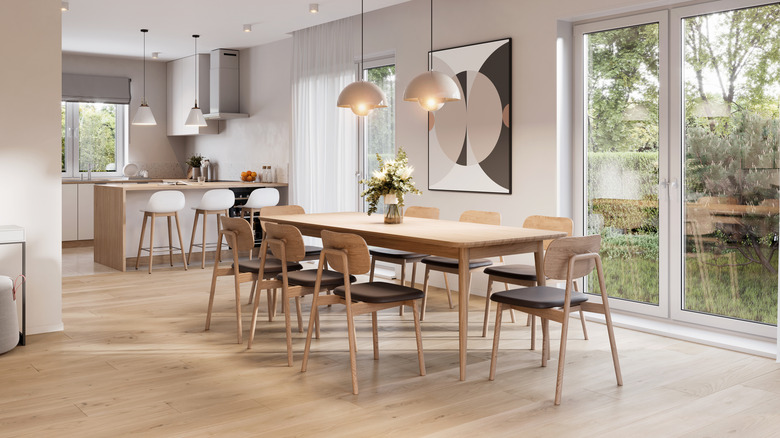 Alvarez/Getty Images
These hardwood floors aren't becoming sought-after solely because of their appearance. They're also reliable options that will stand up to the busy life inside a home. Oak, for example, is one of the densest species of wood, making it one of the hardest and most durable options for your floors. Oak floors are particularly great for busy homes with kids or pets because they're heavily resistant to scratches and stains. Lighter shades of oak allow you to see the natural grain, adding plenty of texture and warmth to a space.
Maple and ash have a similar lighter, golden tone to natural oak. These will naturally complement the warm beige and natural-inspired interiors that have been trending. Maple, similar to oak, is also extremely durable, allowing you to keep it in your home for generations once installed. Ash is similar in terms of durability and resistance, allowing it to hold up to daily busy life. Aesthetically, walnut is different from the others on this list because it's darker and browner than the other wood varieties. Still, it possesses many of the sought-after qualities, such as durability and resistance to moisture. However, walnut is a little bit softer, which makes it a little more prone to scratches and dents compared to other kinds of wood.
Making these styles work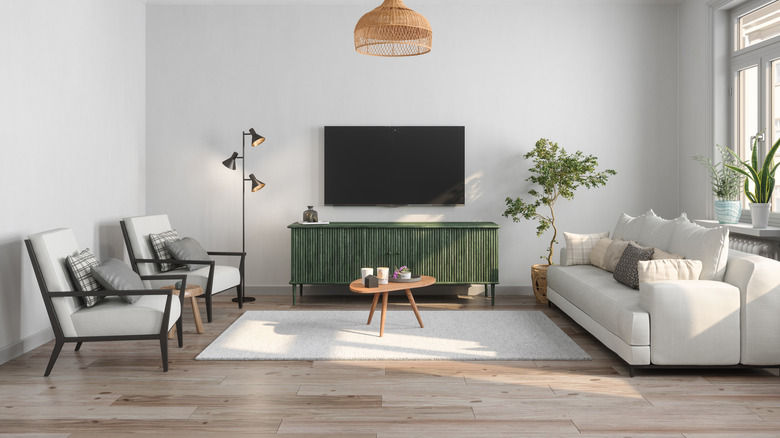 Onurdongel/Getty Images
The variety of trending hardwood floors for 2024 is only one aspect of what to expect in interior design. Ensure that oak, maple, ash, and walnut floors are on-trend by pairing them with other trends expected to rise next year. For example, allowing natural tones and textures to shine without staining them will be important. 
Along with that, more and more homeowners are opting for matte and satin finishes rather than something glossy. These less shiny finishes go hand in hand with the more natural aesthetic that is gaining momentum. A matte finish for hardwood floors is the most natural and can even have a rustic touch to the aesthetic. The low reflectivity of matte finishes also hides scratches well and requires less maintenance, making them ideal for high-traffic areas. However, if you desire a touch of brightness, a satin finish still looks natural but adds a subtle shine without being too reflective.