How Paper Napkins Can Give Your Boring Plastic Planters A Major Upgrade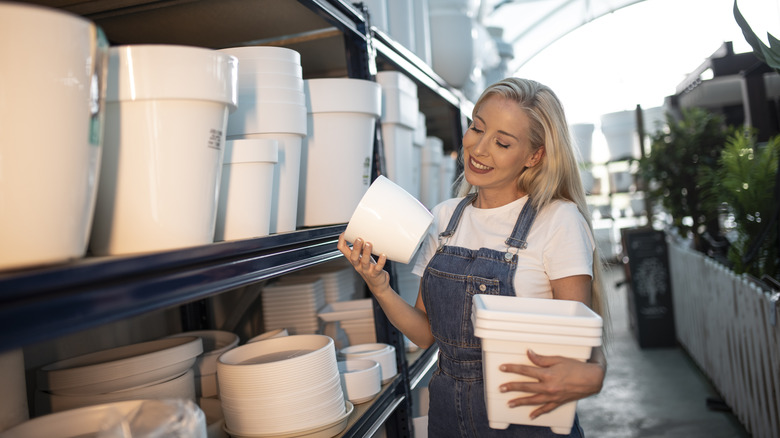 July Alcantara/Getty Images
Plants make a wonderful, loving addition to any space as a fun design aesthetic. With so many different types of houseplants to choose from, the options are truly endless no matter your room: towering ceilings, small corners, or even low light. The bill can add up quickly, though, as houseplants have become trendy and cute boutiques capitalize on hungry consumers' Instragrammable needs.
What's more is that designer planters can become expensive quickly, with some costing nearly as much, if not more, than the plants themselves, the porcelain or ceramic ones as the main culprits. Not to mention, many of these "designer" planters are mass-produced and will likely crop up in your friends' homes, rendering them common and unexciting.
Don't fret! Despite the looming market troubles, there are affordable solutions to house your plant friends. Head over to your local nursery or dollar store and pick up a couple of basic, inexpensive plastic planters, making sure to opt for ones with drainage holes or drillable plastic bottoms. While you're there, check out their paper goods and select your favorite napkin designs.
No luck? Check your favorite craft store, Etsy, or Amazon for whatever tickles your fancy, prioritizing something that will surely pop in your space at home. Additionally, all you will need is some Mod Podge and a foam brush in order to adhere your favorite napkins to your plastic planters, elevating their cheap exterior to something totally unique while adding pizazz and personality to your space.
How to jeuje your plastic planters with paper napkins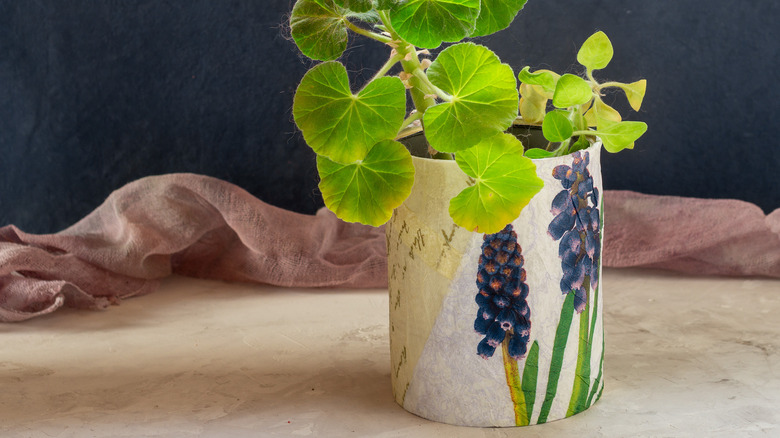 Marina_vert/Shutterstock
To create a unique planter pot for your home, you can easily adhere paper napkins to plastic planters, transforming their exterior with a personalized touch. First, gather the materials you'll need: plastic planters, paper napkins with the desired pattern or design, Mod Podge, a foam paintbrush, and scissors. Begin by cutting the paper napkins into small, manageable pieces or strips. Next, apply a thin, even layer of Mod Podge to the exterior of the plastic planter using the paintbrush.
Carefully place the cut napkin pieces onto the adhesive-coated surface, smoothing them out to remove any wrinkles or air bubbles. Continue this process until the entire planter is covered with the napkin pieces in your desired design. Allow the Mod Podge to dry completely, typically taking a few hours. Once dry, apply a final protective coat of Mod Podge over the napkins to seal and protect the design.
Customizing your planters allows you to match any decor or theme, from vintage to modern, to your existing aesthetic at home. Additionally, it's an eco-friendly way to upcycle old plastic planters, giving them a fresh and stylish makeover. Bonus — this technique isn't limited to plastic planters; it'll also work on other materials like terracotta pots, wooden boxes, or even glass containers. By experimenting with different materials and napkin designs, you can create an array of eye-catching planters that enhance the aesthetic of your home or garden while showcasing your personal style and artistic flair.