HGTV's Kim Wolfe Shares How To Put Character Into A Builder-Grade Bathroom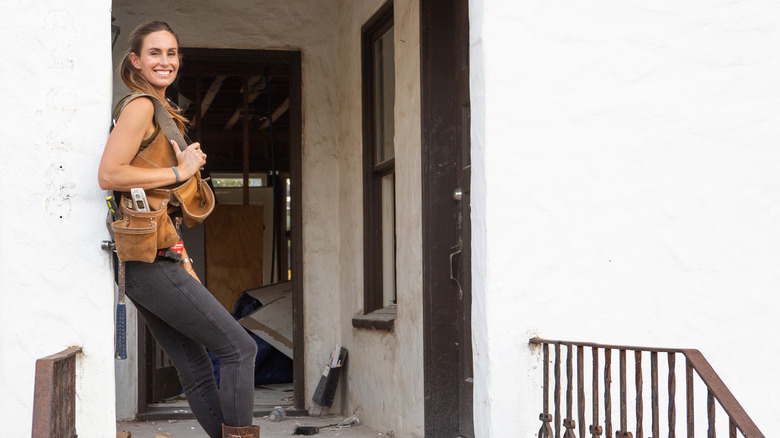 Image Source/Getty Images
Using builder-grade materials is the perfect way to keep costs low during a budgeted renovation or when building a home. But the end result could be quite boring and charmless. That's why HGTV's Kim Wolfe of "Why The Heck Did I Buy This House" uses small cosmetic changes to infuse a ton of high-end character into a basic builder-grade bathroom on TikTok. 
Wolfe started out with a bathroom with grey walls and wood-look flooring, neither of which gave off a spa-like vibe. And, while it worked as a functional bathroom, it was lifeless and had little personality and charm. But her mini-reno made the space completely unrecognizable. All she did was switch out the flooring, wall color, and other fixtures. These little accents may seem minor, but they can make a big impact on the look and feel of the space. It just takes knowing what you like and reaching out to a contractor or DIYing the project yourself. 
How to recreate Kim Wolfe's cosmetic bathroom makeover
Wolfe ditched the grey walls painting them a creamy white to match the tub and cabinets. Getting rid of the bland grey made the space look twice the size and more like an airy bathroom in a wellness retreat. Wolfe also pulled up the wood-look flooring and traded it in for something funkier and modern, a small black and white patterned tile. The dark flooring provides a slight detail and sophisticated feel while grounding the space. There are so many options out there, like this floral design from Etsy or this octagon and dot tile from Wayfair.
As for the other fixtures, there are so many choices that evoke different vibes from sleek and modern to rustic and farmhouse. Plus, with a wide range of price points, you can create a whole new look on a budget. These gold drawer pulls, similar to what Wolfe chose, go for $7.99 each on Etsy. And, the gold Massey Double Hook from Rejuvenation mimics Wolfe's choice at $30 per hook. For stylish and functional lighting, Wolfe combines wall and overhead lighting. For a similar look, the Contemporary Hexagon Bath Sconce for $299 and the Halia Pendant light for $370 from Shades of Light combine well with each other.