Transform Stuffed Animal Clutter Into Cute Kid Decor With These Ideas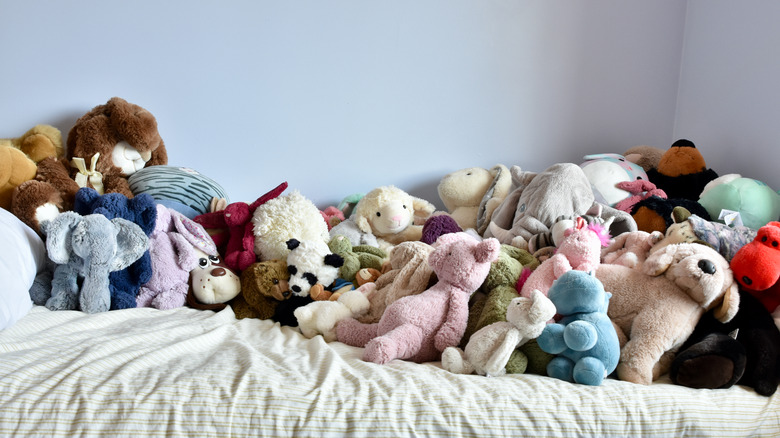 Kristin Mitchell/Getty Images
We may receive a commission on purchases made from links.
Are stuffed animals taking over your square footage? This is a common problem. Whether they're birthday presents or prizes from the fair, these plush toys seem to multiply on their own. You can't fault your little one for having a large collection. Plushies are soft, lovable, and cute. Still, that's hard to tell when they're scattered on the floor and blocking the doorways. Fortunately, between hanging baskets and carefully styled shelves, there are many easy and stylish ways to declutter your kids' toys.
You can have stuffed animal storage that also functions as magazine-worthy decor. It will bring a personalized touch to the kids' room while keeping your home clutter-free. Our finds are inexpensive and user-friendly, perfect for forever homes or rented spaces. Reorganizing the stuffies will make for a fun activity that your little one can join in on. Plus, if they outgrow the cuddly toys, you're still left with functional decor that can house their next trending obsession.
Stylish floor baskets
Baskets are a popular and inexpensive choice for stuffed animal storage. You can find a container to match any aesthetic, and the toys will be easily accessible for your children. There are also multifunctional baskets, like Pillowfort's Wire Kids' Storage Floor Bin, available at Target for $40. It comes with a lid and doubles as a table. The plush toys become a unique table leg design, while the top is a nightstand for books or a lamp.
Trendy hammocks
Teddy bears lounging on a hammock is an instant decor upgrade to them scattered on the floor. You can buy a stuffed animal hammock online or DIY the project. A fitted sheet, old T-shirt, or large scarf are great bases for the swing. Add three hooks to the ends of your base and attach the cloth to the corner walls of the room. Then, fill the hammock with plush toys. This storage option is perfect for small rooms as it doesn't take up floor space.
Classic trunks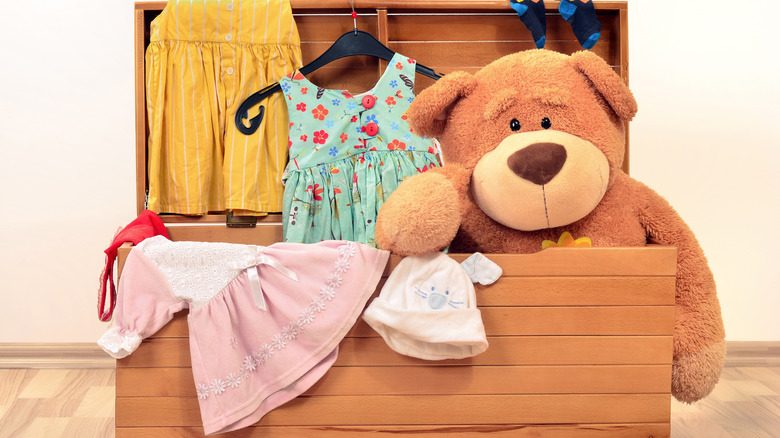 Iulian Valentin/Shutterstock
Trunks are beautiful storage options, whether you're housing stuffed animals or blankets. There are styles to fit modern, industrial, and vintage looks. Plus, they can double as a bench or table. Prop open the chest and have the plush toys sitting up to highlight your stuffed animals. Fill the bottom with books or bedding if your plush zoo needs more height.
Grand bookcases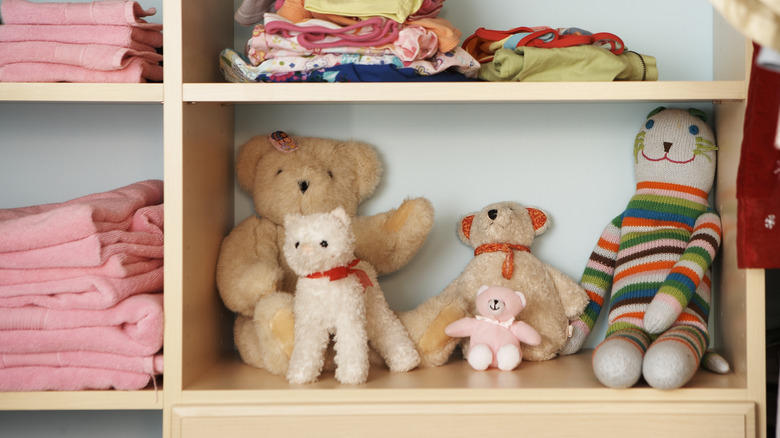 Thomas Northcut/Getty Images
If the amount of stuffed toys in your home rivals a zoo, then a bookcase is the ideal storage option. You can line the animals like books, arranging them randomly, in size order, or by color. Prepare for it to be the focal point. To step things up a notch, consider adding doll chairs for your smaller stuffies to sit on. The tiny furniture is cute and instantly amplifies the decor. You can find the tiny chairs at thrift stores or on Amazon.
Stylish floating shelves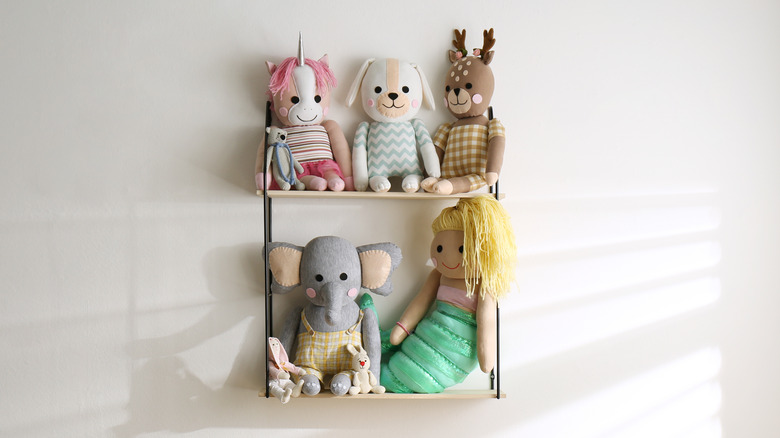 New Africa/Shutterstock
A shelf is another classic option. If the children have moved away from playing with the plush toys but still like having them around, go for a high shelf. A display above the door draws the eye upward and adds a cute twist to the entrance. If the plush babies need to be easily accessible, hang the shelf lower. It will still be an eye-catching setup.
Chic wall baskets
Similar to the shelves, but unique in their own right, are hanging baskets — like this Cloud Island Hanging Wall Storage Rainbow Basket from Target that costs about $50. A few screws secure the holder and create a gorgeous built-in home for the stuffies. Alternatively, any mid-sized basket will work to DIY this hack. You can even turn a wall planter into a trendy stuffed animal shelf basket. These are another great choice that doesn't take up floor space and embellishes the blank walls.
Decorative tension rods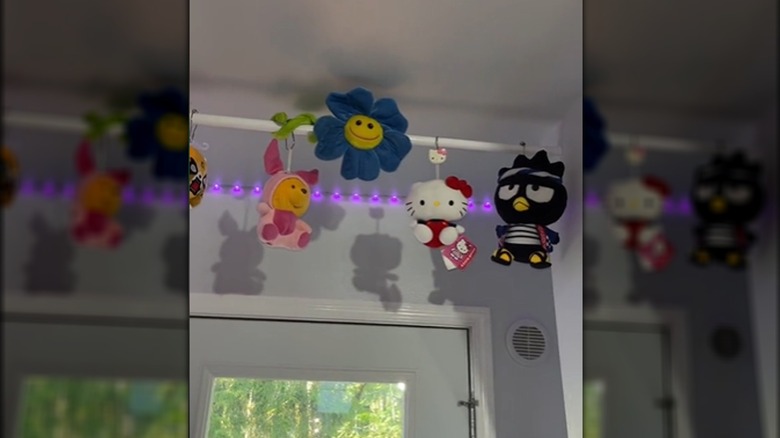 TikTok
A stellar way to showcase your child's favorite plushies without drilling any holes or building furniture is with a tension rod. The pole will span across the entire room with all the stuffed animals hanging on, like monkey bars. You can attach your plush toys with curtain hooks through their tag or attach a ribbon loop to their head if there aren't any strings on the stuffies.
Cool bean bag chairs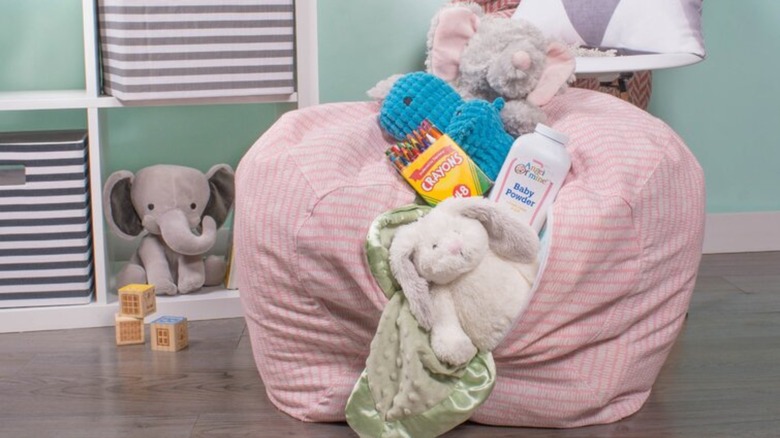 Evelyn Chavez/Shutterstock
Plush toys make an excellent stuffing for bean bag chairs. Inside the bag, the stuffies are protected from dirt and debris. It is great if you have a large collection but only want to exhibit a few. Plus, you have a functional chair that makes cute decor for the kid's room. Leave a couple of your favorite plushies on top to complete the display.