Try This Furniture Trick To Get The Most Out Of Your Vacuuming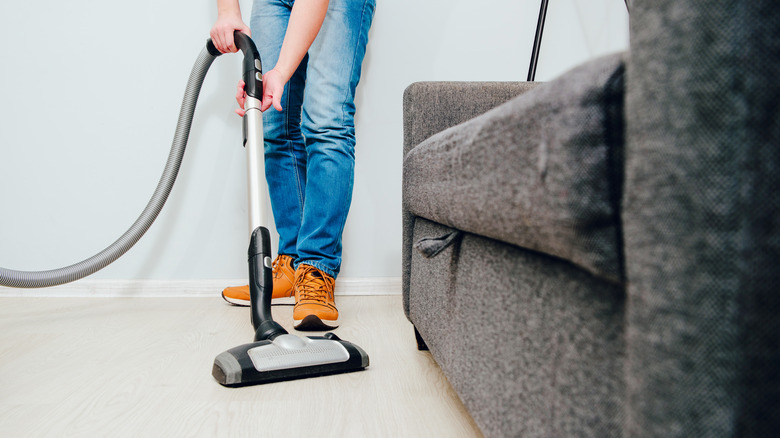 BOKEH STOCK/Shutterstock
No one necessarily enjoys vacuuming, but it's an important chore most of us have to do weekly. And while it's easy enough — all you have to do is push a device that does all the work for you — most of us still dread it because there is a lot of stretching involved to get all the dust and dirt off the floor. Or, more specifically, to get grime out from underneath furniture. Dust tends to accumulate on the edges and sides of the room, which is also where most furniture is pushed up against. It can be difficult to get a dust bunny from underneath a couch or sideboard, forcing you to squat to get into tight corners or reach around with your hose attachment. But luckily, there is an easier way to do this – rotate your furniture. 
This might require a bit of prep work before you begin vacuuming, but if you want to ensure a really deep clean that won't allow missed dust bunnies to hop out from under your furniture two days later, then this is the easiest way to do it. Here's how rotating furniture can make vacuuming more effective.
How to rotate your furniture while vacuuming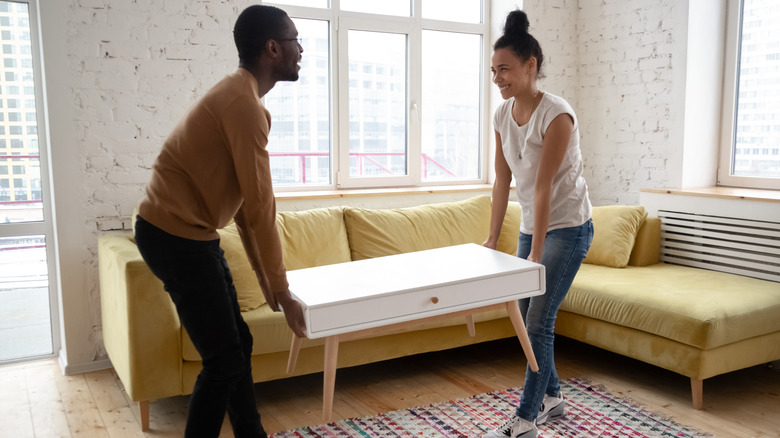 fizkes/Shutterstock
To pull off this vacuuming hack, you first need to rotate the furniture in the room you're about to start cleaning. This means walking from piece to piece and pivoting it away from the wall. This will create a bit of a zigzag pattern for you when vacuuming, but it provides two perks. First, it gets the furniture away from the wall or its usual spot in the middle of the room, allowing you to reach the dust bunnies and crumbs underneath it with ease. Second, it helps you see at a quick glance where you forgot to vacuum. If you missed the side table in the far corner of the room, you'll know you still have to clean there since it will still be left skewed. 
If you want to make this task even more efficient, consider adding felt furniture pads to the bottom of each piece. That way, you won't have to lift anything while doing this task. Instead, you can slide it across the floor without much muscle, making the job go faster. However, make sure you know your own limits. If the bed or sideboard is too heavy to shift, don't throw out your back trying to do so. Leave the hack to more manageable furniture items.