HGTV's Jenn Todryk Shares The Most Impactful Changes To Start With When Renovating Your Home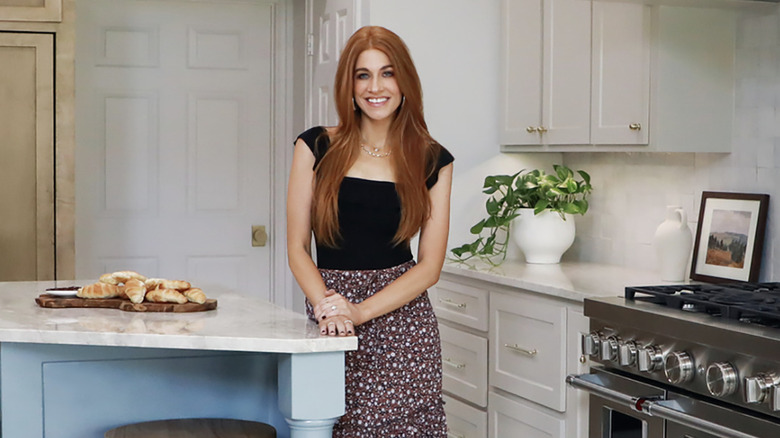 HGTV
Building a home from the ground up just the way you want it can be out of the realm of possibility for many homebuyers today. Some, in fact, feel lucky if they can afford an outdated home built in the '80s or '90s. But Jenn Todryk of HGTV's "No Demo Reno" says renovating an older home can have its advantages. She suggests updating cabinets, countertops, paint, and lighting for "doing wonders" when sprucing up a home in an Instagram share.
"A lot of people are moving into homes right now that may not be their first pick. They are looking at these older homes and left with a feeling of having to settle because 'it's all we could get'. If that's you, find the little bits of charm within the home and amplify them by making cosmetic changes as you can. Walls aren't bad and separated smaller rooms can be super homey and cozy," says Todryk. And in true "No Demo Reno" fashion, she's adamant about leaving the walls making up those cozy rooms alone.
More renovation tips from Jenn Todryk
When looking at what to renovate, Jenn Todryk encourages playing up existing details as a great place to start. As she says, "Coziness and character are expensive to replicate in houses these days!" When it comes to updating a home built in the 1980s or '90s, she also notes that the classic charm of built-ins, nooks, stacked molding, and paneling that can be painted are "all on trend and they ain't cheap!"
In photos shared on Instagram, Todryk shows a kitchen transformation leaving the basic framework of solid cabinetry in place. The outdated oak wood finish is updated to light and bright white and a number of doors are replaced with glass panels. Granite countertops are replaced with white quartz. It's an extensive remodel, no doubt, but offers suggestions that can be incorporated in a more economical way, too.
For instance, homeowners can update a kitchen without replacing the countertops; leaving existing countertops in place and painting the cabinets white can make a big impact with minimal cost. Painting the walls, ceiling, and trim in a light hue to coordinate with updated cabinetry also brightens a space without as much work or expense as a complete remodel. Adding modern pendant lighting over an island is also a way to update a kitchen with minimal effort. Focusing on cosmetic changes over time, as Todryk suggests, will yield a renovated home you can be proud of while staying on budget.