The Stylish Rattan Lighting Hack TikTok Can't Get Enough Of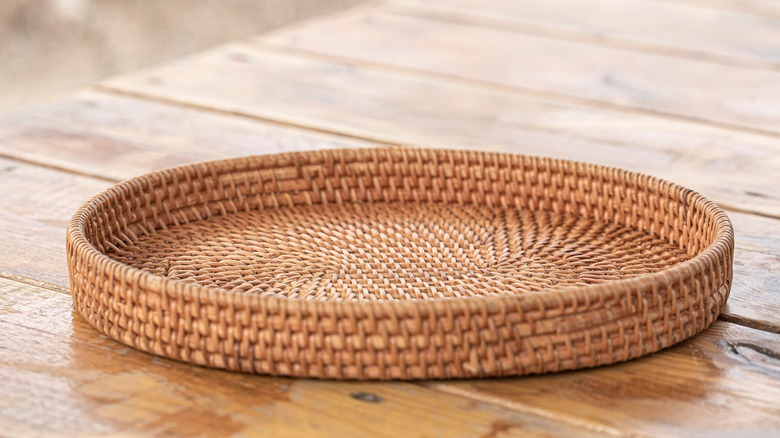 mujijoa79/Shutterstock
If you want to give a room in your home a stylish makeover, then you could opt for new furniture, change the color of the paint, or lay down different flooring. However, one easy way to transform a space is by installing new lighting. Of course, that can be a little pricey depending on the type of fixtures you choose — that is unless you tackle the project with your own two crafty hands and use a smart idea that's emerged on TikTok. This lighting hack has plenty of social media users eager to tackle their own DIY version of the project. That's because it uses stylish rattan décor in an unexpected, affordable, and super attractive way to turn your lighting from embarrassingly dated to enviably chic.
Posted by a TikTok user @lonefoxhome, the idea involves updating an old-school fluorescent light that was once a practical addition but now make the space look more than a little dire. However, instead of taking everything out and starting over again, this hack uses rattan panels in place of the diffuser, and ends up looking absolutely stunning. Those who have seen the video certainly seem to agree, as one user, commented, "The rattan lights!!!! That's one of the coolest DIY ideas I've ever seen!"
Replace old fluorescent lighting panels with rattan
The TikTok video included a slew of ideas that go way beyond clever. Viewers are treated to an entire bathroom makeover that is more than just a little impressive. Of course, one of the eye-catching aspects is the rattan lights. First, @lonefoxhome removed the plastic panels that formerly covered the rather large rectangular spaces where the fluorescent lights can be found. Then he takes pieces of woven rattan that are the same size and shape as the panels and simply adds glue to the edges before affixing them to the grid in the ceiling. He also took out the relatively harsh fluorescence lightbulbs and put in daytime bulbs to create a softer tone in the space. 
With three sections that are side-by-side and make up the majority of the ceiling, the change makes a distinctive and dramatic difference. It ends up being the perfect touch for a room that could have a bohemian vibe or classic French countryside aesthetic not to mention a cottagecore style or minimalist look. The video prompted plenty of comments, with one viewer wondering if there was any risk of the rattan catching fire. The video's creator assured them that this wasn't a concern, which means that you can go right ahead and try this fabulous lighting hack out for yourself.