What Is The Difference Between 18/0 And 18/10 For Your Stainless Steel Flatware?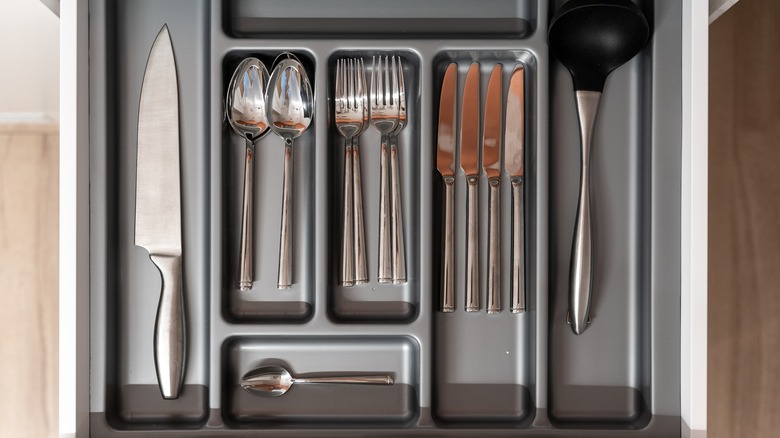 brizmaker/Shutterstock
When it comes time to sit down and enjoy a delicious dinner you spent hours whipping up in the kitchen, most of us are more concerned with the contents of the plate rather than what we'll be using to eat the meal. Despite this, decorating your dining table with a collection of plates, bowls, and, of course, flatware that is well-suited to your preferences helps to enhance the experience. For most people, choosing the best flatware comes down to a decision between two kinds of metal: 18/10 stainless steel and 18/0 stainless steel.
The numbers that differentiate these two kinds of stainless steel tell you more about the metal's specific blend. Both types contain 18% chromium, but the second number indicates the nickel content. Nickel helps enhance metal's shine, adding some luxe-feeling weight, and preventing the development of rust, but an alloy without this metal can result in a product that's more affordable while still having some impressive durability.
When to buy 18/0 stainless steel flatware
If you're just getting started in a new place or need to buy flatware for a large number of settings, 18/0 stainless steel is a solid choice. These sets are usually less expensive than 18/10 stainless steel flatware sets, but they still get the job done and can withstand everyday use. Take, for example, this Astor 20-Piece Matte 18/0 Stainless Steel Flatware Set available for purchase from Home Depot for only $19.14. That's less than a dollar per piece — a deal you're very unlikely to find if you're looking at weightier 18/10 blends.
With that being said, however, there are a few things you need to look out for when purchasing 18/0 stainless steel flatware sets. This metal blend is more prone to rusting, scratching, and deterioration, so some brands will warn against using certain detergents, scrubbing with harsh brushes, or running pieces through the dishwasher. If you're willing to make this sacrifice — or replace your set if it begins to rust — 18/0 stainless steel can act as a way to save a bit of money when the budget is tight.
When to buy 18/10 stainless steel flatware
If you're looking for a flatware set that you want to use daily for years to come, something with a higher nickel content, like 18/10 stainless steel, will likely be your best bet. These sets are typically more expensive, ranging from around $50 for a small service to $200 or more for something more grand, but it's possible to shop around to find some deals. This Tramontia Berlin 20-Piece 18/10 Stainless Steel Flatware Set, for example, is available for $59.95 from Home Depot.
Essentially, if you're looking for an investment set that will feel luxurious and look brand new despite copious wear and tear, look r a higher nickel content like 18/10. If you want something quick and easy that will do the job on a budget, 18/0 is still certainly much more durable than plastic. Either option, as long as you follow the care instructions provided and don't allow your dishwasher to rust your cutlery, will still last you for years to come.