HGTV Jenn Todryk's No Demo Reno Advice For A Cozy Home Also Saves Money
Whether you're decorating your home for the first time or redecorating for the fourth time, it can be challenging to figure out what style works best for your space. While there are various designs to choose from, a cozy environment is a popular look that many homeowners want, but it can be pricey to achieve. HGTV's Jenn Todryk shares how she loves older homes because they were initially designed with charm and detail. She claims in an Instagram post, "Coziness and character are expensive to replicate in houses these days! The classic charm that comes with these decades; built-ins, stacked moulding, paneling, little nooks — they are all on trend and they ain't cheap!" However, if you want to make your home welcoming and comfortable, Todryk has a tip that won't cost you any money. Instead of creating an open floor plan, she suggests leaving the walls in place.
The HGTV star has a unique way of designing homes, as she allows the house to be her guide instead of tearing it down and starting from scratch. On "No Demo Reno," she sticks to the home's original floor plan and simply gives the space a facelift, which always makes a huge difference. This is much more cost-effective than a full remodel, where parts of the home are moved and walls are knocked down. Todryk does a few other things to ensure her clients' homes reflect what they dream of having while also saving them money, time, and stress.
Spruce up the walls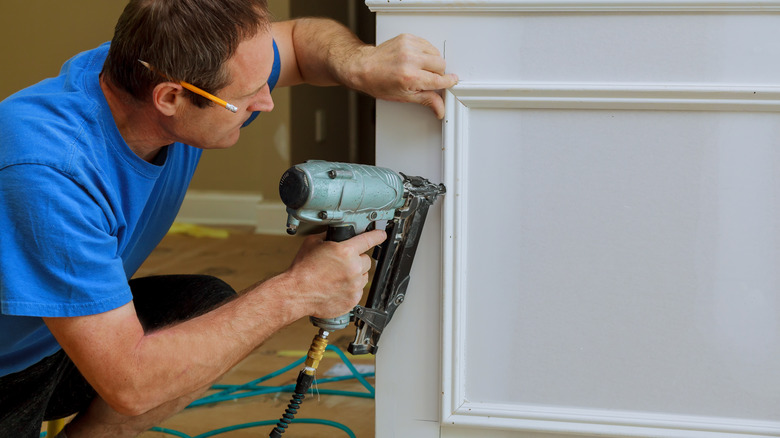 ungvar/Shutterstock
When creating a cozy, warm environment in your home, keeping tight, enclosed rooms is vital. HGTV star Jenn Todryk states, "Walls aren't bad, and separated smaller rooms can be super homey and cozy" (via Instagram). You might think that too tight of a space can feel suffocating, but knocking down walls reduces your home's natural charm and can cost an arm and a leg. Knocking down a load-bearing or non-load-bearing wall can cost between $400 and $13,000, and the average price is $3,100. The price will vary depending on the type of wall, if the home is multi-level, if electric wires need to be moved, and the rates from hiring professionals.
Instead of opening up the space, Todryk advises keeping the walls and giving them a cosmetic change. She claims, "Updated cabinets, countertops, paint, and lighting does wonders," per Instagram. When you find a home with intricate details like wall moldings and panels, keep them to elevate the space. Or, if your home doesn't have wall moldings, add them to a room. Todryk added picture molding to her clients' home in "No Demo Reno" Season 3, Episode 2. Todryk claims, "[Picture molding] is a great way to class up a room if you have a smaller budget. It looks old, it looks expensive, it looks like a cozy library. And it gives such an elevated look to any space," per HGTV.
Work with what you have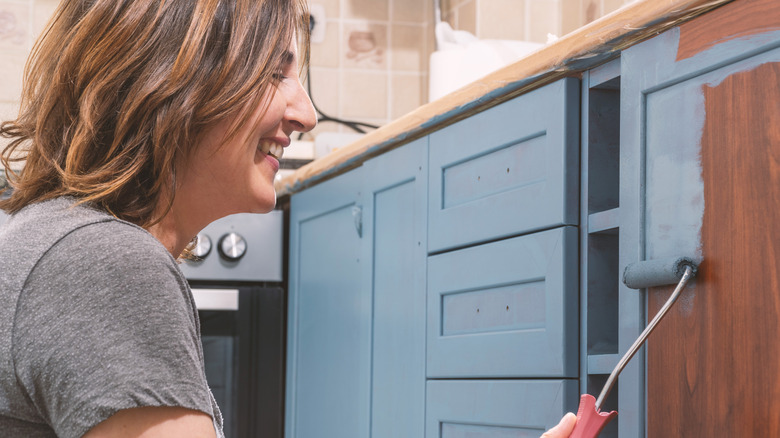 Photoman/Getty Images
Jenn Todryk is excellent at finding low-cost items to install in a home, but if things are already in good condition, she knows how to spruce them up. For instance, you could paint your kitchen cabinets with just a sander, primer, paint, and sealant. However, if you really hate how your cabinets look or if they're not in great shape, Todryk suggests painting the boxes and replacing the door fronts, via HGTV. Another simple way to upgrade your cabinets is by changing out the knobs and handles. You don't have to rip out the cabinets and purchase new ones; instead, a coat of paint will give the illusion of new cabinetry.
On the other hand, Todryk knows when to move things around the house if they don't fit in their original spot. For example, suppose you're renovating your kitchen but there's no way to give your cabinets a facelift with a coat of paint or new handles. In that case, Todryk advises removing the old cabinets and using them as extra storage in the laundry room. Or, she would take them into the living room to be used as built-in drawers. They would be able to hold the essentials inside and display knick knacks on top. Even though you'd be purchasing new kitchen cabinets, you'd still be able to add something new to a different room with the existing cabinets, which would help create a cozy space.