What A Memory Garden Is & Why The Flowers Are So Important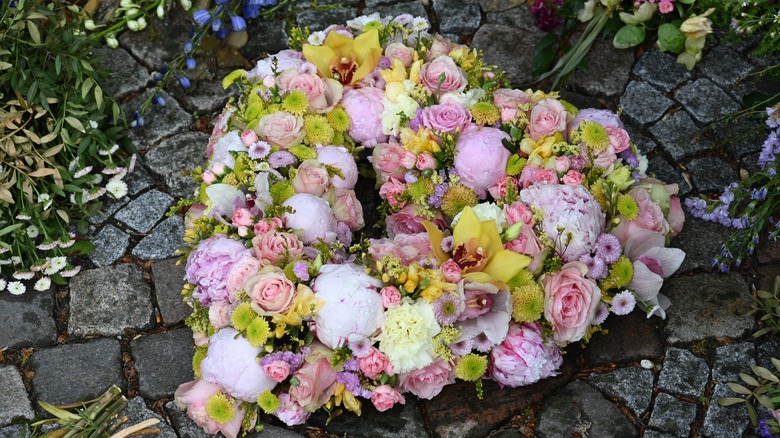 hydebrink/Shutterstock
Memory gardens, also known as memorial gardens or remembrance gardens, are a beautiful way to create something that can be nurtured and appreciated over time in memory of someone special who has passed away. They are usually peaceful places where people can go to sit and contemplate the lives of their loved ones and the good times they shared. It's a way of remembering and grieving a dear loss, but also for celebrating and keeping the memories alive. Memory gardens can be made for close relatives, good friends, and even beloved pets. If you have lost someone near and dear, or a pet that was a big part of your life and you miss a lot, why not consider creating a garden in their memory so that you can think of them whenever you do a bit of pruning, or simply walk by it?
Creating your own memory garden doesn't have to be big or expensive. You can create one on the grave in front of the headstone where your loved one is buried. Crematoriums may offer spaces for families to create small memorial gardens as a place they can go to pay respects or scatter ashes. Perhaps a small corner of your garden would feel more intimate, though? A raised flower bed, or even a small growing container or pot, will be enough. To make your memory garden special and significant, consider the meaning of flowers as you choose which ones to plant. Here are some flowers and their meanings to help inspire you.
Asters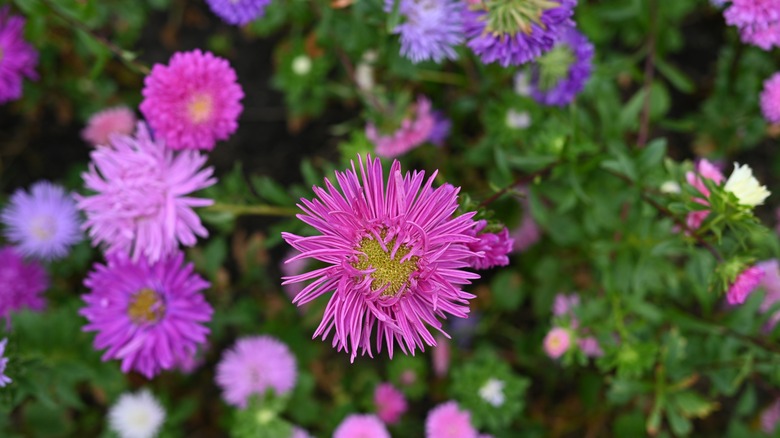 Anna Klymchuk/Shutterstock
These pretty late-season perennials last for years, blooming in pink, red, white, lilac, and mauve between the summer and end of every autumn. Alternatively, you can grow them as annuals from seed each spring. Asters stand for contentment, grace, and blessings, helping to create a memorial garden to sit quietly and remember. Purple asters are the most popular color, symbolizing wisdom and royalty, while white asters represent purity and innocence, and red ones symbolize undying devotion — so you can choose the colors that help you to remember your loved one the most.
Azalea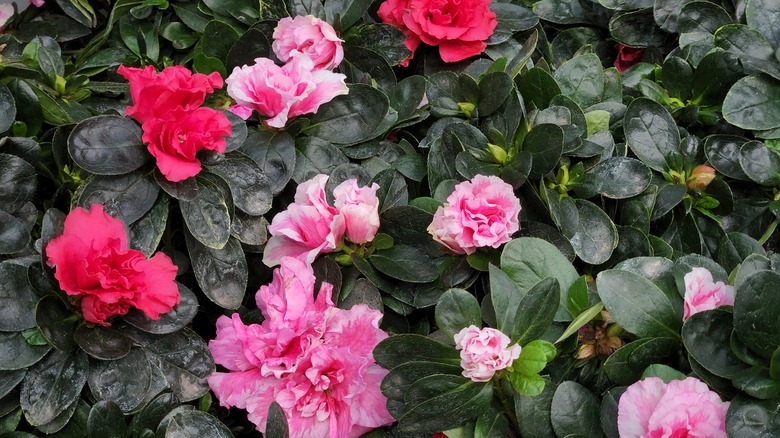 DENYSOFF/Shutterstock
For a low-maintenance shrub that offers striking spring color in a memorial garden positioned with a little bit of both sun and shade, consider planting azalea. In some cultures, it is believed that this flower symbolizes self-care and taking care of those around you. Plant it as a reminder to be kind to yourself while you are grieving and to cherish the friends and family you still have in your life. Azalea also represents abundance, especially of beauty or intelligence, and would be a beautiful addition to your memory garden, celebrating the person or pet you loved so dear.
Begonias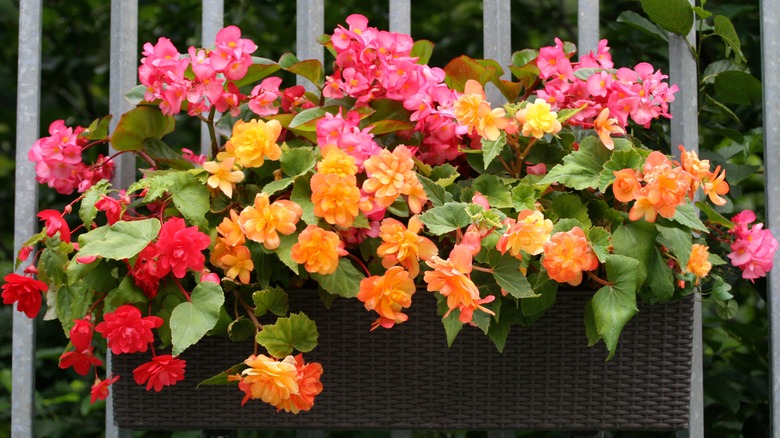 S. Mariya/Shutterstock
When properly cared for, this popular perennial will last a long time in a special memorial garden display so that you can remember and celebrate your loved one year after year. Begonia is representative of deep thoughts and brooding, making it a highly appropriate remembrance flower. But the beautiful blooms will help to lighten your heart so that you can remember the good times too. They like the shade, but wax begonias will also grow well in the sun.
Bellflowers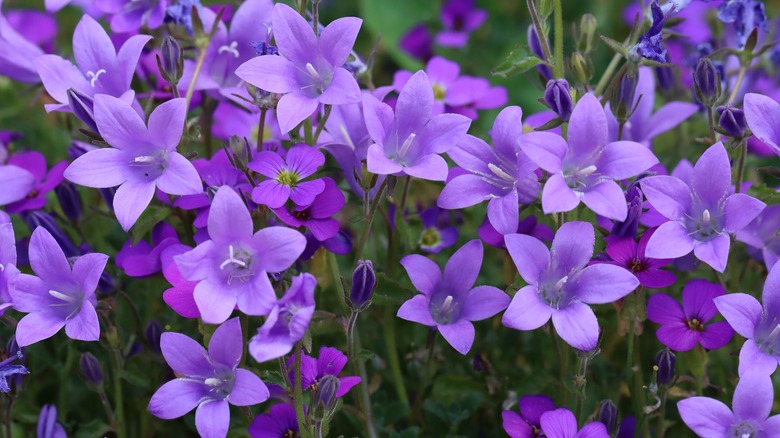 Edimoh/Shutterstock
Blue bellflowers may seem perfect when you're feeling blue and contemplating the loss of your loved one, but these cheery little bell-shaped blooms also come in purple, white, and pink to help lift your heavy heart from late spring and into the summer months. There are many meanings this plant expresses, with it mostly being used to display a feeling of gratitude. Bellflowers may also be thought to symbolize affection and everlasting love. Plant them in your loved one's memory garden to show you'll never stop loving them and that you're grateful to have had the time spent together.
Daffodils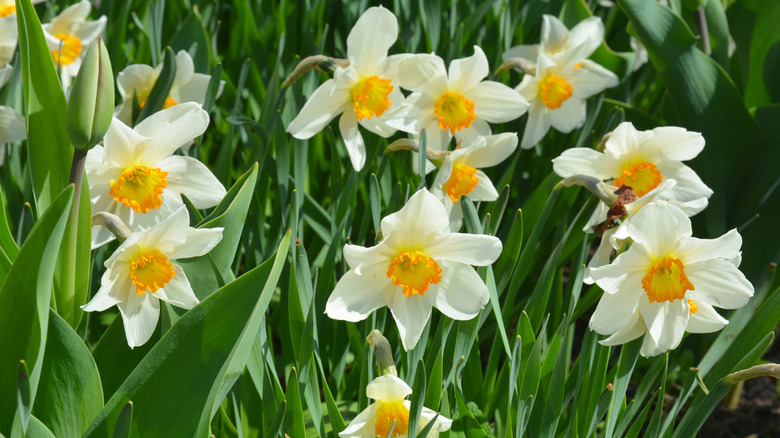 Radovan1/Shutterstock
The bright and cheery herald of spring, daffs are firm favorites during this season, not to mention one of the most reliable spring-flowering bulbs that are guaranteed to bloom again and again each year. It's not surprising that daffodils are also seen to be symbolic of resurrection. While you probably don't wish to entertain the idea of your loved one coming back from the grave, planting daffodils in their memorial garden is a way to keep them alive in your heart.
Daisies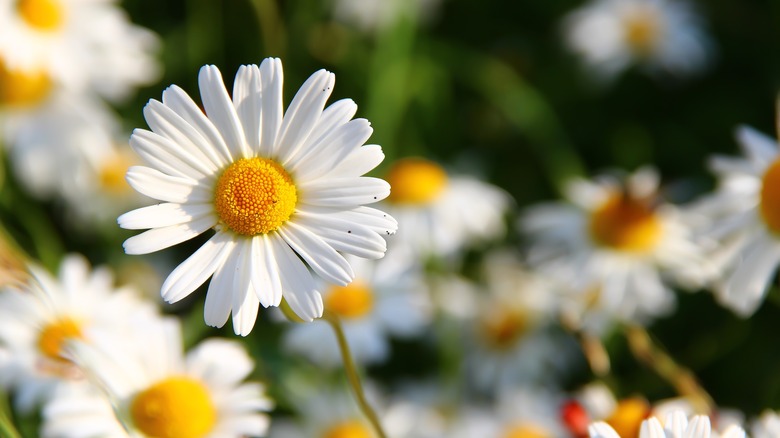 AylinGuneyiPhotograpy/Shutterstock
The common daisy is cherished for its natural simplicity, with the flower symbolizing innocence and purity. If you are mourning the loss of a child or pet, planting a daisy-themed memory garden may help to express how unfair it feels for a loved one to have been taken too soon. But hopefully, it will also help you feel peace, knowing that they have gone back to mother nature, and that mother nature will gift you with a show of perennial daisy blooms each year to hold onto the memories you have.
Forget-me-nots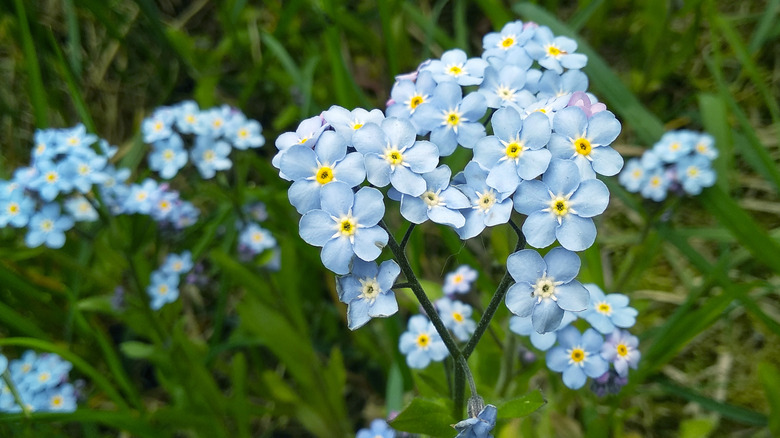 Sunbunny Studio/Shutterstock
Perhaps the most relevant flower of all when it comes to planting a memorial garden, forget-me-nots are all about the memories. These pretty little blue flowers would look lovely in a window box or container if you are thinking of creating a mini memory garden for an apartment with a balcony, or if you rent, as you can take your garden with you when you move. In a garden, these flowers will self-seed easily, so be ready to watch them spread out helping the memories to grow and stay alive.
Lavender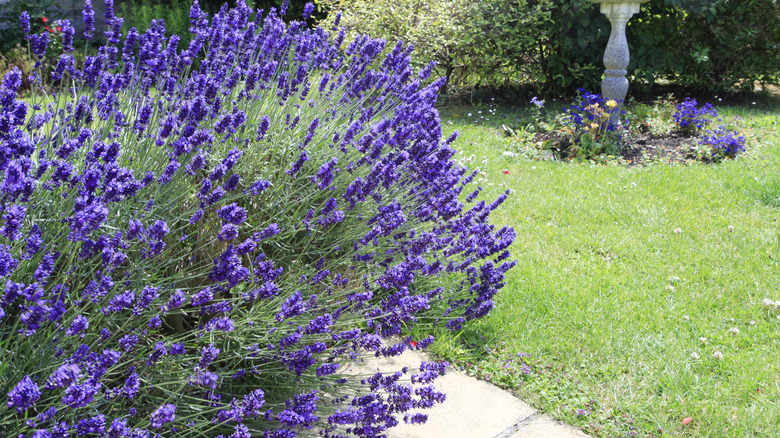 Panmaule/Getty Images
Lavender is often a favorite option for memorial gardens. These flowers represent purity, silence, devotion, serenity, grace, and calmness. The relaxing scent that the blooms let off is perfect for putting you in a state of quiet contemplation. What's more, you can harvest and dry the flowers, enjoying them as a herbal tea to calm the mind when life gets a bit much, or use the dried flowers to make a lavender bag that you can keep close to your heart.
Succulents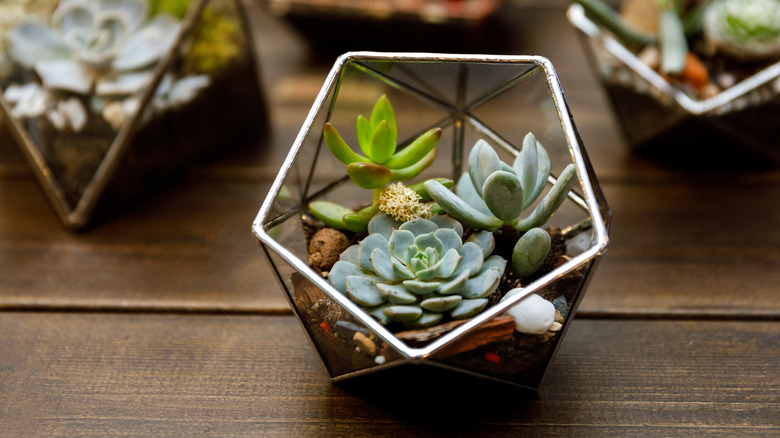 Polina Strelkova/Getty Images
How about creating an indoor memory garden that you can enjoy in your living room with a variety of pretty succulents? Succulents are low-maintenance, with their thick leaves retaining moisture, so they don't need to be watered as often as other houseplants. Succulents are also symbols of tenacity, strength, and selfless love, so an indoor memory garden with succulents could be representative of the unconditional love you have for a relative, friend, or pet that has passed.
Memorial trees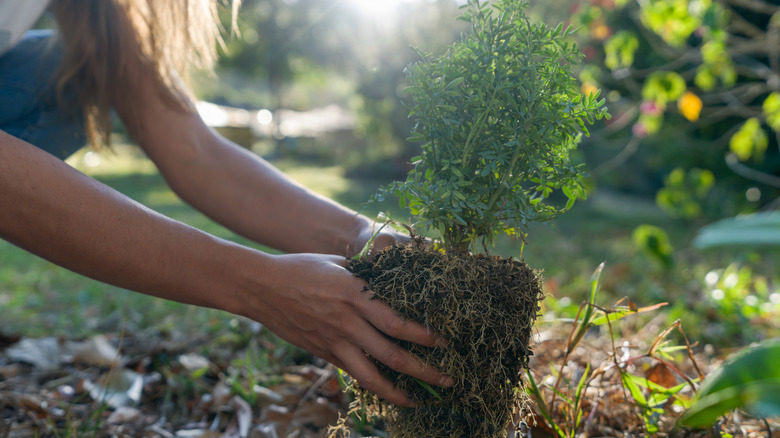 Hispanolistic/Getty Images
For a more traditional approach, you could plant a tree in the memory of your loved one's life. People plant memorial trees for all kinds of reasons. It can be a way to externalize the pain they feel. It can also be a symbolic representation of support to help a person grieve. Others simply want to see something grow in place of their loved one or have a place to come back to pay respects and feel close to them. Trees promote peace and freedom, so a memorial tree may be just what you need.