The Way Christina Hall Brought Both Parents' Wishes Into Their Child's Nursery Design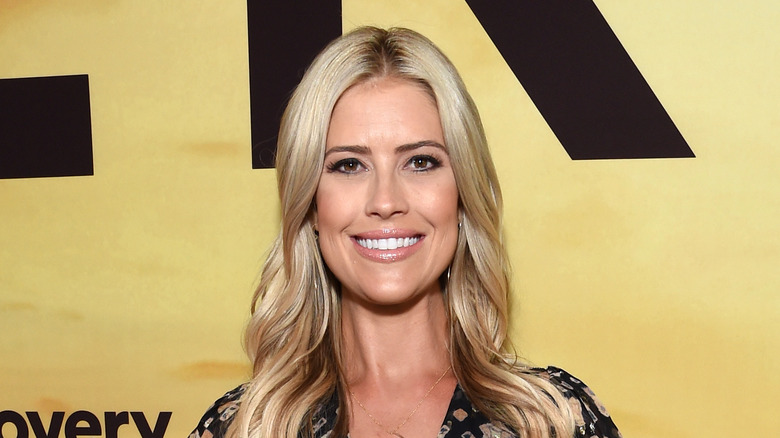 Michael Kovac/Getty Images
There's nothing more exciting (and stressful) than preparing for a new bundle of joy. One of the most exciting parts of expecting a baby is designing a nursery. But that's not to say there can't be challenges to face — like two parents agreeing on the theme. Recently, Christina Hall worked with an expecting family and found a balanced way to bring in a husband's baseball request subtly so that his wife could enjoy the space too. Through decorative pillows, the room color, and strategically placed items, Hall was able to pull off the design perfectly.
While the design and inclusion of the baseball memorabilia were left to a minimum, the room paid tribute to the iconic colors of America's pastime. The overall design focused more on the rich hues of navy blue and baseball-mitt brown against the brightness of white. Then, Hall was able to place other touches on the changing table and wall shelves to stick with the mother's wishes for the room.
How Hall designed the room
When decorating a nursery or bedroom with a certain theme, it's easy to get carried away and plaster the room with an abundance of theme-related pieces. We love how Hall designed this simplified nursery with the perfect balance between the mother's and father's wishes that conveyed the theme but made it less obvious. With most of the walls white, Hall coated one in navy blue as an accent wall for contrast and added texture with geometric molding. For personalization, she hung a decorative sign of the baby's name in the center.
Hall tied in details such as the bamboo lighting and woven baskets for a freshness that paired perfectly with the other blocks and pieces she placed on the changing table. In true Hall fashion, she used golden pulls for the drawers to keep the room modernized and stylish before laying down a geometric area rug. Subtle touches like a baseball pillow and a vintage Hall of Fame book gently infuse the sporty theme. As an added bonus, Hall was able to pull off a major surprise with a vintage Brooklyn Dodgers pennant.
Ways to balance nursery decor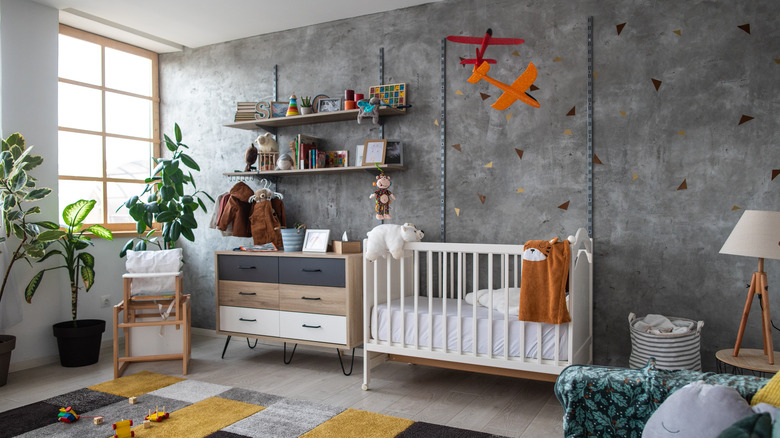 Miodrag Ignjatovic/Getty Images
Having trouble finding the right balance with nursery decor? Whether this is your first rodeo or second (or third), decorating a nursery can be challenging, especially if you and your partner can't agree on a theme. While having the beautiful nursery you've always dreamed of is important, one of the more important things to consider is function. Making sure your nursery is essential and practical before pretty will help in the long run, especially during the early morning feeding sessions.
To find a way to balance out the theme and decor between you and your partner, find areas to compromise. The room's color is a great place to start as Hall did with her clients. Consider painting the nursery a color associated with your theme with one wall as the accent instead of installing wallpaper focused on it.
Another way to find a compromise for your nursery is to add small details like Hall did with her clients. These are small thematic touches that do not command a lot of attention. Vintage art prints, wooden figurines, and classic literature can all be sophisticated ways to add a kid-friendly theme to a space.